Clothes Buy Inquiry – Supplier Quotation From Chinese Sourcing Company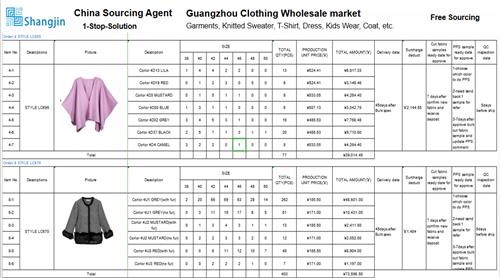 Clothes buy inquiry, get supplier quotation from Chinese sourcing company. As a purchase agent for business service, Shangjin is focus on textile product import export trade in China. Such as garment fabric, fashion clothing. And leather shoes,  design bags,  jewelry accessories, ect. There are many new clients inquiry product quotations every day. And most of them are new business to buy clothes in China wholesale market. Or they are business starters. Who are not familar with import export business process. And they don't understand how to develop their purchase business with Chinese factory supplier. Then the foreign buyers will inquiry products for quotations from Chinese supplier. In fact, they will contact many sourcing company or export agent to inquiry for quotations. 
Shangjin trading company is experienced for sourcing and export service for years. And we understand the considerations of the new clients or business starters. As well as the business rules of Chinese supplier or manufactuer. Which means we can develop and control the supplie chian for import export purchasing trade. For this article, we'd like to explain and suggest our clients. In order to help us sourcing and prepare quotations eaiser. For your inquiries of clothes buying purpose, and get quotations from Chinese supplier quickly. Meantime, Shangjin want to share and guide our new clients, to understand the sourcing process of China trade agency company.
How To Get Useful Quotation When You Inquiry Clothes Buying Business From China Sourcing Company
Although Shangjin trading company is a professional sourcing agent in China. And we have many Chinese supplier for a products wholesale business network. However, we need basic information to support our sourcing service. Or we need know what requirements of our clients. Otherwise, it's difficult for us to find the correct Chinese supplier or product. There are too many categories, styles, and designs for a certain product name. Meantime, so many subcatalog in a certain product name. For instance, lady sports wear, swimwear, underwear, ect. Each product have different fabric material, design images, quality and price level, etc. When you inquiry us, we should consider how to reply and quote you precisely.
In our website, and service guide online. That Shangjin will feedback your inquiry within 24 – 48 hours, with a detailed quotation list. Before that, please understand, we need know what you exactly demand. Why we today launch this article? As we want to share you Shangjin's quotation requirements for each product inquiry. That is helpful, useful, and prompt. Furthermore, the Chinese supplier in the wholesale markets or manfuacturer, are require detailed information too. Such as your design image, fabric, and quantities. Some wholesale market supplier or Chinese manfuactuer, will ask for MOQ, custom made specifications or artwork, etc. If we don't know about your requirement. How can we inquiry the products to the Chinese supplier, and get quotation for you?
1. Helpful quotations feedback your inquiry, is the basic service of sourcing company
There are many inquiries we received online, that we don't know how to reply quotation to them. For instance, some client will tell us, that "i want buy men clothes". Or someone require "send your footwear catalog to me". Or some ask us "what product can i import from China wholesale market for my boutique" . And so on. For us, such inquiries are not good for quotaion. And we can't even ask our Chinese suppliers. Such inquiry is useless.
What is a helpful quotation for your inquiry? That can help you know better about Chinese suppliers or wholesale markets. And guide you have a concept of the product to buy. For example, know where is the best clothes wholesale market to buy. Or the price or cost level of the garment quality. Or the purchase and shipping process of the clothes bulk buying business. As well as the hidden rules, traditional terms, purchasing tips, etc. 
In fact, any information that can guide you understand the wholesale market better. Or to know the business process of Chinese suppliers. Or the tips of import export from China market for wholesale buying. Which we consider are helpful. According to the quotations, you can check with your inquiriy, to find many helpful knowledges. As well as when you communicate with the sourcing company, you can understand more about clothes buying in China.
For example:
Why the quoted garments require so much cost to purchase based on your inquiry? For such question, is essensial for you to understand before you buy clothes from China wholesale market. Normally, your sourcing company or export agency will share you the reasons. For instance, lady's wedding dresses, they will tell you the cost structure. Such as garment textile and accessories trims cost. Or the sewing and hand work cost. Or the design complexity or the quality management. In fact, the sourcing company is understand the Chinese manufacturer supplier very well. So that they will teach you to know more and better. And you find the correct way to consider about your clothes buying plan.
2. How to get a useful clothes quotation for your buying inquiry
Every quotation from sourcing company, can help you know more about Chinese supplier or wholesale market. While to get the useful quotation is the most important for your purchasing business from China. As correct product, with good price and quality, that's whay you demand. What is a useful quotaiton to your inquiry? Below Shangjin list the points. For your idea.
(1) Correct clothes product that you want to buy
Since too many styles, designs, and fabric material in apparel products. So that the quotation you get from sourcing company, should match your inquiry demand. Because you know what is your import export business from China. And know what product purchasing to resell in your local markets. So that the correct clothes means your buying requirements. Which are the principle of a quotation list. 
Normally, in the quotation list, should clarify your inquiry points. Such as design pictures, garment textile material, and specifications. As well as the color and size options. Here, need remind you, the size different between China and foreign countries. And you should check if the size are in same unit. Chinese size of the supplier, or size of USA, Eroupe, Canada, etc. If all of the detailed requirements are the same or similar as the clothes you want to buy. Then means the quotation is correct base on your inquiry. 
(2) Price and quality match your purchasing demand
For a business man who import export from China wholesale market supplier. In fact, they all have a budget for purchasing before they visit China. Such as total purchase amount. Or total order quantities with each designs. Or the average price cost of the goods. Because fashion buyers or brand companies are always focus on their sales. So that if the price is too high or low, the buyer surely can't accept. In fact, same status for the quantities. 
Here need remind you the MOQ requirements of Chinese supplier. No matter wholesalers or manufacturer, have such requirements. Which is a barrier for the clothes price and buying channels. The China sourcing company surely will indicate the MOQ together with price. And you need check, if the quantities requirements are good for you. As well as the price level is acceptable for your purchasing budget.
(3) Latest or trendy designs for your sales season
When you check the quotation list base on your inquiry and demand. Normally you can find the designs is good for your business or not. In fact, Chinese sourcing company or buy agent can find many clothes suppliers. As they can source in the wholesale markets. Or check with their old suppliers network. While for the detailed styles, fabric, sewing technique, etc. Need check by yourself.
For fashion buyers or brand company, they are always souring latest and trendy garments for their business. As well as fabric material, garment accessories or trims. Or inspired clothing items. If you are wholesaler, and for bulk order stock ready products. Then need check if the designs are the new styles for next season, or current sales term.
(4) Clarify all of the product cost with hidden or extra fees
Import export business is complex because of the logistics and shipping requirements of customs. There are cost items for service of sourcing company or Chinese supplier. Such as price terms of EXW, FOB, CIF, etc. Or changing fees of brand logo, private label, and tags. Or if you need custom made carton or box with our own design or brand logo. There are extra fees. Furthermore, better to check with the Chinese supplier before you buy clothes. Such as delivery methods and transportation fees. And so on.
As an experienced sourcing company, or export trade agent in China, they are all familar with the business process. No matter deal with the Chinese supplier. Or prepare export shipping service. Or remind the hidden cost of custom made bulk orders. So that you can check the quotation, to see if all of the related cost are including for the inquiry.
(5) Remind you the packages and goods volumes for export shipping plan
In a useful quotation from sourcing company, they will focus on the inquiry for export shipping. As the sourcing and purchasing purpose is to buy clothes and export to sell in your local wholesale market. So that sourcing company will always quote the goods volumes, delivery time, and shipping methods for the inquiries. Which are easy for you to consider and choose the economy shipping ways.
Here need remind you the packages requirements. For some special products, or material, there are regulations of China custom. Or in your side customs. So that need know about the package requirements first from the Chinese supplier. Then check with your sourcing company or shipping forwarder. If the goods packages are acceptable or not.
3. Prompt quotation of Chinese supplier is better for your clothes buying business
Prompt quotation from sourcing company can help your purchasing business move ahead quickly. And for each foreign buyer, all like fast and smooth communicate with their Chinese agency or supplier. How to get a prompt quotation for your inquiry? Which need your understand and help. Please tell your sourcing company or export agent as detailed as you can. For what kind of clothes you want to buy. Or the detailed specifiation of your textile product for bulk orders. In order to help your sourcing company to check with the Chinese supplier easier. Or help them source in the wholesale markets.
As most of the Chinese supplier will ask some popular questions. For instance, where are your clients come from? Are they wholesaler or retailer? How many quantities they shall buy the clothes? And some other questions about your design, fabric, size, color, etc. If your sourcing company can't reply the questions. Then the Chinese supplier will not coorperate. Same situation when sourcing and inquiry to the vendors in the wholeslae market shops. Here, Shangjin would like to remind you. When you contact us online, or leave messages to our site or mail. Please tell us your detailed requirements. In fact, we will choose our clients and consider if good inquiry to quote promptly or not. Because there are so many inquiries for our staffs to prepare quotations.
Conclusion
Shangjin trading company is a business service agency, for sourcing, buying and export from Chinese wholesale market supplier. Normally we start our business from inquiry and quotation. Then develop and move ahead for our buy and export service. We are experienced sourcing company in fashion textile products. Such as garment fabric, trendy fashion clothing, shoes and bags. And other related household products. So that sourcing service is the basic work of our company. From communicating with our clients and suppliers, we manage the purchasing business from Chinese wholesale markets.
Shangjin is always dedicate in supporting high qaulity quotation for the inquiry from our clients. Which are precise, helpful, useful and prompt. If you want to know more, please visit our website, or chatting with us online. If you want to work with us as a partner for your import export business. Please contact us freely.