Buying China Wholesale Clothes Market – Factory Supplier Custom Made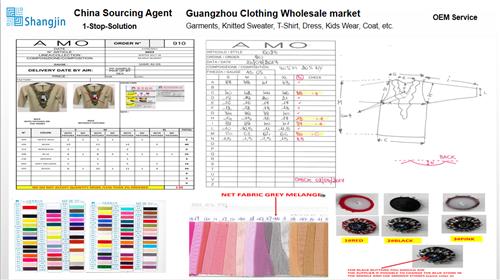 Buying from China clothes wholesale market, is a complexity purchasing business. Especially buying bulk for custom made service in Chinese factory supplier. As we introduced some basic purchasing skills in last article. And shared the concepts of marketplace, supplier of reseller or factory, and MOQ terms. If you want to review, please check the article "Buy In China Clothing Wholesale Market – Purchase Agent Business Guide". Here, we'd like to introduce custom made service. When you buy from China factory suppliers or markets vendors service. As well as some tips for delivery and package service buying from China clothes wholesale market or factory supplier directly.
In fact, your China sourcing agent will share and guide your wholesale buying business and market service. Before you come down to China, the trade company will share you basic information about the factory suppliers. Or products images, and market service process. No matter wholesale purchasing clothes. Or buying bulk shoes products from China manufacturers or wholesale markets. Below, we shall share you 6 points. Which are extremly important for your business buying from China.
Buying Wholesale Clothes Custom Made From China Factory Supplier – Trade Company Market Service
Below Shangjin trade company shall share you the basic concepts of purchasing process. And the skills of cutoms made service buying from China factory supplier. As well as how to order tracking, quality inspection, and consolidating for delivery and package requirements. Meantime, remind you the payment terms in China wholesale markets or factory supplier. With some examples of garment, shoes, fabric, to teach you how to buy bulk textile products. Here we shall continure to introduce from the 5th to 10th points.
5. Custom Made service buying in China clothing wholesale market
There are many difference between China and your country. Such as body size, habits and custom, etc. In order to have a good sales in your local market. So that better for you to buy custom made service from China factory supplier. Which means you can adjust or change a little of your products. One method is custom made base on the samples of vendors. Another custom made way is using your own product designs. Or use your unique fabric material, brand logo, and private label as well.
In Guangzhou clothes wholesale markets, most of the suppliers accept custom made orders. And the suppliers will produce samples and bulk products from their factory. Before you confirm the bulk order, and transfer to buy from the factory supplier. You should clarify and double confirm the business terms. And better for you to hire a Chinese trade company or sourcing agent to guide you. Following points, for your idea.
(1) Choose the unique color for the clothing fabric you like
When you buy in China factory supplier, you can choose the color that you prefer to. From a color card the vendors have. Which means the same fabric use for the same clothing design. In fact, it is the easiest way for cutom made service of wholesale clothes business. However, you need reach the MOQ requirement from the factory supplier.
Sometimes, you can choose color from other style clothes to instead of the original color which you are interested in. If you don't care of the fabric composition too much, it's easy to proceed. Otherwise, you still have to check based on color card. If you insist to change a color you want. And your order amount is huge. Then you can choose any color you want.
In such case, the vendor will confirm with their fabric factory supplier. If the fabric color can be cutom made or not. When your order is around 500 pcs /color. Or your several styles will use same fabric and same color. Then it's easy to negotiate with the vendors. Before you place bulk order to buy from the China factory supplier. Do remember, you'd better provide the precise pantone code for reference. Or you should confirm base on the vendor's pantone code.
Remind:
No matter which way you choose to change color. Please keep the color card or swatches with color number. Which is very important for you. Meantime, it's better for you to require a sample clothes. Or a small swatch with the correct color you want. Because it will help you in sample confirmation before massive production. And it still need keep after goods delivery. As the sample clothing or swatch shall use to inspect your production goods before shipping.
If you are changing color by fabric custom made. Then you should understand and pay attention to the color tolerance. Between sample and production products. There will be 10-15% color tolerance. Which traditionally is acceptable in China clothes wholesale market. Don't be surprised. Because each batch of fabric will have color tolerance inevitably. In fact, your China agent or trade company, will remind you such issue. And do confirm it carefully with the vendors. Before you place bulk orders buy from the China factory supplier.
(2) Adjust the body size of clothing to match your local market
Size adjustment is popular in China clothes wholesale market. Or purchase from Chinese factory supplier directly. While your order amount must reach the MOQ request of the vendor or factory supplier. By the way, it's better for you to understand the size difference. Between China suppliers and your local market in advance. And maybe the size measurement maybe totally different from your country. Such as size of USA, EU, Au, etc. So that you should remind your China agent or trade company, to double confirm if you are using same size methods with the Chinese factory supplier.
A: How to adjust the size
In fact, the easiest way of size adjustment is that, change S to M, or XXXL to plus size. Which means do not change the model size in clothes. And simply to change size label accordingly. For example, XL size is too small than your local market XL. So that you need buy XXL size to suite your own XL size.
If you want to change the sleeve length or clothes length. Then it seems a little complex. But don't worry. If you can reach the MOQ that the factory supplier required. Then it's easy to persuade them accept your bulk order. However, you need check samples before production. And keep the samples for quality inspection before shipping. Which is always should keep in your mind. If you buy bulk from China factory or market supplier for custom made service.
B: Understand size deviation
Pay attention please. Here is a concept of size deviation that you must keep in mind. Meantime, different clothes will have different size deviation. Which is inevitably too. Why? Becase the size deviation is mainly caused by fabric and technology. Such situation is very popular in wholesale buying clothes from China. Or any market when you require custom made service.
For example, woven garments, 1 – 2 cm size deviation is acceptable. While knitted sweater usually to be 2 – 4 cm. If some spandex fabric, maybe the deviation should be more than silk or chiffon textile products. Furthermore, same fabric, maybe the size deviation is different. Which base on the different styles. Such as knitted cardigan is 2 – 4cm. But good technique knitted sweater is 1 – 2 cm only. By the way, for knitted sweater, small size difference is not a very serious problem. Because ironing the knitwear can adjust the size a little. And same situation will be in jeans garments, silk dresses, or swimwear. As well as sportswear, underwear, and some other textile products.
(3) Custom made service of fabric Changing
Changing fabrics is acceptable in China clothes wholesale market for custom made service. Before that, you need agree with the MOQ requirement of factory supplier. And the vendors will require higher MOQ than usual. Because the MOQ should base on the fabric factory supplier. When you plan to custom made your clothes fabric, better to requrie your China agent to negotiate with the factory supplier. There are many detailed information or hidden rules. And your China sourcing agent or trade company can support such necessary service in the market.
Fabrics changing usually means the material composition changed. And the clothing cost is totally different with the original sample. There is different requirement of technology and machines to produce. So that you should check and confirm with factory supplier more carefully. Meantime, do respect their suggestions before you make decision.
Color card or pantone code is absolutely needed. As well as samples and swatches. Which you can reference above of color changing introductions. Furthermore, the business process is same as sample confirmation before production. And proceed step by step.
Remind:
Anyway, changing fabric is really a complex custom made service in clothes wholesale market. Which is better for a professional buyer and designer together to handle. And you should find a reliable and capable factory supplier in advance. Or you need hire a professional China buying agent or trade company to guide you wholesale purchasing and custom made from factory supplier.
By the way, it really don't a good choice for a business starter. If you are a brand company or a fashion buyer, changing fabrics is surely a useful and popular way to create your own collection. Shangjin is experienced in clothes custom made service, professional dealer with facotry supplier or wholesale market vendors.
(4) Custom made for individual accessories or trims
There is another way to custom made your individual garment product buying from China. Which is using unique garment accessories or trims in your bulk orders. While replacing accessories or trims on the clothes, is seldom to service in China wholesale market. Especially for a small order business. Or even big wholesalers for clothing import export business from China.
However, for a brand company or fashion buyer, it's a very useful methods to build own individual styles. Because you can change the accessories or trims according to your original designs. Such as accessories or swaches color, shape, and material. Or the position, quantities, size, etc. In fact, any design you want.
Please note. Because accessories or trims in clothes are small products. And normally fashion and individual items. So that the designs and material changes very fast. Meantime, it is difficult to find stock ready products. Or difficult to sourcing and find the precisely items you need. If you insist on your interested accessory. Then you should accept the MOQ of accessories. Which are normally 10 times pieces than clothes order quantities. 
If you really want to change the accessories or trims. Better for you to ask your service agent or trade company to sourcing in the China wholesale markets. Or can ask them to check with certain factory supplier, to see if have stock. Anyway, if you don't mind the extra cost of accessories or trims, maybe can persuade the factory supplier to custom made for you. With an expensive price instead of their normal MOQ of accessories or trims product.
(5) Custom made serivce in clothes wholesale markets of style creating
This style creating of custom made, is same as ODM service. Because if you change the original styles of vendors. And use your own style to insead of. Which means the design is changed a lot. Meantime, the color, size are surely to be adjusted. Even including the fabrics or accessories.
Style creating, is a specialized work for both buyer and factory supplier. And it's better for a professional buyers to cooperate with a capability manufacture. Otherwise, the result of the business, usually is not good enough. Because too much details need communicate, discuss, and confirm. During this service process, any misunderstand or mistake, will cause a big problem for quality and delivery. 
Shangjin is professional in custom made service. For clothes wholesale buy. Or shoes products. Or fabric material. And we know how to deal with the factory supplier. And understand how to control the detialed work. If you are from brand company. And want to custom made your own designs from China. Shangjin can sourcing good facotry supplier in wholesale market, and service you custom made clothes buying from China.
6. Tags and labels service in China clothes wholesale market
In China clothes wholesale market, you may confirm the label service with the factory supplier. If you reach the factory supplier's MOQ. Then they will agree to offer service of label changing. Without any extra fees. Of course you can use all of the labels the suppliers have. And don't need any adjustment. Following suggestion for your idea.  For whom have own brand name or logo. And want to finish changing labels and tags when buying from China.
(1) Hang Tags / Price Tags
If you want to use your own hang tags. Then you can send you hang tags to the factory suppliers. And ask them to hang to the clothes. It's better for you to tell them the hanging position in advance.  Considering of the waste during produce, you can give them 10% tags or labels extra quantities.
Price tags is a little complex. Because you need prepare a price list first, according to your purchased items. Then prepare your own price tags with the price you want to sell in your local market. Then sent to the factory supplier. If one or to facory suppleirs, is easy to handle. While if more than 10 vendors in clothes wholesale markets. It should be a hard work. And some market suppliers will not agree to accept such service.
Another way is that you can use a self-adhesive label, with detailed price to them. This service must confirm with the factory supplier or market vendors. If there are any extra fees. Because it will cost the market suppliers more time for such service.
(2) Washing label
Washing label or care label is easy. There are seldom clients will use their own. Because the contents in the label normally is the same as the factory supplier's. When you buy from the China clothes wholesale market. You can ask the supplier use English version label. And clarify the fabric composition. As well as the washing instructions. That is enough.
In fact, it's not good for you to change the fabric material name. Furthermore, don't try to change the "made in China" letters. Because all of the goods is requried such words for import export business from China. And not only export from China need this mark. But also need in your country when customs clearance.
Anyway, if your own brand is high level. And need the labels with high quality. Then you can change it. No problem at all. However, it's better for you to inform the factory supplier. Before you place order and buying bulk from the China vendors. Otherwise, the factory suppliers will complain and require you an extra fees.
(3) Main Label/Brand Label
Many client's change the factory supplier's brand label to their own. And no matter the buyer is a brand or only have a logo image. If your brand is very famous, you have to control the quantities of the brand labels. As maybe the factory supplier will use your brand label. And wholesale your branded clothes to other retail markets.
Sometimes, if you are small order quantities, better to ship your main label to your China export agent or trade company. If you are bulk buying from China, or will place order frequently each season. Then better to custom made your tags and labels in China factory suppliers. As the cost are very cheap, and the quality are goods. 
(4) Custom made tags and labels in China
If you decided use your own tags and labels, it's better for you produce in China market. Because the cost is much cheaper then your local market. There are many shops for cusom made tags and labels in the wholesale market streets. No matter clothes wholesale market. But also in market of shoes, bags, fabric, etc.
And you can ask your China agent or trade company to recommend their factory supplier to you. Normally, the MOQ is 10K pcs/set. And unite price from 0.07 usd – 0.15 usd / set. With textile material of canvas, cotton, plastics, etc. Then you can store the spare tags and labels in your sourcing agent's warehouse or office. And use for your next order buying from China. This custom made service of tags and labels, are popular in China markets.
(5) Require your sourcing agent to handle
In fact, the work of changing tags and labels is very detailed and complex. Especially when you place orders to more than 10 factory suppliers. It need much time to prepare the paperwork, material, and send to each supplier accordingly. Meantime, the China sourcing agent or trade company need follow up seriously. And to check if the factory suppliers are all proceeding correctly. Furthermore, tags and labels should be sent in time. Otherwise, your delivery time should be delay too.
The best way for fashion buyers, no matter experienced or starter, to choose a professional China sourcing agent. And ask them to handle on your behalf. Require the agent to coordinate with each supplier in China wholesale markets. And ask them to negotiate with the supplier for the extra cost. So that to save you much time. And you don't need deal with the suppliers. In fact, your commission to the China agent, is already including such service already.
7. Packages requirements buying from China
It's better for you to confirm with the factory suppliers about package requirements. Before you place an order and buying from China market. In the clothes wholesale market, the package methods is normally same. But it's necessary to confirm in advance. In order to avoid troubles before you export shipping from China.
(1) Inner packing
Normally, one OPP bag for each piece of clothes. And 10 – 12 pcs together for a medium binding. Of course, the binding can according to your requirements. Such as single color, or mixture color, or size / mixture color together. Normally your China buying agent or trade company will remind you. And double confirm with each factory suppliers in advance.
(2) Outer packing
Sometimes, the supplier will only use a woven bag for outer packing. Such as 100pcs, or 200pcs per bag. According to your requirement or their own traditional clothing package.
Here need remind you. It's better for you to request the factory supplier or market vendors. To use cardboard box. And tell them how many pieces each carton. Then use a woven bag outside of each carton. And with good quality packing belts. Seems complixity, right? While it's important for goods consolidating, shipping, and volumes control for your order. If you insist, the factory supplier will agree. And can negotiate to be free service. However, you do need confirm with the supplier before place orders. Otherwise, they will charge you extra fees.
(3) Shipping Mark
No matter you will shipping goods FCL or LCL. It's better for you to remind the factory suppliers. To use your own specified shipping mark. Because it's very important for goods logistics. During the goods transportation inland of China. Or in your side before you receive good at your warehouse.
Shipping mark at least including but not limited such contents. For example, your company name, brand logo or mark, and your consgnee name. Meantime, need mark clearly of product information. Such as Item No. Carton No or product barcode. If you need, can add weight, CBM, your cargo No. And so on.
8. Delivery service of your product buying from China market
Before you place an order to the factory supplier in China clothes wholesale market. Do remember please. That you must confirm the details of delivery terms. Although it seems a small factor. But if you don't confirm in advance, it will become a big trouble for you. As there are many details work and extra cost for goods delivery before shipping. Such as goods consolidating, upload, unload from factory supplier to your agent's warehouse.
(1) Delivery time
Delivery time means the production will be finished before the certain date. Or means when will the factory supplier will delivery goods to your China agent's warehouse. In China clothes wholesale market, the delivery time usually from 10-20 days for bulk orders. If your order is complex or custom made designs. Then the delivery time should be 30-40 days. While for stock ready goods, usually only need 2-3 days. As simply to sent from the factory to the market supplier's warehouse.
It is very important for your business buying from China. And not only for you to track the order proceeding. But also for you to confirm if can catch your selling time or not. Usually, before you purchasing in China. You should already have a clear and serious plan of goods delivery and export shipping from China.
On the other hand, delivery time is important for you to consolidate and collect all of the good in a same time term. Then combine to one container to ship. For big order amount, maybe you have 2 – 3 containers of the order. In such case, maybe you can arrange shipping container one by one. So that you can receive goods more earlier. And luanch and sell earlier in local market.
(2) Delivery place that service from market supplier
Where to pick up goods? How to collect and consolidate your goods together? Such process is important for the whole purchasing business in China. And you'd better confirm with the factory supplier or market vendors for this service terms in advance. So that can help you arrange your shipping plan correctly. And save you much time and money in the next step of export shipping.
Normally, if your order amount is more than 5k usd. Then the vendor will agree to delivery goods to your warehouse or your assigned place in free. However, if your order is small, it's difficult to persuade them to delivery good to other place. And you need pick up in the market by yourself. Of course, such work can ask your China buying agent or trade company to proceed.
Keep in mind, please. If you don't confirm with the vendors before you place order. Then some of the factory supplier will reject to delivery goods to your warehouse. Because they will tell you, the price is EXW, and don't need service you. In such situation, you may have to negotiate with them. To check if you pay half of the extra delivery fees and let vendors delivery accordingly. In fact, at that time, difficult to negotiate. And usually you need pay all of the extra inland logistics fees.
(3) Related service and fees delivery from market supplier to agent's warehouse
Please confirm with the factory supplier or market vendors. When they delivery goods from market to your place or agent's warehouse, what service they will offer. And confirm they should help you load to the trucks or into your warehouse. So that can reduce your work and fees for loading.
Meantime, it's better for you to remind the factory supplier or market vendors. That you will reject to accept goods, if the outer packing was wet or broken. Or without correct shipping mark according to their packing list.
When your order is big, and the goods volume is huge. Then you need confirm with the factory supplier or market vendors, to assume the unload fees from trucks. Or you can require them to handle the unloading work by their own staffs. 
Anyway, do remember, you shoud confirm such detailed delivery terms and service with the market vendors in advance. Before you place your bulk orders. In fact, your China buying agent or trade company will remind you such hiddel rules and extra fees.
9. QC requirement wholesale buying clothes in China market
Quality inspection is the work need handle by yourself. Or you can hire a third party company to help you. Of course, your China buying agent or trade company can check product quality for you. Anyway, there are some detailed service, need confirm with factory supplier or market vendors in advance.
(1) You should tell them your QC requirements. And let them understand well and cofirm you. So that the factory supplier or market vendor will pay more attention to your goods quality. As well as delivery time and related service.
(2) It's better to confirm the QC place and roughly QC time. That need proceed quality inspection before production packaged. Usually, big order is better to QC at the workshop of the factory supplier. While if small order, you can inspect when you pick up goods in your warehouse or market.
(3) You'd better ensure the factory supplier or market vendor, to prepare enough work and service before your QC. Such as original samples, color cards, packing list of goods, etc.
(4) You need confirm with the vendor, when you are inspecting quality, they should assist you as they can. For example, unpack the packages. And take out the clothes product. Then unfold and spread to the table. After you finishing QC, they need repack the items accordingly.
Of course, if you hire a good China buying agent. Then the buying agent will deal with such works for you. As well as the detaled service terms in their purchase contracts with the factory suppliers or market vendors.
10. Payment terms buying from China
Payment terms are always an essential condition for your purchasing business. And it's better for you to know the traditional and hidden rules. Before you place order and buy in China clothes wholesale market. As well as for other products buying from China. Such as textile garment, footwear fabric, leather shoes and bags, etc.
(1) EXW Price
The factory supplier or market vendors always prefer to quote you an EXW price. Which mean they will not take any responsibility, after you accept the goods in your warehouse. Sometimes, this is why the vendor reject to delivery goods to your warehouse.
EXW price don't including the VAT. If you want a VAT invoice, you need pay extra fees, usually 8-10% of the total value of order. But as a foreigner, you may don't focus on it. As such problem will handle by your China buying agent or trade company. Sometimes, your shipping forwarder will deal with it. In fact, no case with you. As it's a China custom rules for Chinese company. And they pay VAT when they buying from supplier. And then get tax rebate from China government.
If your order is big enough, and the vendor is a manufacture with own foreign trade team. Then they will accept FOB price or CIF price. As per your convenience. Anyway, don't worry, your commercial invoice for custom declaration and clearance, should be prepare by your China buying agent. Without any trouble.
(2) 30% T.T Deposit
Usually, in Guangzhou clothes wholesale market, the factory supplier or market vendors only accept T.T or cash in RMB for deposit. Because they don't accept USD or Euro currency. While your China buying agent can receive foreign currency. Not a problem for you.
And the deposit normally need 30% in advance. If your goods is not custom made or private brand logo, maybe you can negotiate less deposit. However, it's really difficult to achieve 20-25% deposit.
If your order is cutom made service. Then 30% is not negotiable. Furthermore, if your order is complexity or small quantities, the factory supplier may insist to require 50% deposit. Because they are worry about the risk of cancelation of the orders.
(3) Total balance before delivery
In China clothes wholesale market, the vendors usually require total balance before delivery. Such term can be negotiated to pay the balance when they delivery goods to your warehouse. However, their staff will wait till they receive the money, otherwise, they will not leave.
If you already do business with the vendor many years. And you are their old clients with good relationship. Then maybe you can try to communicate for some delayed payment. However, we don't know which vendor will agree to give us any payment days in Guangzhou. In fact, for nowadays, factory suppliers or market vendors prefer to give you a better price. While reject orders or refuse to give you payment credit.