Clothes Wholesale Market – Best Guangzhou Agent Guide Buying In China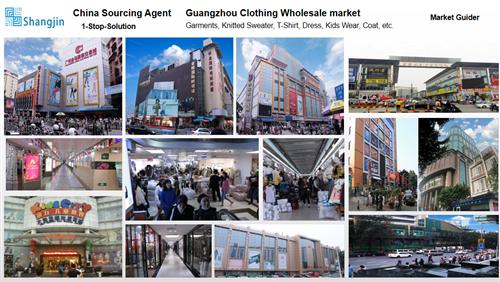 Clothes wholesale market in Guangzhou is a very famous in China. As well as the service of Guangzhou market guide or China buying agent. Since clothing wholesale purchasing is not a easy work. There are many difficulties for a foreigner buying and export from China without a guide agent. Why to say it? Because too many detailed work have to face and handle in the wholesale purchasing and export process. For instance, where is the best clothes wholesale market? Who is the best supplier with good clothing items? Furthermore, how to bargain the best price or terms for buying? And so on. As a professional Guangzhou market guide and China buying agent. We'd like to introduce you the best clothes wholesale market in Guangzhou. And share you some buying tips with the wholesale suppliers.
Best Wholesale Market To Buying Clothes In Guangzhou With China Guide Agent
Guangzhou is a hub of garment manufacturers and distributors. Moreover, it is famous for the wholesale market center of garment and textile products in China. On the other words, you can find even any kinds of clothing, shoes and bags in the apparel wholesale markets. For instance, lady suit, wedding dress and fashion blouse. Meantime, cotton skirt, printing T-shirt, swimming underwear, etc. And for men, women, girl and kids.  Guangzhou market guide or China buying agent can help you find the best items quickly.
Guangzhou clothes wholesale market is really the best place for buying fashion apparel. No matter for personal shopping or business purchasing. Everyone can find the interested clothes here. With perfect fashion style, good quality, and reasonable price. Following are some major clothes wholesale markets you need keep in mind. Generally Guangzhou guide or China agent will surely introduce you these best clothes wholesale market for sourcing and buying.
1. Best clothes markets for
wholesale buying
in Guangzhou
(1) Liu Hua garment market.
LiuHua clothes market is a landmark of Guangzhou garments wholesale market. And it is the best and biggest distribution center in China for wholesale buying. Moreover, 70% of the vendors are manufacturers. Who can accept OEM service, or custom made service. While the MOQ is around 200 pcs/style/color. And Price range is 20-50 rmb/pcs based on the fabrics and style. Meantime, usually no stock selling. And massive delivery time is 20-30 days. Furthermore, the market's target client is foreign buyers. Especially from the Middle East, Southeast Asia, and South America. There are many China sourcing agents prefer to guide their clients wholesale buying in the Guangzhou clothes market.
(2) Shi San Hang garment market
Shi San Hang market is famous for its low MOQ and private label service. However, the price is a little higher than LiuHua. How about the minimum order quantities? Normally MOQ is around 12-20 pcs/color. And accept mixture 2-3 color. While price range is 20-80 rmb according to different textile material and design style. Moreover,  50% of the vendors have small factories. And 30% are wholesalers who cooperate with several manufacturers. Then the remaining are buyer-sellers. Furthermore, in the clothes wholesale market, you can buy stock. It is very easy to handle. And the goods will delivery in 3 days. A professional China agent will always guide their clients sourcing and buying from the Guangzhou market.
(3) Shahe garment market
Shahe garment wholesale market is amazing for the cheap price. And low MOQ. However, the quality is a litter poor and difficult to quality control. If you are a business starter or a wholesaler, it's better for you to purchase from this clothes wholesale market. As it's really the source of the clothing products. And 90% of the vendors are manufacturers. Who have a small workshop with 3-10 workers. MOQ is from 12-20 pcs/color. And price range is 15-30 rmb/pcs. Usually the vendors have stock. Can delivery to you in 1-2 days. By the way, it is a very large wholesale circle with many big markets and sales buildings. Better for you to hire a China agent to guide you sourcing and buying in the best Guangzhou clothing wholesale market.
(4) ZhongSanBa kids clothing market
Zhongshanba wholesale market is mainly for kids clothing. And you can find even all kinds of the related items you want. From apparel to shoes or accessories. However, the MOQ is around 12-100 pcs/style. And price range is 20-100 rmb/pcs. Of course, all based on the vendors' quality position. Is the quality level a big scale? In fact, it's a comprehensive clothes wholesale market focus on kids, baby and young children. So that you'd better sourcing and negotiating based on your buying targets. If you hire a professional Guangzhou market guide, or China sourcing agent. They will help you purchase the best products from the best suppliers.
2. Understand more to enjoy sourcing and export service better
(1) Hire a China agent to guide you buying from Guangzhou wholesale market
Anyway, above markets are only a small part of the Guangzhou clothes wholesale market. There are many other famous wholesale markets with featured products. For example, Zhanxi for copy clothes. And  Xindadi for knitted sweater apparel. While Baima and Hongmian clothing wholesale markets are for high quality fashion garments. As well as Xingtang market is the best place for denim jeans wholesale purchasing. Furthermore, Sanyuanli for fashion and replica bags or leather accessories. Our website have more detailed information for your reference. In fact, we are professional China sourcing agent, help you sourcing and buying in whole China. Such as Guangzhou, Ningbo and Yiwu. As well as Shenzhen, Shanghai and Wenzhou.
It's strongly recommend you to hire a buying agent to guide you sourcing and export from Guangzhou or China wholesale markets. In order to help your purchasing behavior smoothly. Absolutely, a good China buying agent will help you save more time and energy, and guide you avoid extra cost export from Guangzhou. and more safer of course.
(2) Comprehensive service of China agent or Guangzhou market guide
Generally, a good China agent or Guangzhou market guide will get you enjoy their one stop solution service. It means the China agent or Guangzhou market guide will handle all of the detailed work on behalf of you. So that you can only focus on the key business terms when you buying in China wholesale markets. And simply check and consider if acceptable or not to place an order. Generally, a professional China agent or Guangzhou market guide will help you prepare all of the related paper work, to help you make decision.
Shangjin is a professional China buying agent. And our recognized service will surely help you easy to wholesale purchasing from China. For instance, free sourcing, and free market guide. And order follow up, with strictly quality control. As well as goods consolidating and export shipping, etc. Generally, We can handle all of the rest work after you make decision of the order.
If you want to understand us more, please visit our website. Or contact us at any time.