Patio Furniture – Buy Outdoor Table, Lounge Sofa & Chaise Chair From China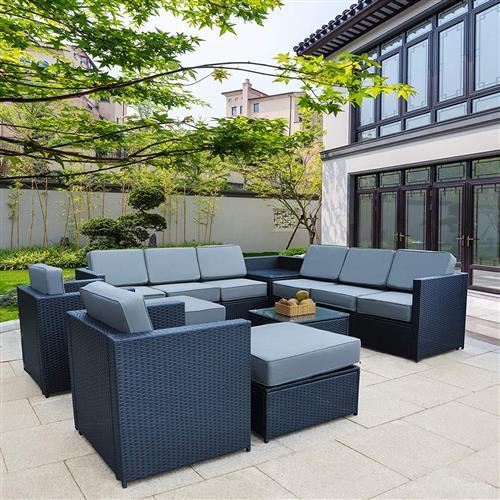 Wholesale buy patio furniture from China market or factory supplier, sourcing outdoor table, lounge sofa, chaise chair, etc. With small MOQ stock ready-made furniture collections. Or Custom made designs with own brand logo from direct manufacturer. For such purchasing service, sourcing and find out a professional China agent, or trading company, is very important. Then smooth business import export buy from chine markets. These years, patio furniture collection is one of the best hot-selling product in whole world markets. No matter high quality luxury designs set for hotel, office room. Or popular trendy styles home outdoor lounge furniture items. Such as event occasions, evening party, BBQ grill. And so on. In 2021, patio furniture is one of the best selling collections in E-commerce platforms. Such as Alibaba, Amazon, eBay, Wayfair, Overstock, etc. The wholesalers all buy from China. Sourcing Chinese factories for outdoor table, lounge sofa, chaise chairs, etc.
In China, the best manufacturer centers for patio furniture, is in Fujian, Zhejiang, and Shandong provinces. Of course, there are many famous cities for furniture products wholesale, producing, or designs. Such as Foshan Le Cong for outdoor tables, rattan sofa and chaise chairs. Or Guangzhou for furniture decoration items, decor accessories. Or Zhongshan for lightings and household appliance. Furthermore, Ningbo, Taizhou, Yiwu cities, and Shanghai, Wenzhou, Tianjin, etc. These cities are the best producing place for the patio furniture collections. Including outdoor table, lounge sofa, and chaise chair. Or chicken coop, rabbit hutch, canopy tent, and rattan chair.
Buy Patio Furniture From Shangjin's Own Direct Factory – Custom Made, Wholesale Sourcing, Trading Agent Service
1. Benefits of buying wholesale furniture directly from Shangjin trading company own factories in China
As foreign buyers sourcing from google sites to find out Shangjin agent company in China. So easy for the buyers know us detailed service and  business. That we are sourcing and buying agent company, with offices in Guangzhou, Ningbo, Foshan and Yiwu city in China. For us, experienced in sourcing fashion clothing, shoes, bags, fabrics. As well as furniture products, home decoration items, household appliance, etc. Before we introduce the featured furniture products buy from our China factory directly. Here need remind the benefits of import patio furniture from Shangjin trading company. For example, buy rattan chaise chairs sets from our China patio furniture factory directly.
(1) Source and buy wholesale from the best China furniture factory for rattan lounge sofa sets
After years of development in the sourcing and export buying service, Shangjin agent set up a completed patio furniture supply chain in China. In fact, we cooperate with many furniture factories in China manufacture centers. For example, rattan furniture factory in Taizhou; the lounge sofas and chaise chair outdoor table factories in Hebei, Henan, Shandong provinces in China. As well as Foshan city near by Guangzhou. Where are the largest outdoor lounge patio furniture whole sale markets. Although we are purchasing directly from so many factories. While each of the patio furniture factory, has own specialized in their category. Because furniture fashion designs, styles, trendy images, are keep changing and release every season. So that the Chinese furniture factories launch new styles and trendy functions quickly.
Best purchasing service in China market
Shangjin trading company has cooperated with many good Chinese furniture factories. And keep sourcing, purchasing, and exporting a lot big branding orders. That buy from these China pation furniture factories. So that we can always get the best prices and service. No matter bulk order or small order. Even if sample making orders. For example, buying rattan patio furniture sets from China factory directly. Such as outdoor lounge table, sofa sets, chaise chairs, etc. Firstly we get detailed requirements from our clients. Including the buyer's own designs. Like fabrics material, color, size, packaging, etc. Then our stuff will coordinate the furniture factory. Since we can contact with the sale manager and design manager directly. So that we can control the whole production process. That's why we could guarantee the best price and service for wholesale business. Meanwhile, we can provide the best designs and the fastest lead time for our customers.
(2)Experienced reselling trading service for e-commerce products and security the furniture products quality
As we all know, E-commerce has developed very rapidly in recent years, no matter in China, USA, Europe or South Africa.There are various excellent and famous named e-commerce platforms. Such Amazon, eBay, Wayfair, Overstock, etc. In nowa business stage, what's the best way to develop retail or wholesale trading in the world wide? That is e-commerce business, and resell shops in these online platforms.
However, it's not easy to find out experienced ecommerce patio furniture factory in China directly. For instance, sourcing rattan chaise chairs, lounge sofa sets, outdoor tables, etc. Why? Because Chinese furniture factories mostly are focus on traditional sales channels. Here is our advantage. That all of our direct factories, are experienced in reselling trading service for e-commerce products. For example, KD packaging, international express service, sea shipping, online e-commercial platforms, etc.
E-commerce products resell online shops
If you have your own online shop in E-commerce platform. Or want to start e-commercial patio furniture resell business. Then you should consider about the furniture structure, design, and KD packages. Which must match the online shop reselling rules. That means you need source correct Chinese furniture factory. Don't worry. Then Shangjin trading agent company, will help you. Without any troubles. Because all of our direct factories are experienced in E-commercial rules of their own category.
All of the products are popular and hot-selling in the online markets. For example, patio furniture sets, outdoor table, lounge sofa, chaise chairs set. Who are hot selling on Amazon, Wayfair, Overstock, Alibaba, etc. In fact, most sellers are our direct foreign buyers. Who are buying patio furniture directly from our factories in China. As well as purchasing outdoor table, lounge sofa sets, and chaise chair. Or sourcing China agent for custom made chicken coop, rabbit hutch, canopy tent and rattan chairs.
(3) Priority of the samples and productions delivery time based on the supply chain controlling and management
In 2021, furniture purchasing and export trading business are very hot selling. There are too many orders from USA, Europe, Middle East, and South Africa. Which cost the full time producing of the patio furniture factories. But the lead time is tight based on the buyers requirements. How to find out a good pation furniture, to produce the bulk orders quickly. It's is a key point for nice business developing.
Here Shangjin trading company can help you. As we are professional sourcing and buying agent company too. Together with our current patio furniture supply chain. No any problem for custom made orders supply. From outdoor patio furniture. To living room leisure sofa sectionals. Or hotel furniture, office tables, chairs, and sofa sets. Or trendy design, nice functional, power lift recliner armchairs sofas. As well as accent sofa chairs, side table with ottoman.
Completed supply chain to match your demands
Welcome to inquiry us! Normally, we will quote you the stock ready-made furniture collections from our own product catalogue. If you have own designs or styles to buy from China. Then we will sourcing for the customized making factories. And quote you shortly. After get the order comfirmation from customers. Then we take part in our direct factories' production plan. Because we know, the fast turnover and reactions to market demands, are very important for wholesale business or retailers. Which is the benefit of Shangjin trading company. No matter bulk order or sample making. These direct factories will deal with our orders as soon as possible.
(4) Professional KD package furniture custom made or wholesale trading buy directly from factory's overseas warehouse
Whether you are an online shop seller or an e-commerce business man. We all should know the importance of KD package for online sell and delivery, especially the furniture products. For example, the 130 inches or 330 cm boxes sizes requirements. There are surcharge of shipment fee. If the package don't meet the size requirement. No matter which delivery provider you choose. Such as DHL, UPS, Fedex, etc. Or other way of air cargo, sea freight shipping. Regarding the inner carton, there are many details should take care. A perfect furniture product need not only tendency design and good quality, but also a suitable package. Based on this point, Shangjin trading company can guarantee all products purchase from us are with correct package. However, many China factories don't know well about this, and don't want to improve and optimize their packages.
2. Trendy and hot selling patio furniture from the China patio furniture factory
(1) Rattan furniture sets for purchasing from China
A: Various designs and usage scenarios with custom made service
The rattan furniture set is designed with modern style, with steel frame. Which is ideal for circumstance of garden, patio, porch, balcony or even poolside. We can not only relax ourselves on the chaise chair, but also drink coffee, do barbecue, or even have a party. As long as we have a patio furniture set. All the chairs come with removable and washable cushions. Covers are mat anti-slip designed for preventing the cushions sliding and from being blown by the wind. The color of the cushion can be customized to match the garden style you need. And single table or single chair can be purchased separately to form a suitable set to match the size of the garden or patio.
Please note, we are experienced in customized making service. If you want to buy individual rattan furniture set from the China furniture factory. Absolutely welcome customized making orders. From the sizes, accessories, color and quantity. That all are acceptable requirements. No matter in UK, USA, DE or other country, the furniture factory can provide suitable combination set that meets local situation.
B: Small MOQ with lower goods value and competitive price to help your wholesale business buy from China factory directly
If you want to purchasing from China furniture factory to resell on your own online shops. Contact us to buy from our direct factory. Without any potential risky for your retail or wholesale business, all needs for e-commerce requirements are prepared perfectly. As we mentioned above, This furniture factory are professional in KD package, and they already achieve great sales revenue on amazon online sales. Only if you can match their MOQ and the purchasing price can accept by your local markets. Actually, MOQ are small, only 1-2 designs per 40ft HQ. Which are not too much goods value.
Or if you only need a small quantities to purchase to develop your retail business, you can also get a wholesale price from us Shangjin trading company. It is surely a much better price. Which can make your products more competitive in the market. And help you get a larger profit for yout business than Amazon, Wayfair, Overstock, etc. If you are interested in such business. Please contact us for inquiries directly. And we will quote you the best price and terms.
(2) Buying single smart outdoor table, lounge sofa, & chaise chair from China furniture factory.
Customized with various styles or select the stock functional outdoor table
In the patio furniture set, the outdoor table is an essential part. Even a single outdoor table is a perfect patio collection for each family. With large market demands in every country all over the world. It is our advantage. That our direct factory can provide custom-made service. For each individual demands of outdoor table, no problem copy in 1:1 original samples. Or oem product supply. For customized making raw material of solid wood or rattan. Or frames of wood, MDF, BP material. As well as metal frames of aluminum, steel, iron, etc. If you want to custom made the desktop in wooden, glass, plastics, fake marble, etc. No problem at all. And you can choose any of styles for the outdoor tables. Such as coffee table, side table, console or storage tables.
Lounge sofa & chaise chair for outdoor entertainment
Lounge sofa & chaise chair, one of the hottest category in world selling. Almost every family have ever used or are using it. Some chaise chair are foldable and portable so it can be carried to garden, patio, porch, balcony, farm. Or even be your travel partner cause it is small enough to be placed in a car when it disassembly. Lounge sofa & chaise chair is suitable for people for all ages, including children, adults, the elderly. And also suitable for people in all occupation, including officer, students, teacher, the housewife, etc.
The lounge sofa and chaise chair from our direct factory are all designed according to ergonomics. How can keep users enjoyable when lie in the chair for a long time. Then entire rattan frame has been treated with high temperature. And will not be damaged by the sun and rain. So the cushion can be placed or moved depends on the user's requirement. And the color of cushion can be customized. Imagine lying on a chaise chair, basking in the sun, drinking coffee, what a joyful life it is. So do not hesitate to develop your lounge sofa and chaise chair business with us Shangjin trading agent company.
(3) Other hot selling patio furniture buying from our direct factory
Our direct factories produce not only rattan patio furniture set. But also other hot selling outdoor furniture to buy from China. Like small animal house and outdoor tent. Below simple introductions, for your idea. If you are interested in purchasing wholesale from China. Please contact us. Then we shall send you more detailed products category. Or show you our online catalogue.
A. Small animal house
Small animal house including chicken coop, pet cage, hen house, rabbit hutch. These kinds of patio furniture frame are almost made of fir wood, it is coated with a water based preservative. So that it can last longer in the sun and rain. The base and side panel is enclosed durable steel wire which can protect the chicken and rabbit from the danger of mouse, snake, etc. It is large space for animal's activity. Living area is raised completely off the ground to prevent dampness and damages. These products have proven that they have a huge demand in the market. While Chinese factories are not all very professional. If you want to get the best quotations. Please contact us. We shall quote you the competitive wholesale price from the factory directly.
B.Outdoor tent
There is also a very promising outdoor furniture product, it is outdoor tent. Starting in 2020, the sales of outdoor tent have been rising steadily. It is Ideal for commercial use, car tent, family parties, weddings, picnics, sports events, outdoor vendors, craft fairs, job sites and camping trips. This extra big party tent, with powder coated steel frame poles, strong and rust resistant, and with removable sidewalls makes this product an perfect sun shade during summer time. What's more. It can accommodate dozens of people to rest at the same time. But it is incredible to fold into a family car. Meantime, color, size are available for personalized choosing.
We Shangjin trading company are cooperating with direct factory who is specialized in outdoor tent producing. It is easy for us to help customer import customized tent products. No matter for wholesale or E-commerce, Shangjin is the best choice to give the most competitive quotation. To help you buy from China market.
Conclusion
This article share one of our patio furniture factory in China. Which are professional in rattan furniture sets producing. Suitable KD packages, trendy design, competitive price and small MOQ. These are their strength for foreign customers. If considering the patio furniture collections. Most of the items are no problem. For hotel, office, home, or outdoor furniture. Such as outdoor tables, lounge sofas set, chaise chairs, etc. With various raw material or fabrics.
In fact, Shangjin trading company has a very high quality direct factory resources. If you want to buy lounge outdoor furniture. Or collections for living room and dining room. Or bedroom furniture or decorations. Do contact us for quotation and catalogue. Have any inquiries now? Or want to buy from China? Please send us email. Then our professional teams shall update you shortly. And develop our business together. Do remember please. Shangjin trading company are your partner in China. And we are always together with you.