China Export Agent – Sourcing Chinese Online Supplier Buying Wholesale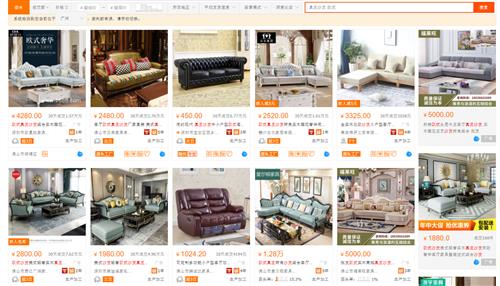 China export agent sourcing and wholesale buing from Chinese online suppliers. In order to purchase cheap and better products from online shop suppliers. Such as clothing fabric, design shoes bags, and fashion textile products. Which means Chinese sourcing agent or trade company have to adapt their export service, buying from China wholesale markets to online suppliers.  In fact Shangjin trade company consider it's an positive change. For sourcing and export Chinese products from online supplier shops with buying agent service. Because wholesale buying from online suppliers, means foreign buyers can sourcing and purchasing China product directly from online shops. And choose the best product and suppliers from online shops they considered. Meantiem, it's easy, efficient, and low purchasing cost for bulk order business. Then sourcing Chinese import export factory and products from China online supplier shops.
Brief Introduction of the 5 online supplier platforms for product shopping
(1) 1688.com online shops for sourcing and buying from Chinese manufacturer suppliers
1688.com online suppliers platform. In fact, 1688 is Alibaba. And it's the biggest online suppliers platform for sourcing Chinese products. Where you can sourcing and find any kinds of Chinese products, and purchasing easily from the online shops. For example, fashion clothing of lady, women, men and kids. Or garment fabric and textile accessories. Or design shoes products for cusotm made from China factories. As well as agent service companies of sourcing, buying and exort from Chinese markets.
(2) Made-in-China.com online shops sourcing for Chinese factory suppliers products
Made-in-China.com product shops platform is a famous online supplier shopping website. Which focus on guide and sourcing good Chinese manufacturers. And you can sourcing strong Chinese factories and product suppliers in the online shops. And visit the supplier's product from their online shop sites. By the way, most of the online suppliers in the website, shall have their own export trade team. If you place an bulk order to the supplier online. Maybe you don't need hire a China export agent or sourcing company servicec. 
(3) DHgate online shopping site to sourcing Chinese product suppliers.
DHgate is mainly for samll quantity orders and cheap product online shopping. And it's a good website for business starter to purchase and export from China. As you can sourcing and buying most of the hot selling products from the online supplier shops. There are various product to choose in each online supplier shops. Not only for clothes apparel, textile products, and footwear or accessories. But also can sourcing fashion jewelry, leather bags, premium toys, etc. However, DHgate online suppliers are mostly not manufacturer suppliers. And most of them are resellers or wholesalers. Who source and purchase from Chinese factories. So that the quality and stock quantities are not so steady.
(4) Ebay platform for product shopping online
Ebay is famous for the high quality and small order quantities. In fact, it's trends for retail consumers. If you need wholesale buying suppliers, maybe it's not a good online website for you. While the product quality are good, and each online supplier garantee the after-selling service. In the online shops, the suppliers are selling stock products. Normally they don't accept bulk orders. Especially for custom made service. There is a similar website platform for online product shopping suppliers. Who's name is Taobao. Which is mainly for mainland retail and wholesale business in China.
(5) AliExpress online shops sourcing Chinese product suppliers
In AliExpress online platform shops, the Chinese suppliers normally sell cheap and poor quality products. Although the product price are really cheap. But better for you not purchasing from the online suppliers. As the risky for goods qaulity and delivery time. Which are essential for your business import from China. Normally your China export agent will remind you avoid buying from this website. If you really want to place order. Do remember start from small quantity. In order to test the online suppliers, and the product quality from the shops.
China Export Agent Sourcing Products Wholesale Buying From Online Supplier
Sourcing Chinese product and buying wholesale from online supplier shops. It's a wisdom purchasing method to import from China. With a buying service of China export agent for warehouse, consolidating, and shipping. In fact, buying from online wholesale suppliers, can save you much time and business cost. As you don't need travel to visit China wholesale markets. Or sourcing and visiting the Chinese factories. Just check the online shops sites, and sourcing products from the Chinese supplier's websites. Which means you can communicate and deal with the China suppliers directly. Without an sourcing agent for guide service and export purchasing from China. 
For nowadays, most of Chinese export agent change their sourcing methods. And not only focus on wholesale markets in Guangzhou, Yiwu, Shanghai, or Ningbo. But also sourcing products and Chinese suppliers from online shops or websites. In order to find the best manufactuer or product suppliers from online shops. Then recommend to their foreign buyers. There are many fashion brand companies are sourcing Chinese factories for cusotm made service. Althout they still need a China export agent for order tracking, goods consolidating, and QC for shipping. Below, Shangjin trade company shall introduce the online shops one by one, with product wholesale buying tips from suppliers.
1. How to buy from 1688.com online suppliers with China export agent
(1) History and featured business of 1688.com online platform
1688 or Alibaba China is the main business of Ali Group. Since Ma Yun founded it in 1999, 1688 is the leading domestic e-commerce trade platform. And it is mainly for small manufacturers online suppliers in China. To sell their product via online shops as wholesaler suppliers. Furthermore, 1688 provide business chance and info. For tens of millions of China buyers and suppliers in online shops globally. Meantime, it provides convenient and safe online shops sourcing, and wholesale buying products from Chinese suppliers. There are many China agent deal with 1688, sourcing, buying and export from the online suppliers.
1688 takes wholesale buying, and bulk purchase product from online supplier shops, as the core value. In order to overall optimize the business model of company e-commerce. At present, 1688 has covered 16 industries for product shops. Including textile raw materials, industrial products. And clothing, shoes, bags, etc. Meantime, jewelry accessory, household department stores, and small commodities. Furthermore, it provides a series of supply chain services from raw materials purchasing. To production and processing with online suppliers. And to spot wholesale business. Now China export agent also prefer to sourcing, and wholesale buying from the Chinese online suppliers. Of course, the Chinese export agent still sourcing and purchase from wholesale markets.
(2) The Advantages of Alibaba online product shops
1. 1688 is the largest online supplier product wholesale shopping market. And it is a completed business community in the world.

2.  1688 is the largest B2B e-commerce product shop market in the world. There are many China export agent sourcing and wholesale buying from Chinese online suppliers.

3. 1688's home site is very comprehensive. And the layout is very reasonable for sourcing Chinese products. Meantime, the style is simple and personality. And the most important thing is, "Pinyin Search Engine". Which is exclusive of other online product shop websites.

4. 1688 has a very large control-ability. And the theme is clear. They always focus on who want to buying from online suppliers. Or sourcing Chinese product to bulk buy in online supplier shops.

5. 1688 has a high brand awareness and humanized service. So that buyers or suppliers are always trust the online platform. And develop wholesale buying business from the China online supplier chains.

6. 1688 has a very thorough understanding of the e-commerce market. So that they always can find the good products and manufacturers. And develop as their online suppliers resource. In order to attract many foreign buyers sourcing, and wholesale buying from their Chinese supplier online shops.

7. 1688 continues to innovate and has deep internal distribution strength. Which has become the greatest advantage for online supplier shops and product sales.

8. 1688 insists on doing any business. Means they sourcing and advertising any kinds of interesting Chinese goods. With competitive price and quality level. That's why China export agent like to sourcing and wholesale buying from 1688 Chinese online supplier shops.
(3) Alibaba's business model of online supplier shops
1. Specializing in information flow. And gathering a large amount of market supply and demand information. In fact, the fast update of information and high credit. Which have attracted many China suppliers and manufacturers to sell product online.
2. Adopt the local website construction method. Meantime, adopt the local language for different countries. Not only easy to read. But also have affinity. In fact, Alibaba website has many different languages. So that users can choose different language forms. To make it easy to understand.
3. The free website registration online, attracts so many China suppliers and manufacturers. To log into the online platform to register a product supplier shop. Then becomes the members as online suppliers or buyers. And gathers into the business flows. So that creates unlimited business opportunities. Through the continuous flow of information. As more and more people become the registered members or online suppliers. Then information is constantly updated. And traffic is increasing. So that make Alibaba become the world's largest B2B website.
4. Alibaba's credibility is very high. Which attracts a large number of China suppliers and manufacturers. To operate it by the form of advertising. Because Alibaba is hard to be imitated. And it has attracted more and more registered users. There are many China export agent sourcing and wholesale buying product, from Chinese online suppliers or manufacturers.
5. Alibaba's logistics system and distribution service system, are becoming more and more perfect. So that the delivery efficiency keeps being better. And the management cost keeps being lower. That's good for foreign buyers sourcing and wholesale buying from Chinese online suppliers.
6. Establish various service information points. And always advertising it. In order to let users know Alibaba and trust Alibaba. That's why China export agent recommend their clients. To sourcing and wholesale buying products from Chinese suppliers in 1688 online shops.
(4) Alibaba's profit model for online product shop
What is the biggest benefit of Alibaba's profit model? It is difficult to imitate buy other website online shop. So it brings the great benefits. Why to be difficult to imitate? 
1. Alibaba leads the first E-commerce business in China. Because it's the biggest. And most China suppliers and manufacturers gather here. In fact, it means supply chains resource. So that many buyers sourcing Chinese product from online supplier shops.

2. Alibaba has successfully carried out enterprise credit certification. And opened the door of great income. When everyone trust the online platform. Then the business keeps developing.

3. Alibaba and foreign purchasers have the advantage of providing information on the largest scale. And based on honest communication. Which is difficult for other website to imitate.

4. Alibaba launched keyword search. Moreover, their advertising team are powerful. And they always can catch the key words very well for searching online supplier product shops.

5. Alibaba's key skills are not so many. But the simplicity, consistence, and effectiveness of the skills, are very prominent. Based on such skills, the profits are to be very large.

6. Establishment of Chinese online suppliers and manufacturers websites. And support them website promotion online for their product shops. As well as integrity and trade links. Which are Alibaba's profit models. Because these online websites lead the e-commerce for all of the China suppliers. Including China export agent sourcing and wholesale buying from Chinese online suppliers.

7. Alibaba's profit points have several channels. For instance, honesty and security. And brand qualification. Meantime, fast and convenient. With low cost. As well as wide channels. And massive information.
(5) How to Search the Goods in the 1688.com
It is very important for foreign buyers. And China export agent use 1688 to sourcing and wholesale buying from Chinese online suppliers. If you are going to sourcing the Chinese leather furniture supplier online. Then you enter to the 1688.com website. And type the name of goods you are seeking for. In that time, you will find some styles of the leather furniture products name. Such as leather sofa, leather bed, or leather furniture materials. For you to choose. As well as the styles of American, European or modern style. If you choose the UK style. Then the next page will show you all kinds of sofa. Which are belong to the European style. And you can easily sourcing Chinese supplier online shops to check products.
Detailed steps to sourcing Chinese suppliers online in 1688.com
In this page, at the bottom of each picture. It will show you the basic information of the online suppliers or manufacturers. And it will show you belongs to the distribution or production. Furthermore, you can check and find. If they have its own factory or not. Meantime, you will find the recent sales. Of course, you can find any detailed specifications of the leather sofa. Such as leather material, color, size, etc. As well as shipping methods, packing details, delivery time, etc.

Beside these, if you feel that you don't have any ideas. When you enter into this online supplier's site. At the top of this site, it shows your all the categories to choose. So that can largely save your time to search the goods.

If you have any questions for the goods you searched. Then you can come to ask the shop or leave the message. If you are interested in the styles of the shop, you can enter into the shop and check all the product they supply. Step by step, you must can find the satisfying sofa. Then you can compare the quality. And fabric material, price, shipping service, etc. As well as the MOQ and delivery time. In order to find the best suppliers online.
2. How to buy from Made-in-China.com online suppliers with China export agent
(1) History and featured business of made-in-China
The online platform founded in 1998. And Made-in-China.com is a leading third-party B2B e-commerce platform in China market. Furthermore, it dedicate to serving the global trade business. Not only providing high quality China products and suppliers. But also support China manufacturers information for global buyers. In fact, many China export agent like to sourcing and wholesale buying from the suppliers and manufacturers online shops.
Made-in-China.com focus on China suppliers and manufacturers. Especially developing the small and medium China suppliers. Since the online platform is developing more than 20 years. There are huge database to support the supply chain with many China suppliers and manufacturer. And many China export agent sourcing and wholesale buying from online suppliers. Moreover, many foreign buyers welcome China suppliers from made-in-China. Because they are always supply good quality and cheap price categories.
(2) The Advantages of made-in-China
The advantages of Made-in-China.com can divide into three aspects. Many China export agent will introduce to their clients to sourcing and wholesale buying from online suppliers.
Firstly, because of the professional assortment. The visitors are more pertinent and effective. And most of them are China manufacturers or suppliers. In fact, you can find almost all of the categories in the online shops. Generally, the products can classify to 24 categories. While each categories can divide into several sub-categories. So that each product category will concentrate on industry and supply chain support. Of course, Made-in-China.com will help the China suppliers improve the image of their online shops. And help them promote or advertising to attract more wholesale buyers.

Secondly, Made-in-China.com is gathering all the products information in China. And they always try to introduce China products to global buyers. Moreover, its information platform and free services create extremely convenient to the buyers. And most of China export agent will sourcing and find the best suppliers or manufacturers from online shops.

Thirdly, Made-in-China.com is different from other B2B platforms. Because they always focus on heavy industries. And the main products are machines. Such as machinery, building materials and vehicle heavy industries. It's easy for China export agent to find good suppliers of machines, and special products.
(3) Made-in-China Profit Model
Made in China get profit from the member ship fees every year. There are two kinds of Made-in-china members. The best one is gold member. And another is AS certified supplier. Generally, China export agent knows about it well. And they surely will introduce you the detailed information.
The price of gold member is 21,600 rmb per year. While for AS certified supplier is 31,100 rmb. As a gold members purchaser, you can enjoy the following services.
First, search products by entering keywords on the home page of made-in-China.com. Or find products through the China product catalog. As well as the contact information of China suppliers. By the way, China export agent always sourcing and find best suppliers in the website.

Second, you can contact the China suppliers directly. If you find some interested products, you can discuss detailed business terms with the China suppliers or manufacturers directly.

Third, you can release sourcing or purchasing information in the online platform. Moreover, you can add purchasing information to the business board. So that many China export agent or suppliers will contact you. Of course, the China manufacturers will show you many competitive products with good price and quality.

Fourth, you can use fee-based trade services. Which is always effective and help you develop trade with China suppliers or manufacturers.
(4) How to find the best products or suppliers in made-in-China.com
Sourcing and wholesale buying online from made-in-China, is really easy for China export agent. Because the online platform is developing for user. So that the website and online shops surely will guide you how to sourcing good China products or suppliers.
First step, you need to enter website of Made-in-China.com. And you can try to type the product name that you are seeking for. Such as fabric, clothing, shoes or bags.

Second step, you need clarify what specifications of the products you are interested. How to proceed? It's easy. Because you simply need to type the keyword in the search blank. Such as  "cotton", "polyester" or related words. Click confirm button, please. You will find many similar or same items you interested.

Third, check and compare each supplier, and their products. So that you can find which one is the best supplier for you.

Additionally, as a remind. When you enter to each product page. There are some detailed specifications of the products. Such as material composition, size, and color. Moreover, the technique, functions, or special points of the products. If you have any questions, just ask the suppliers directly. Generally, a professional seller will service online 24 hours. So that you can discuss more detailed requirements of the products. Until you make decision to place orders. In fact, your China export sourcing and find the good suppliers or products like this. Is it not so skillful work, right? However, it is really a hard work. Because you have to check and compare every potential suppliers before you find the best one.
3. How to buy from DHgate
To speak frankly, China export agent don't like to sourcing and wholesale buying from there. Why? Because the suppliers or products are not so competitive in the online shops. And sometimes, if you are lucky, you maybe will meet will some bad suppliers. Of course, it's not so frequently. But for business man, one time you lost goods, or receive bad quality goods. It's always means lost money. Or even lost your clients.
(1) What is DHgate?
It is a professional online platform which gather with many small to medium-sized suppliers in China. How to say. The online platform is not so bad. But to compare with Alibaba or made-in-China, there are lack of highlights. Although the website is the first one of e-commercial in China. And they have featured advantages as below. But who care about that?
1.Fifteen-year-old professional cross-border e-commerce platform

2.Two million suppliers all over in China

3.50 + National Customs Clearance Capacity. And 200 + Logistics Special Line 17 Overseas Warehouses

4.Over 21 million registered buyers have been registered. Which covering 222 countries and regions worldwide.
(2) Characteristics of the online shop
VIP club. Which have three levels: bronze, silver and gold. And the membership fees are $1500,$3000 and $8000, per year. Is it expensive? Yes, China export agent generally consider it expensive. Not so good service. But why charge so much?  Because of the service like: exclusive accounts, and free sample delivery? Is it should be true?

Professional forums and lectures. Yes, there are many useful articles in the forum of Dunhuang. And it is convenient for members to study. But, in fact, there are many good or better forums in China. And they are all free for everyone. Furthermore, most of the experienced writers prefer to launch their articles in the free forums.

Supporting loan services to sellers. Dunhuang and CCB cooperate to build online credit loan service.While the interest on the loan is 1% of the loan amount. Which saves the cost cycle. As a China export agent, we'd like to ask: for sales or for loan? What are you selling? And what are you service? Especially, when you meet some scams from there. So how about the managements or credit of the platform?
Not so welcome in my opinion. And most of the service are not so attractive. Anyway, it is a professional online platform in China. And there are still many China suppliers or manufacturers developing their business in the website.
4. How to buy from ebay
For ebay, personally think it's a mature and successful online platform. While the sales position is difference from alibaba or made-in-China. How to say, ebay is mainly for good quality and higher price. But the credit or the service of the suppliers online is good enough. And it's a good online shop for small order buyers or business starters. Many of the buyers from USA and Europe, are sourcing and wholesale buying from the online suppliers. But it is not the good place for China export agent. Why? Because the suppliers or manufactures are not the best ones in China.
(1) Ebay's three featured ways of selling goods
Ebay has 37 independent websites and portals all over the world. And its main global sales sites are: American, British, Australian, and German. As well as French, and Chinese. Moreover, it covers more than 190 countries and regions. With nearly 300 million users and supports 23 languages worldwide. By the way, China export agent will not sourcing and wholesale buying from the online shop. Because most of the suppliers are not the source in China. And the price and quality are not the best. Moreover, the suppliers are generally can't support bulk orders.
Auction. The seller first sets the starting price and online time of the product. Then starts the auction. And finally sells the highest amount of bidding when it goes down the line. Of course, the highest bidder is the winner of the product.

Buyout price. Sellers can set satisfactory transaction prices. But do not allow bargaining. And set up up up up to 30 days of goods online time. So that goods can be fully displayed. If it is more than one item, you can also choose "most quantity publication" to complete all sales publications at one time.

Auction and buyout price. Sellers choose to auction. Then set the starting price. And add "one price" (that is, the transaction price you are satisfied with) from the auction. So that buyers can either buy through auction. Or can choose to shoot immediately, with higher flexibility.
(2) Advantages and Disadvantages of ebay
Advantages of ebay.
The threshold for opening a shop is low. For instance, compared with Amazon, eBay has a lower threshold for opening stores. And less cumbersome procedures for opening stores.

Professional customer service support. Ebay Customer Service still provides good support for Chinese sellers. Including telephone support and network conversation.

Diversification of pricing methods. Ebay has launched a series of new pricing methods. Including no-bottom-price bidding. And bottom-price bidding. Or pricing sales, one-price trading. And so on.
Disadvantages of ebay.
The operation interface is not friendly.Because the operating interface of eBay platform is mainly in English. So it is not easy to operate for other non-English buyers.

Lack of payment methods. Ebay generally use PayPal payment. And audit process is long. That's means some certain risky of funds.

Single mode of logistics. Generally, sellers have orders mainly spontaneous delivery. And the cost of early operation is relatively small.

There are many charge items. Ebay stores are elementary. You can choose intermediate or advanced. However, the rates are different for each level of stores.
Ebay is generally for small order amount buyers. Or for some retail business. While for the suppliers, they are also small re-sellers. In fact, ebay is like a game more than an online shopping platform. As a professional China export agent, we don't use Ebay for sourcing or buying. Absolutely, it's no meaning for our wholesale business.
5. How to buy from AliExpress
AliExpress is a famous online trading platform too. And it is operating with Alibaba to the global market. Meantime, Taobao International Edition, seems the alias of AliExpress. Why? Because the operation models are similar with Taobao. For instance, products are edited into online information. And distributed overseas through AliExpress. Meantime, payment and logistics are integrated too. In order to help small and medium-sized China suppliers or manufacturers to contact terminal wholesale retailers. Then sell quickly in small batches, and expand profit margin.
By the way, the charges of AliExpress is interesting. Generally, they use free registration. But need charge 3% to 9.15% of the total transaction amount as commission of the online platform. If the seller uses Alipay to make the transaction, Alibaba will only charge a 3% Commission during the concession period. Is it interesting, right? Just like China export agent charge their clients for service commission.
(1) Product Distribution of AliExpress
AliExpress covers 30 first-class industry categories. Including appliances, apparel, home furnishings, accessories, etc. And the related industries or categories are daily using commodities. For instance, clothing, apparel, and mobile communication. Meantime, shoes, bags, and beauty health products. As well as jewelry, watches, consumer electronics. Moreover, computer network, home, automobile and motorcycle accessories, etc. In fact, almost any kinds of China products, can sourcing and wholesale buying from AliExpress online suppliers. So that many China export agent will sourcing from the online suppliers. In order to find good China suppliers or manufacturers. But in fact, China export agent will not purchase from the online shops directly. Because the China export agents are always contact the suppliers or manufacturers to negotiate a better price.
(2) AliExpress Suitable Products
As a normal concept, products selling online shops, generally have same featured advantages. As a professional China export agent, we list below. In order to remind those who are business starters or small order buyers. To help them how to sourcing and wholesale buying from online suppliers in China.
(1) Small size. In order to match express transportation requirements. So that can reduce the cost of international logistics.

(2) Single goods with higher added value. If lower value but big volumes, means high shipping cost. And small profit margin to re-sell in local market.

(3) Commodities have their own characteristics. And goods with good online trading performance. In the same words, means the goods should be individual or fashion designs. So that consumers will be attractive to pay money for it.

(4) The price is reasonable. If the price of online trading is higher than the local market price of the product. It will not attract buyers to place orders online. And considering about shipping cost, customs duties, and related cost. The price of online shops, should be much cheaper. Of course, there are another deadline, the wholesale price in China markets. If the price is similar, then still can consider to purchase.
Conclusion.
China export agent sourcing and wholesale buying from Online suppliers. However, the China export agent generally sourcing and purchasing in wholesale markets. Because in the wholesale market, the China export agent can check and compare the products, discuss with the suppliers or manufacturers face to face. Anyway, sourcing and wholesale buying from online, is an effective way for China export agent. Not only for the China suppliers and manufacturers resource. But also because of the sales channels changing. To be a professional China export agent, they always should be the specialists in China wholesale market. As well as online shopping methods.