Zhongshan Lighting Wholesale Market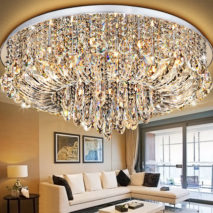 Zhongshan Guzhen lighting wholesale market is the largest lighting wholesale market. And also is a professional lighting production base in China
China lighting capital, named China Guzhen, is located in zhongshan, guangdong province, China. It's in the middle of the pearl river delta, and connect to Hong Kong and Macao.Guzhen is not only outstanding in economic structure, but also in industrial structure. In addition, it's lighting industry taken up more than 95% in its total economic volume.Since its developed in 1982, it has formed a lighting industry group. Guzhen annual output value was over 100 billion RMB. It is the largest lighting wholesale market in China.
Our products have been exported to 190 countries and regions, all over the world. Also owned 70% market share in China's lighing industry. In fact, we sharing the same market with France, Italy and Japan.
Guzhen will hold lighting international exhibition every year . Now Guzhen shape innovation move industrial development strategy. And try to create original design heights. Lighting market try to both mould "guzhen lighting" regional brand, and build a "global buyers purchasing line". Guzhen lighting together overseas buyers, and first-class quality domestic companies as one. And its also established non-worry purchase, and trade convenience.