The Textile And Garment Accessory Square – Guangzhou Fabric Market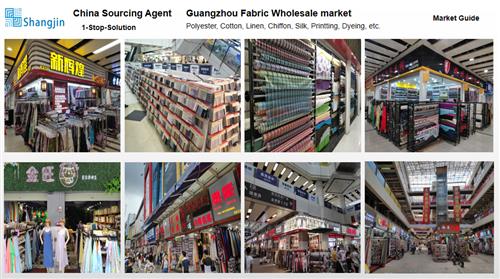 The textile and garment accessory square in Guangzhou fabric market. In fact, it is not a single sales building. But many squares there. Generally, in every Guangzhou fabric market, there is a special area for textile and garment accessories. As we all know, the biggest Guangzhou fabric market is in Zhongda textile wholesale circle. And there are more than 10 big and comprehensive textile wholesale markets. Meantime, various featured textile and clothing accessories in the fabric wholesale market. And better for you to hire a China agent to guide sourcing and buying in Guangzhou fabric wholesale markets.
China Agent Guide You Buying In Guangzhou Fabric Wholesale Market For Textile and Garment Accessory
As a professional China buying agent, always guide their clients in the textile and garment accessory wholesale markets. And we also shared many information of the Zhongda textile wholesale market circles in our website. In order to guide you how to sourcing and buying with China agent in Guangzhou markets.
1. Yangtse River Textile and Garment Accessory Square
The textile and clothing accessory market is across the road from the Guangzhou International Textile Building. Actually, it was once the biggest textile wholesale market. However, now the biggest one is the Guangzhou International Textile Building. So that, now the market is mainly for cheap and middle quality fabric and accessories.
In the market, there are thousands vendors. And each area divide into many streets. Meantime, every fabric shop are small, not big space. Furthermore, 70% of them are manufacturers. So, is it interesting? And you can understand why many China agent guide their clients sourcing and buying here. Because cheap rents. As well as you can place order to the manufacturers directly. 
In the market, you can easily find various featured textile and garment accessory. Such as embroidery, woven, and knit fabric. By the way, there are many zippers, buttons and stone accessories. In the second floors, there are many lace shops. While many shops are warehouse of the shops. So that the vendors can sell out small or samples easier.
2. Other textile markets for clothing accessories
As mentioned above, there are many textile sales buildings. If you hire a China agent to guide you sourcing in Guangzhou. You will feel easy to find good suppliers. By the way, there are many small streets in the fabric wholesale circle. And you can find many cheap but good quality products. For instance, small manufacturers for clothing accessories. Such as buttons, metal hardware, or dyeing and printing. Furthermore, you can find small workshop for design, samples making room. As well as some textile machines wholesaler, repairs, or share parts selling.
It is really interesting to find good suppliers in the small street. However, better for you to hire a China agent to guide you. Because there maybe some bad service suppliers. Or even meet some poor quality but scams in the small street.