Produce Clothing Custom Made – Buying Cost From Chinese Manufacturer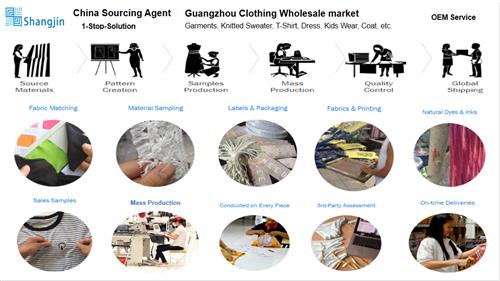 Produce clothing custom made, know the buying cost from Chinese manufacturer. There are many brand companies or fashion buyers want to custom made their textile products. Such as printing cotton t shirt, and lady's skirt or dresses. With trendy printing fabric, sports or swimming wear, knitwear, etc. And they are always asking for the cheap buying cost. That custom made bulk orders to produce clothing from Chinese manufacturers. As an experienced trade agent company. For sourcing, buying and export from China wholesale market or factory suppliers. Shangjin absolutely understand, and good service at custom made products. In fact, we are dedicate to help our clients, buying bulk in the best price cost from Chinese manufacturers.
In order to promote the relationship, between foreign buyers and China manufacturer suppliers. Here, Shangjin would like to introduce the cost of clothing producing in Chinese factory. And want to explain how to find the best cost buying products from Chinese manufacturer. So that our clients can understand better. And easy to get agreement with the Chinese manufacturer suppliers. Here we focus on buying cost of clothing producing. In fact, printed fabric, garment textile, and custom made shoes are the same status. For instance, sneakers, slippers or trainers buying cost. As well as custom fabric for printing or dyeing. Because all of the textile products purchasing skills, are the same concepts for custom made service.
Know
Clothing Cost That Chinese Manufacturer Produce
Before Bulk Buying
Custom Made Orders 
For expereinced fashion buyers, it's not a problem. As they already set up a good supplie chain of Chinese manufacturers or wholesalers. While for a new business starter. Or a business man who is the first purchase from China wholesale markets. This article should be helpful. Because you know the clothing cost to produce before you buying. Then you can understand how to coorperate with China sourcing company and factory suppliers. Meantime, for import export purchasing business, it's essential to kown the buying cost. So that to create a correct budget of massive product purchasing trade.
1. Different Chinese manufacturers or factory suppliers
Normally, different styles of clothing need produce via certain machines. While different Chinese manufacturer will have different facilities. According to their history or specialized. For a garment product seller or buyer, you may have to buy whole collections each season. That's means you will face, and do business with different suppliers during your purchasing. When you place order to Chinese manufacturers, you may find that the cost – effective are not same.
In fact, every supplier charges for their fabrics and materials differently. Because textile garment manufacturers operate in different China cities. And each manufacturer hubs have different regulatory environments or policies of the Chinese government. Because the different consuming index, the material buying cost and clothing produce cost are different from one another. Meantime, the different equipment and skill sets of workers, means their interests maybe different.
However, the most important reason we think, is the scale effect of the Chinese manufacturers prefer. Which means a Chinese manufacturer who has sewing machines. That doesn't mean they can, or they want to produce clothing what they have designed. Why? Because, they usually focus on the number of completed pieced per hour. And fewer styles the work produce clothing. Then more effective the production capacity the machines have. Anyway, we can understand easily. That the faster they can produce clothing, the better benefits for the Chinese manufacturers. Which the factory suppliers are always focus on MOQ requirements.
2. Hidden buying cost of clothing styles and complexity to produce
There are hundreds of styles of clothes categories. Such as winter coat, sport wear, swimwear, etc. Or hoddies, blouse, suits and pants, etc. And no matter you choose which designing. For each clothing category has subsets. For instance, styling, features and elements. Or textile materials, fabrics options, size and color, etc. Which are always means clothing producing costs.
Normally, the more complex designs of clothing to produce. Then the longer time to make it. While time means the cost of labor. So that surely will impact the cost of clothing producing and buying. Moreover, complex design usually means higher technical and skill require of workers. And higher risk of quality controlling. As well as the management cost of the Chinese manufacturer to produce clothing. Such situation is popular in custom made bulk orders.
Here, we need know about benefits. If we can understand it well. Then we can easily understand. Why the Chinese manufacturer will reject an order of high value. For example, custom made sequin lady dress. But happy to accept a simple clothing style of t-shirt producing. For instance, if the t-shirt cost us$ 5 to produce. And the sequin lady dress costs us$ 50. While the lady dress takes three days to make. Which option the Chinese manufacturer will choose? In three days, the Chinese manufacturer can produce thousands of t-shirts clothing. Althoug both bulk orders are custom made. Or need print fabric for the t shirt design.
Normally, Chinese manufacturers prefer to produce simple clothing with large quantities. Because it keeps their factory busy. And easier to achieve the sales targets. That's why the complex style, generally means more buying cost. When you persuade the Chinese manufacturer to accept the orders.
3. Fabric materials impact the buying cost of clothing produce
In fact, fabric is the major factor of the buying cost for clothing. Because the fabrics you choose, will ultimately impact the buying cost of the clothing.
For example, swimwear, the cost is absolutely different. When you choose lycra or some other synthetic fabric. Meantime, lycra, with different name of spandex or elastane. That comes in different varieties, blends, and qualities. However, difference quality of elastane, means different buying cost for a swimwear clothing.
If you want to have the featured fabric. Which usually means more buying cost. Because customized fabrics are higher cost than stock ready products. If you want to custom made fabric color, printing or dyeing. Then need more buying cost. And need more delivery time.
On the other hand, textile accessories or trims, is important for clothing buying cost too. For instance, buttons, zippers and clips. Or clasps, grommets and draw strings. Or nuts, bolts and sequin. As well as jewels, straps, bands, etc. Whatever other materials that use for clothing producing.
There are also various qualities of each trims or accessories. For example, zipper cost for pennies or dollars, means buying cost for your clothing produce. Meantime, Chinese manufacturer always require MOQ. Which means for the trims you choose, shall impact the buying cost of clothing produced.
4. Custom made fabric for dyeing or printing
If you need custom made fabric material. Then dyeing and printing your fabrics will impact the buying cost of clothing produced. Because the customized fabrics need new MOQ. When Chinese manufacturers prepare their dye solutions. They firstly consider the type and composition of fabric. In order to reduce waste when dyeing and printing fabrics. Meantime, they will expect to consume all of the dye they've made.
Same as dyeing, printing your fabric will impact the buying cost of clothing produced too. Because printing fabric base on different techniques. Such as screen printing fabric. Or digital printing fabric. Then you have to face different buying cost structures based on your designs. Generally, screen printing fabric, the costs less than digital printing fabric.
By the way, for fabric printing and dyeing, better to choose a good quality Chinese manufacuter. As the color tolerance is inevitable for textile business. While can control the rate to avoid big mistake or wrong color. Which also means can reduce the risky of buying cost for your custom made clothing production.
5. Labor cost and supplier chain in Chinese manufacturer hubs
Labor cost is a very popular problem for clothing produce in recent years. In Guangzhou, Shanghai, and Ningbo, the Chinese manufacturers feel harder. Because the labor cost increased from usd 40 / day to usd 80 / day for an experienced pattern maker. And  usd 30 to 50 usd rmb for common sewing workers. That's means your buying cost of clothing produce, will higher than before. If you place custom made bulk order to manufacturers in western region of China. Then the labor cost surely will be more cheaper. Which the same meaning of clothing producing in India, Myanmar, Thailand, etc.
However, do consider the other related buying cost. And the most important is the supplier chain of clothing producing business. Because a clothing manufacturer must purchase related fabrics and materials from their suppliers. There is a completed supplier chain or manufacturer hubs in China. Such as the cities of Guangzhou, Shanghai, and Ningbo. Or Wenzhou, Dongguan, Yiwu, etc. From yarn cotton raw material to silk or chiffon fabrics. Or from trims hardware to garment hotfix swatches. Or other metal or plastic accessories. As well as fabric dyeing and printing factories. If you place order to other region's clothing factories. Then the related buying cost maybe still higher. Furthermore, the skilled workers, specialized factory manager. And garment textile products wholesale markets. Which are all means hidden cost of the clothing buying and producing.
Conclusion
Sourcing and buying clothes from China market, need know about the products cost. Before that, you'd better understand the produce cost of cusom made order from Chinese manufacturers. When you understand the operation of Chinese manufacturer. Such as machine and technique difference. Or the benefits preference and MOQ requirements. Or the buying cost for custom made of fabric printing, dyeing, accessories, etc. Then you can understand how to work with Chinese manufacturers. And know how to control your buying cost for clothing products. Or other garment textile products of shoes, bags, fabric, etc.
Shangjin trading company is a professional sourcing and buying agent in China. And we understand well with the China factory suppliers or wholesalers. So that we can guide you find the best suppliers. Then purchase from the Chinese manufacturers for the best buying cost with good price and quality. If you want to know more. Or want to find a good partner in China market. Please contact us.