Guangzhou Baima Garment Market – Fashion Wholesale China Supplier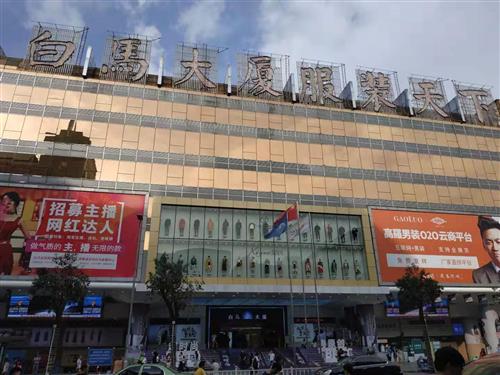 Guangzhou Baima garment market, is very famous for fashion clothing wholesale in China. In fact, Guangzhou Baima is the biggest fashion garment distribution center in China. And the garment product are fashion design, high quality, and reasonable price. There are thousands of suppliers come from whole China garment manufacture hubs. Such as Guangzhou, Ningbo, Shanghai, Wenzhou, etc. Meantime, suppliers come from Shenzhen, Yiwu and Hong Kong. As well as South Korea, and Japan. Furthermore, Guangzhou Baima garment wholesale market is an export center in China. millions foreign buyers come to purchase fashion garment here. And most of China agent or market guide prefer to accompany their clients sourcing and buying in Guangzhou Baima. Of course,some for wholesale, and some for gifts or personal shopping. While most of the fashion companies or buyers, are seeking garment samples for their own brand or collections.
Wholesale Buying Fashion Clothing From China Suppliers In Guangzhou Baima Garment Market
1. Distribution center of fashion garment in China wholesale market
Guangzhou Baima is operating from 1990's. And is developing and improving several times in the 30 years. Now the sales building is very modern. With good facilities for fashion garment shopping or selling. In Guangzhou Baima, there are more than 2,000 suppliers from China. As mentioned above, most of the suppliers are manufacturers or have own factories in China. So that the price and quality is competitive.
Moreover, the China suppliers normally have own design teams. And they will launch new collection every season. Which are always catch the fashion trendy of world branded designs or elements. As well as the fashion textile or accessories. Or new function fabrics. Or new fashion styles with special techniques. So that it's the fashion garment source in China. Most of fashion garment wholesalers come from whole China wholesale market, to purchase from Guangzhou Baima. Then resell to each big clothing wholesale market in China first-tier cities. For instance, resell to the apparel wholesale markets in Beijin, Shanghai, Hangzhou, etc. Moreover, many fashion companies purchase from Guangzhou Baima. Generally, they will use their own labels or logo. And then retail sales in department stores.
2. Comprehensive sales models in Guangzhou Baima 
Guangzhou Baima is famous for its sales models of fashion clothing. In fact, you can find any distribution methods here. What sales methods? Following, we'd like to share you the basic information. In order to help you sourcing and buying easier in Guangzhou Baima. And help you know how to work with the China suppliers or manufacturers. Actually, sales methods based on China suppliers background.
(1) Factory shops
These suppliers have own factories in China. Or they are sale department of a China manufacturer. It's a very popular wholesale concepts in Guangzhou fashion garments market. Or other products like textile, shoes, bags, jewelry, etc. Generally, factory shops means good quality and cheap price. Moreover, they can accept custom made service. The China supplier can produce according to your designs. Or individual fabric, or accessories.
(2) Wholesalers with factories supply chain
These suppliers don't have own factory in China. But they have many cooperation manufacturers to purchase. In these shops, you can find many categories of fashion garment. From coat to shirt, skirt, dresses, even suits. And the suppliers also display collections in difference fabric or textile materials for fashion clothing. For example, they sell cotton apparel, silk designs, or jeans denim garment. And for swimming wear, sportswear, and underwear. Purchase in such China supplier, is the best choice for small business orders. Because they can find most of their interested items in one shop. So that to bargain a better price with small MOQ. In these shops, they can service you private label or simple change of size, color. But can't help you custom made for design, or fabric adjustments.
 (3) Re-seller shops
These fashion garment suppliers in Guangzhou Baima, is not too much. Around 20% of the China suppliers are such sales methods. How do they work in such methods? Everyday, or several times one week, they will purchase from Shahe clothng market, or Shisanhang clothes market. Because the price is much cheaper in Shahe and Shisanhang. Although China agent or market guide consider the quality is not so good than Guangzhou Baima. But if you are an experienced fashion buyer, you still can find good quality with cheap price fashion garments in Guangzhou wholesale market. In these shops, the China suppliers only accept private label service. Generally they don't like to accept too complex orders. Of course, if your order amount a big, they surely will be grad to accept. While the price should be higher.
(4) Fashion Brand shops
These shops have own brand name, image, or sale channels. While the shops in Guangzhou Baima, is not only for sales. But also for brand image advertising. And service for ordering meeting or fair each season. And they are generally refuse to custom made service. Only sell you their stock. Or fixed designs they already launched in the wholesale market. If you are a wholesaler who want to be an agent of them. They will be very welcome for your bulk orders.
Generally, they will require you apply for brand license member. And require you purchase or guarantee a certain order amount. They will agree to help you develop market. And support you advertising material. Or help you display fashion garment in your shops. And train your shop staffs. China agent or market guide company is not interested in such shops. Because of the service cost are too expensive. And the sales model is good for mainland garment market. Not a good choice for foreign buyers in their local market.
(5) Retail sales in every shops
Such situation is coming out only from 2015's in Guangzhou Baima fashion garment wholesale market. Because the sales channel innovation in China fashion garment market. And also the sales business seems not so hot in these years. So that the China suppliers in Guangzhou Baima, agree to retails step by step. Now if you want you buy one piece, you don't need check with them in advance. Generally, the retail price is 30%-40% higher than bulk orders. And the China suppliers will require you pay before you trying on the clothes.
3. Basic in formation of Guangzhou Baima sales building
Guangzhou Baima fashion garment wholesale market has around 50,000 square meters. And there are total 9 floors in the sales building for China suppliers. As well as completed service center. Such as business center, restaurants, trading fair, and banks.
Basement floor is selling many kinds of fashion clothing. There are many difference categories. For instance, knitting wear, woven tops, leather clothes, etc. As well as fashion garment for women's and children's apparel. And boutiques for underwear, suits, skirt, etc.

1st floor and 2nd floor are selling fashion ladies' clothing. The designs are latest fashion for young lady. In some shops, you also can find some fashion accessories. Such as caps, scarf, bags, jewelry, etc.
3rd to 5th floor is for fashion woman's clothing. And most of the shops are brand shops. And there are many re-sellers. The design is suitable for Chinese woman. Of course some designs are for foreign trade. Better for you to hire a China agent or market guide sourcing for you.

6th to 7th floor are fashion brand man's garment market. You can find all kinds of basic designs, styles, and categories.

8th floor is selling European and Korean fashion woman's garment. And many suppliers or shops have own brand. While some will remind fashion buyers as "design in Korea", "design in Paris". And so on.
3. Baima Wholesale Market Locate In Guangzhou Garment Business Center
As we all know, Guangzhou is the fashion product center in China. Even in the world. There are many fashion categories famous for distribution center or export trade center in China. For instance, Guangzhou Zhanxi clothes, Liuhua garment wholesale market. And Guangzhou shoes wholesale, bags market. As well as Guangzhou fashion accessories, jewelry wholesale market. Furthermore, fashion textile and fabric materials wholesale.
Guangzhou Baima is in Zhanxi garment wholesale circle. There are more than 20 famous sales buildings in the area. And hundred thousands China suppliers gather here. As well as many China agent or market guide companies operate nearby the wholesale center.  Of course, each sale building have featured products. Or different quality level, price position. Better for you to hire a China agent or market guide to help you. In order to easy your sourcing and buying behavior in Guangzhou wholesale market.
Millions foreign buyers wholesale buying in the fashion garment wholesale market. Because Guangzhou Baima is focus on fashion garment in middle to high quality. So the foreign buyers mainly are from USA, Europe, and Australia. Of course, there are still many clients from each foreign country to wholesale buy clothes from Guangzhou Baima. Same reason of market position in their local garment markets.