Where Is The Best Clothing Market In China – Wholesale Purchasing Guide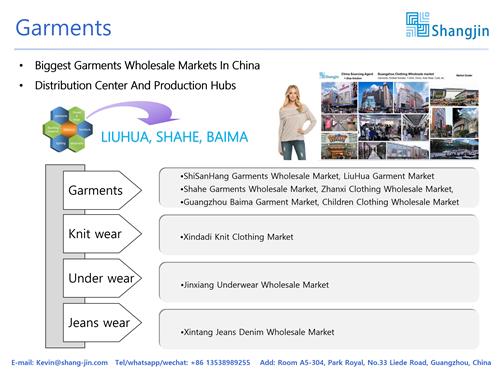 Where is the best clothing market in China? How to find the best wholesale market, and guide purchasing apparel from China? Here, a Guangzhou guide agency, shall share you 12 best Chinese apparel wholesale markets. These clothes markets are the best place for wholesale purchasing in China. While these clothing markets are spread in many China cities. For instance, Guangzhou, Shenzhen, and Ningbo. As well as Yiwu, Wenzhou, and Hangzhou. Although millions foreigners come to purchasing in China clothing wholesale markets. But they don't know where is the best wholesale market for sourcing and buying. How to do then? Hire a good China agent company to guide you purchasing in correct clothing wholesale markets.
Of course, Guangzhou clothing wholesale markets are the best place to purchasing apparel in China. As well as the best market guide service here to help you sourcing, buying and export from China. If you hire the best Guangzhou market guide or agency company. Then they can sourcing and wholesale purchasing apparel in any China cities. Below, let's guide and enjoy the best clothing markets first.
12 Best Clothing Wholesale Market For Fashion Apparel Purchasing And Export In China
The 12 best clothing markets are mostly locating in 3 cities. Which are all the best manufacture hubs in China for fashion clothes and accessories. They are  Guangzhou, Wenzhou and Hangzhou. Of course, Shenzhen, Shanghai, and Ningbo are all very famous for fashion garments. Following, let's guide and share the best apparel wholesale markets. And we will introduce a brief for its featured garment products.
1.
Baima clothing m

arket in Guangzhou

Baima clothing market is the most famous garment wholesale market in China. Not only for the fashion style and high quality garments. But also for the affordable price. It is a distribution center for China clothes markets. In the apparel wholesale market, you can find any kinds of fashion clothing. For example, silk or linen fabric lady's dresses and skirts. Or top quality leather fur material garments and footwear. As well as fashion design denim jeans, and knitted sweater garments.

There are many other related apparel, accessories and textile products. Such as branded bags, shoes, jewelry. Or some beauty items like wigs, cosmetic, jewlry, etc. Anyway, your market guide will tell you the best point of the clothing market. What is it? Stock and retail purchasing is acceptable. Is it a good news for a business starter to purchasing in China with small MOQ ?
2.
Liuhua garmen

t wholesale market in Guangzhou

Liuhua apparel wholesale market is mainly for purchasing and export in China. In the clothing market, only accept bulk orders. While the price and quality are very good for big order amount. However, it's not a good place for small business starters. In fact,  best Guangzhou market guide generally recommend their clients to sourcing here. Why? Becasue the MOQ is negotiatable. For example, normal MOQ of a women dress is 300 to 500 pieces. But the market guide can bargain to the best terms. Can you accept a total MOQ in 150 pieces with mixed 2 – 3 colors and 2 – 3 sizes? If yes. Then you can get the most competitive price and quality items.
Guide you shopping in the best Guangzhou clothing wholesale market
In the clothing market, the most popular garments products are normally the same. Such as lady's skirt, dress, and coat. As well as swimming wear, underwear, and sports suits. There are also many shops for men's garments. And most of the vendors are manufacturers. Who have own factories in Guangzhou, Shenzhen, and Ningbo. In fact, the suppliers come from whole China.
The buyers mostly come from some development countries. Such as Middle East, South Africa, and Southeast Asia. But some clients from Australia, American, and Europe like the clothing market too. Most of them are wholesalers in their local market. And purchasing in China apparel wholeslae markets every season. Generally, they will hire a good market guide help them get the best business terms.
3.
Shahe clothi

ng market in Guangzhou

Shahe clothing market is very famous for its cheaper price and small MOQ. In fact, Shahe clothing market is the cheapest price apparel wholesale market in China. Why to say so? Because 90% of the suppliers are manufacturers. Who have own small factories. While most of the factories are only 5 – 20 workers. And their clothing designs are not so various. Anyway, a professional China market guide, will help you find the best items you want.

Here need remind you. In Shahe market, you can find any kinds of clothing you are seeking for. As Shahe market is a very big apparel wholesale circle. There are more than 10 famous sales building for clothing. Some for lady, women, and girls. And some for boy, kids, and baby mother products. Of course, if you need men's apparel or shoes. You can find a big sales building there. Cheap bra, socks, underwear. Or leather, PU, and fake fur coats, jackets. As well as fashion design jewelry. Or beauty products. Or garments accessories.
Best market place for sourcing cheap fashion clothing items.
Most of the designs are fashion. Seems same as Baima, Hongmian, and other high qaulity apparel wholesale markets. But please note the fabric material quality. And the sewing, cutting work techniques. Then you will find the quality level are diffirent. Please consider about your sales markets. Then sourcing and purchasing in Shahe apparel wholesale market.
4.
Shisanhang garme

nt wholesale market in Guangzhou

This garment wholesale market is known as cheaper price and small MOQ too. To speak frankly, the price is a little higher than Shahe clothing market. because the quality level are better. While the MOQ is acceptable. Usually 20 pcs per style. Moreover, 70% of the suppliers have their own factories. In the clothing markets, you can find any apparel collections too. For women coats, lady's blouse, and men apparels.

Anyway, it's one of the best apparel wholesale market for purchasing in China. There are many China agents seeking or guide their clients in the clothing market for best products.
5.
Zhanxi

clothing market in Guangzhou

Zhanxi clothing market is famous for it's fashion style and cheaper price. In fact, Zhanxi is a very huge business circle. And it is the biggest distribution center in Guangzhou for purchasing from China. There are apparel wholesale markets; shoes and footwear mateiral wholesale markets. As well as bags, accessories, and sports products markets. Most of the suppliers are selling stock products. Of course they mainly accept bulk orders.

However, the most featured clothes are copy style. Or fake branded apparel and fashion accessories. Interestingly, many foreigners come to purchasing from China. And export to Africa or Middle East markets. Becasue for the fashion design items, they can get the best price with their market guide.
6.
Huimei

fashion apparel market in Guangzhou

Huimei fashion apparel market are the best clothes market for lady's and men's styles. And the apparel market is mainly for high quality garments wholesale and retail. All fo the designs are fashion. While the target market is for young girl and boys. Some for fashion lady and women. Of course, there are some shops for children's apparel. Not only for clothing. But also for shoes, bags, accessories. In this market, the fabric material are good. Many silk, linen and chiffon items here. As well as good quality cotton, and polyester textile material. So that the quality level and price range are higher.

However, if you want to import from China. Better to sourcing and buying lady's fashion there. As China market guide will remind you. That don't care about the MOQ there. Furthermore, just pay attention to if you get a production price or sample price. On the other words, purchasing from China fashion market, better to re-sail online or as a retailer in your local market.
7.
Xindadi k

nitted sweater garment market in Guangzhou

Xindadi knitted sweater apparel market have more than 3,000 vendors in the wholesale building. Most of them are manufacturers. Price seems similar. But you must pay attention to the quality. As we all know, knitted sweater are more complexity then woven garments. And the textile material are so difficut to understand for a business starter. You have to understand the yarn qaulity well. As well as the producing techniques.

If you want to purchasing in China with a high quality knitwear clothing. Better to check if the supplier come from Shantou or Dalang. Why? Because this 2 cities are knitting wear hubs. And Shantou for good quality handwork. While Dalang for cheap price bulk orders. By the way, there are some vendors come from Zhejiang Tongxiang. Which is a famous knitted sweater manufacturer hub. Near by Ningbo, Yiwu, and Wenzhou.

Anyway, Purchasing knitwear apparel in China wholesale market, must pay attention to the quality. Such as yarn gram, textile material composition. As well as color, size, patterns or techniques.
8.
Zencheng Jean

s & denim clothes market in Guangzhou

Zencheng jeans & denim clothes market is very famous in China. It is about 30 km away from Guangzhou. And based on a production hub of jeans apparel wholesale markets. In fact, experienced foreign buyers, prefer to purchasing in Zencheng with their China agent. Because the China agent company can sourcing and guide them find the best market suppliers.

The price is much better than Guangzhou jeans whole sale market. But there is a problem for purchasing and shipping in China. If you buying small quantities, the delivery condition need consider about in advance. How to quality inspection before balance payment? And how to consolidate the goods to Guangzhou warehouse? Better to consider the extra cost in price comparing. Anyway, check and discuss with your market guide. Because they can suggest you the best buying solutions.
9.
Zhongshanba kids

apparel wholesale market in Guangzhou

This is the biggest kids apparel wholesale market in China. And the quality level is nice. All of the collections are generally in good fabric material. Of course, the price is good too. In fact, many of the suppliers have own brand. And distribution in whole China children clothing market. Please note, the children collections. Means in some kids apparel wholesale show room. You can find various categories and product collections. For different ages, clothing style and seasons. There are related accessories for kids. Such as luxury leather bags. Or fashion shoes and footwear accessories. For example, the brand vendor will have shoes collections like sneaker, sandal, slipper, etc.

In the Children apparel wholesale market, the MOQ is not higher.  Normally in 5 – 10 pieces in mixed size per color. But based on the suppliers. It's better for you to check with the suppliers. Anyway, Zhongshanba kids apparel market, is one of the best clothing wholesale market. For fashion apparel kids apparel. As well as teenage of girl, boy, and baby. Surely, it's the best choice for you to purchasing in China with your market guide.
10. Wenzhou City clothes wholesale Market
Wenzhou City apparel wholesale market mainly for cheaper and poor quality clothing. In fact, it is almost the cheapest clothing market in China. There are thousands small factories in the city. The style is not fashion so much. And not good qaulity fabric material too. But the price is really cheaper. While the MOQ is bigger. Normally need 300 – 500 pieces per color with 3 -4 size.
In fact, if you find the cheapest clothing sailed in your local market. the products must comes from Wenzhou. The city is nearby Ningbo, Shanghai, and Yiwu. And the most famous products are cheapest clothing, shoes, and small commodities. As well as some plastic toys, kitchen and tableware items.
11. Sijiqing clothing market in Hangzhou
Sijiqing clothng market is the most famous in Zhejiang and Shanhai. Which are nearby Ningbo, Yiwu and Cixi cities. Because the textile material of cotton, silk and linen fabric come from the area. So that the fashion clothing industry is very famous. In China textile industry, and fashion apparel wholesale business, it is another distribution center in China. There are many brand fashion companies locate in Hangzhou, Shanghai, and Ningbo. So the quality, price is very competitive in China clothes market. Of course, not for cheap. But for cost-effective choice.
12.
Haining fur & leather

apparel market in Zhejiang

Haining fur & leather apparel market is a specialized garment market. The featured products are leather clothing and accessories. For example, high qualtiy women leather coats. And fashion cheap fur or silk scarf and caps. No matter what kind of fur or leather fabric you want. You can find easily in the city. As it is a fur & leather fashion industry hub and distribution center in China. So that the price is very affordable. If you want purchasing in China for such clothes. Just sourcing and purchasing in Haining with your China agent. By the city is nearby Ningbo, Shanghai, Wenzhou and Yiwu cities.
Find  A Partner For Your Business
To be an experienced buyer, who purchasing from the best China clothing market.  You'd better know more about China apparel wholesale market. In fact, not only above mentioned 12 garment wholesale markets. There still have more famous clothing market in China. Better for you to hire a professional market guide to accompany you visiting the China clothing wholesale market.
There are many famous clothing market in Guangzhou. Such as Jinxiang underwear clothing market. Or Hongmian fashion knitted sweater garment market. Or Jingbao men apparel wholesale market, etc. Furthermore, if you want special styles of sports or yoga clothes. There a specialized clothing market. Whose name is MeiBo sports apparel and beauty wholesale markets.  As well as swimming wear, underwear, or wedding dresses markets.  A China market guide will recommend you the best clothing market in Guangzhou.
Sourcing Agent purchasing in China
Of course, a China market guide not only help you find the best clothing supplier.  But also help you purchasing and export in China. Not only in Guangzhou, Shenzhen, Dongguan. But also in Shanghai, Ningbo, Wenzhou and Yiwu. Normally, market guide shall offer a comprehensive service for purchasing and export in China. If you want to know more about apparel wholesale market or China guide agent. Please visit our online websites. Or contact us directly.