Side Table Gold – Buy Coffee, Console & End Tables Living Room Furniture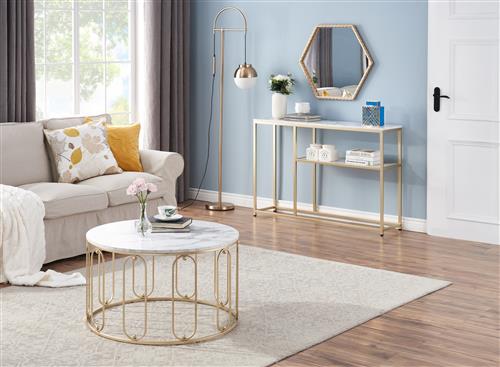 Side table gold – buy coffee table, console & end tables living room furniture from China factory. In 2020, furniture products are extremely hot selling worldwide. Whose original source in China. And buy wholesale from furniture factories directly. Then resell online shops at e-commerce platform sites. Like Amazon, Alibaba, overstock, etc. There are various modern furniture collections. Such as end tables for living, dining & kitchen room and bedroom. Or home office furniture of chairs, sofa, desks in small space. Or outdoor lounge patio furniture for leisure, party, garden, pets, etc. However, the best sales categories are luxury gold side & end tables. Which names accent living room tables too. Including coffee table, entryway and console tables. Or TV stands, storage cabinets, and beside benches. Or side table like hotel trolley bar cart for commercial party. As well as marble nail manicure tables; beauty salon sofa chairs for shopping mall stores.
Shangjin trading company shall introduce a featured side & coffee tables collection. Which is high end gold color faux natural marble tops. Or glass, MDF, BP surfaces. With frames of steel, iron, solid wood, etc. These console & coffee tables must be hot selling in 2021 year. Why? Because of our optimized improvements for e-commerce business. We choose the best eco-friendly material original source in China. Unique designs side table structures. And high end gold power coating machines buy in furniture industry. With easiest solutions for assembly instructions. And perfect KD package protect online shopping to consumer.
Buy Side & End Tables From China Furniture Factory – Marble Gold Accent Table
1. Shangjin Trading Company Help You Develop Own Online E-commerce Business With Hot Selling Products
(1) Completed living room furniture collections, focus on side & end tables products
In 2021, Shangjin trading company will keep launching side & end tables. And focus on sourcing, buying, and export living room furniture from China. In this site page, we plan to recommend a professional side & end accent table factory. That help you buy living room furniture directly from China factory. For your wholesale business or online website shops in local market. This side & end table factory, has been dedicated in accent coffee tables 10 years. And can supply you the full collections of side & end tables furniture, in living room, bedroom, or dining & kitchen room. Such as coffee table near sofa chairs. Or entryway console tables for storage & decor. Or side & end tables for home office furniture. As well as commercial furniture of nail salon table, manicure beauty tables, trolley bar cart, etc. Which are all trendy designs, contemporary styles in modern, rustic, urban, etc.
Beside this factory who are professional in gold color side & end marble tops tables. In our living room furniture supply chain, we have many other factories. For instance, velvet leisure sofas for living room, bedroom, or meeting room. Or rattan outdoor chairs, lounge patio furniture for garden, swimming pool, hotel, etc. Or power lift recliner sofas for elderly, children, or body recovery. As well salon beauty store chairs, game chairs, office desks, etc. Meantime, Shangjin trading company is experienced sourcing and buying agent too. So we can supply hot selling products directly. Which you want to outsource or original source purchasing from China.
(2) Great e-commerce online shopping merchandise and supply chain, promote wholesale trading to website shops resellers
This factory is one of Shangjin's direct manufacturer in China. We are cooperating in whole sale channel and process. From new products launching, promotion, to clearance sale. And OEM, ODM samples making. Until to bulk production custom made and export in China. With overseas warehouses supply system. And so on. There are 4 overseas warehouses in America cities. Another large overseas warehouse in Germany. That distribute to whole Europe countries. Why we can work in such way? Because we are developing to set up a large e-commerce online sales supply chain. That focus on new trendy products create and launching. Control high end product quality with quick manufacture lead time. Together with professional logistics management, and after-sale service.
In order to set up overseas sales network, we are sourcing and developing wholesalers & retailers
Although we now achieved a great sales revenue via amazon, alibaba, walmart, etc. However, e-commerce business or consumer demands are changing rapidly. If considering competitors, fake brand makers, or innovation target. So keep launching new hot selling products are the key of sustainable. That's why we are sourcing and find out good resellers outside China. Who have own sales channel like boutique, supermarket, and online website shops. Or even famous brand companies. Who already has named brand logo, individual design, unique collection. But we can supply customized making products. For example, our gold side & end tables is hot selling now. Then we need occupy market share. After our resellers buy new furniture items from us. Then easy for us to create a new hot selling product.
(3) Place order to Shangjin trading company for wholesale business, buy hot selling furniture from China factory directly
A: Completed furniture indoor outdoor supply
Do you own a website online shop to resell? Or start to be a wholesaler or retailer for e-commerce business? Then no hesitate to contact Shangjin. So many hot selling furniture products are waiting for you to choose and buy. Such as gold side & end table furniture in living room. Or console table for storage in entryway, bedroom, dining & kitchen room. Or nail salon side tables for manicure beauty in commercial department store. As well as sofa coffee tables for hotel, office, outdoor occasions. If you are sourcing home decor items for decoration purpose. Why not choose the luxury high end gold color side tables? Which the best solutions for most contemporary living room. That modern fashion styles with multiple functions. Meanwhile, Shangjin can help you source and wholesale buy from China furniture factory directly.
B: Wholesale buy from China directly
Because Shangjin trading company are focus on furniture wholesale business to buy and export from China market. So that we can't service individual or personalized demands. These retail small orders, please buy the furniture from our e-commerce online shops directly. Which you can easily find out our product at high rank in amazon, alibaba, wayfair. And so on. For wholesale purchasing orders, please contact Shangjin directly. Because we can supply you buy from direct source furniture factories. In various purchasing way, and choose the best solutions for your orders.
C: Best solutions for our wholesale business to the world
There are 3 solutions for your wholesale orders. Firstly, buy full container from our factories. Which means purchasing from the best furniture source in China. Secondly, you are small order quantities with various items, we can sourcing and buying for you. Till to consolidate, warehouses, and export shipping from China. Thirdly, if you buy from our stock ready items that launching our online e-commerce shops. Then you can buy in wholesale price and get the furniture products directly. From our overseas warehouses in USA and Germany. Or we use the best shipping way in LCL sea freight, air cargo, or couriers of DHL, UPS, UPS, etc.
2. Modern Coffee Side Tables – High End Power Coated Gold Metal Frames, White Marble Or Clear Glass Tops
Since introduce the whole sale distribution target of Shangjin trading company. And explained our strategy to set up e-commerce online resell network. Let's share the featured side & end table collections. Below, we shall introduce the gold color frames with marble tops of side & end tables. Which are modern trendy styles, high end gold color, and multiple using in small space room. There are 4 core collections. First collection is high end gold color coffee tables. Second collection is golden frames console tables, accent tables, end tables.  Third collection is living room tables and home office desks. Fourth collection is commercial side table & trolley bar cart. Such as nail beauty tables, hotel trolley carts, salon chairs, etc.
By the way, as a remind. In this article pictures, each item of the furniture products or home decoration items. That you can wholesale buy from this furniture factory. As the factory are very large sales revenue and covers whole range of living room furniture. Besides gold side & end tables or coffee table styles. There are other featured furniture collections. For instance, floor lamps items, sofa sectional, and steel frames armchairs. Or textile products of rugs, carpet, towel and pillows. Or velvet stacking chairs, plastics storage box, and plywood wall rack shelf. As well as fashion salon chairs, and nail beauty side tables in department stores. Together with hotel commercial bar carts, and outdoor party patio lounge chairs. And so on.
(1) White Marble coffee table gold color, nesting end tables set, champagne golden coated stainless steel frame
A: Basic hot selling styles of coffee tables
In living room, coffee table are the most popular side tables near sofa chairs. This is a perfect living room collection for each family.With large market demands in every country worldwide. As mentioned above, our unique coffee tables designs are the best styles hot selling online shops. There are several typical designs we are launching. For example, white marble round top with high end coated gold steel frame. Or clear glass champagne power coating stainless steel frame. Or round nesting coffee tables high end gold color set of 2 pieces with marble tops. As well as nesting coffee tables set with clear glass tops and golden coated. Anyway, the key reasons of the hot selling online for e-commerce business. Which need consider of the whole product designs, material, and cost value effective. Since it's original design and source factory in China. Then you can buy custom made furniture too.
B: Product features of our coffee tables
Why our coffee tables can achieve amazing sales revenue? During you buy living room furniture from online shops. There are several core competitive advantages. For example, all of our coffee table choose eco-friendly material. Like the faux natural marble are high quality. And our quality inspection reject any defective items from the raw material. Then we use the most high techniques machines to cut the marble tops. With accurate sizes control. And serious polishing to be very smooth in the edges or lines. On the other hand, pay attention to our gold, silver, or champagne color. This golden color are super individual. It's wonderful bright, colorful, and uniform coated. Which only our furniture factory can produce and finish the perfect surface. In fact, the coating technique and machines, are core competitiveness of our factory.
C: High quality end gold champagne coated metal frames
For the frame structure manufacture techniques. There are many living room furniture factories in China can fulfillment. But the factory must have the concept of e-commerce products. And shall be serious QC at frames details to control perfect quality. There still have a core competitiveness of our coffee tables.Which is wonderful and completed protective packages for e-commercial business. In this field, our furniture factory invested a lot. And achieved great optimized improvement at KD packages. We are confident that our package are the best solutions for e-commerce in China now.
D: Best solutions for e-commerce online shopping product
Here let's talk about our e-commerce KD package of our side & end tables. For example, coffee tables sell to USA market, or Europe countries. Because the best sales channel is online shopping via amazon, alibaba, westelm, etc. So that the local logistics to delivery good to each consumer are important. Which require the parcel lead time fast, security, and lower shipping cost. However, considering the high logistics cost of DHL, UPS, Fedex, etc. Then must match the rules of couriers forwarder companies. Which means the packages shall be less than 330cm or 130 inches based on  the sizes calculation way. Otherwise, heavy extra shipping cost required. For overseas e-commerce business, need considering the return rate or cost after-sales. That means extra cost and loss consumer satisfied too.
E: Assembly structure small KD package save logistics cost and easy for consumer to install
Furthermore, e-commerce KD package not only means small size and protective. There still need consider of the convenience of the assembly of the consumers. If they feel difficult, or can't assemble the furniture buy from your online shop. Then they feel unhappy, waste time, and require return the coffee tables. For sellers, normally have to accept the return and assume the extra cost. Including the new courier logistics charges, labor cost, management fees, etc. So that our living room furniture factory, keep optimizing the accent side table package. And finally we match the e-commerce business rules, avoid the potential lost, and satisfied our consumers.
F: Custom made wholesale orders in full range sizes and table shapes
Since Shangjin trading company has been focus on wholesale business and import export service in China. And we are developing overseas resell channels. In order to find out partners of wholesalers, brand company, or online website retailers. So that we welcome custom made bulk orders too. Because our hot selling sofa coffee tables show our manufacture capacity. And we have completed supply chain of raw material, surface tops, hardware accessories, etc. Of course, there should have MOQ of one 40ft HQ container loading. Which we can accept several designs of side & end tables to customized making. While the total quantities shall be a full container.
For example, we can custom made marble color, texture, category, etc. Or we can power coating other high end colors bright gold, sliver, pink, etc. Or we can customized the frame structure or material. Such as steel, stainless and iron. Or solid wood, plywood, aluminum, etc. Meantime, you can buy wholesale from our furniture factory at full range sizes. As well as unique designs for the coffee side table shapes. For instance, choose marble or glass top shapes. That can be oval, square, rectangular, etc. And no problem for our furniture factory to serve you in OEM, ODM way. Because we have own design team, technique and sample room. If you require own brand logo, we can make for you too.
(2) Console table, end tables for entryway, side storage, and home decoration
A: Perfect console table styles for side space decor and home storage
In living room furniture, console tables is a popular collection to buy and decor family home space. Such as entryway console table, side & end tables for storage or decoration. Or you can consider TV stands, media cabinets. Or beside benches as console table too. In living room space, console table stand at the side or corner of the wall, and use for storage purpose. Meantime, console table is popular side & end table to decor hotel space. Or in department store, salon shops, and nail beauty tables. As well as meeting room, party or wedding occasion, outdoor patio space, etc. This is another hot selling furniture products to buy from online shops. Here we launch our new trendy design console tables collection. Which are same furniture factory as the high end gold coffee tables.
B: Same product features as coffee tables collection
In fact, our console table are same material and producing technique of coffee tables. That all in our side & end tables collections. Which are faux natural marble tops, metal frames. With high end gold coating champagne color. If you want to know the products features, please reference our accent coffee tables. Of course, our console side table are optimized e-commercial KD packages. And we accept customized making bulk orders too. If you want to make 1st sample before your trial orders. Please contact Shangjin trading company directly.
C: Wholesale buy console side table from Shangjin trading company directly
Regarding the terms to buy console table furniture from Shangjin trading company. That is same as the coffee table set collections. Which means we whole sale full container directly from the manufacturer. Or we can source and buy furniture from whole China. There are famous large wholesale furniture markets in Foshan nearby Guangzhou. And there are many large source furniture factories centers in China to buy directly. For console table, side accent tables, and trolley bar cart. For example, Anxi city in Xiamen is professional for side table of metal frames. With tops of MDF, BP and solid wood. And Foshan Lecong city near Guangzhou, is famous for sofa chairs and coffee tables. That are popular for living room, hotel, and office. Or rattan outdoor lounge furniture.
D: Purchase wholesale from China manufacturer centers
If you want to buy console tables for TV stands, media cabinets. Then the best place is in Shangdong, Henan, Hebei, and Jiangxi provinces. There are many famous cities to buy furniture original source. Such as Wenzhou, Yiwu, and Ningbo. Or Taizhou, Dongguan, Zhongshan, etc. In fact, Shangjin trading company have warehouses nearby all of China ports. Such as Guangzhou, Shenzhen, and Xiamen. Or Shanghai, Ningbo, and Tianjin. As well as Qingdao and Dalian ports. Meantime, small wholesaler orders, can delivery from our overseas warehouse too. While please note. That our 4 overseas warehouses in America. Another in Germany Europe. So this way is best solutions for small wholesalers in Canada. Or British, Holland and French. Or Italian, Spanish and German.
(3) Modern styles living room tables, multiple functions of home office furniture
A: Unique design multiple using way in narrow small space
Here we launch a modern style living room tables. Which are high end gold coating metal frames with faux natural marble tops. This side table is multiple using purpose in living room. And can use for home office computer desks. Beside the wall near window. Or dining room tables for meal. If custom made sizes or structure. This side table can use as bath room sink unit. Or TV stands and media cabinets. Or entryway console tale. As well as nightstands or beside benches in bedroom. That only need change MDF, BP or solid wood tops. Anyway, the modern gold table are popular to be side & end tables in living room.
B: The best modern designs to be the best hot selling style
There are many similar styles side tables in most famous online websites. Such as wayfair, overstock, and Ikea. Or walmart, target, Crate and Barrel, etc. However, our furniture factory optimized the modern living room side table. From the features and advantages of our side & end tables. So that we are strong competitive to sell this collections in the world. In fact, we are top ranking in amazon for this collection. Because of our high end gold champagne coating techniques. And perfect faux natural marble tops material and cutting work. With wonderful e-commerce KD packages. Why not we to be the best sellers in e-commerce business? If you want to start own wholesale or retail online business. Please don't hesitate. Start to buy furniture from Shangjin China. Purchasing original source in China, to resell in your local market.
(4) Commercial side table cabinets, nail salon tables, and hotel  trolley bar carts
A: Unique fashion design modern styles side & end tables
In the modern style gold champagne marble side & end table collections. There is another niche market for commercial furniture. Such as nail manicure tables in mall stores. Or hotel trolley carts in banquet hall or lobby bar. Or side table in salon beauty shops. As well as sofa side tables for tea and coffee. Or trolley end table in home office for storage. Or trolley side tables in bath room and bedroom. From our gold side & end marble tables, you can find out multiple functions. Which are not only for living room furniture. But also can use for hotel, department stores, outdoor patio lounge party, etc. If only consider about the trolley bar cart or nail salon side table. And based on our customized making service. How many functions or occasions can you image? It's really amazing creation.
B: High end luxury golden champagne coated popular demands in the worldwide market
Same as the coffee side tables, the features are high end gold coated frames with marble tops. And the sales channels and strategies to target niche markets are same too. In fact, the modern luxury living room side tables are focus on North America & Europe consumers. Of course, we can sell to Australia, New Zealand and Canada. Or Southeast Asia like Japan, Korean, Singapore, etc. If some wholesalers or online websites owners. Who come from Africa, Middle East, and South America. Surely we welcome custom made bulk orders too. Because we can help you feeds new hot selling living room furniture.
Conclusion
This modern style high end side table collections, is unique for faux natural marble tops and gold champagne coated frame. Which is amazing living room furniture products. Because of the wonderful e-commerce KD package for online shopping. So easy to achieve great sales revenue in 2021. If you want to buy furniture for wholesale or retail business. Just try it. Why not? Firstly, we are one of the best e-commerce manufacture for living room furniture. That means we are the original source to buy furniture in China. Secondly, the high end gold frame marble side table, are created seriously. In order to focus on online overseas markets in USA and Europe. Whose target consumers are high quality consumers. Who buy furniture for living room and home office. Thirdly, our completed wholesale channels and professional trading service.
Start custom made orders for your e-commerce resell business now
Please study the accent coffee table & console side tables in custom made order. Then you can get a full range size and shape styles. For small room space in living room, bedroom, and dining & kitchen room. Or commercial furniture side tables for hotel, salon party, and department stores. Or trolley bar cart, outdoor patio, and nail beauty side tables. Meanwhile, we can produce the side table in different tops, frames, and colors. Such as marble, glass, MDF, wood, etc. Or steel, stainless, and iron. Or high end gold champagne color to be bright golden. And so on. Do contact us right now, to buy furniture from Shangjin China Trading.