Buy In China Clothing Wholesale Market – Purchase Agent Business Guide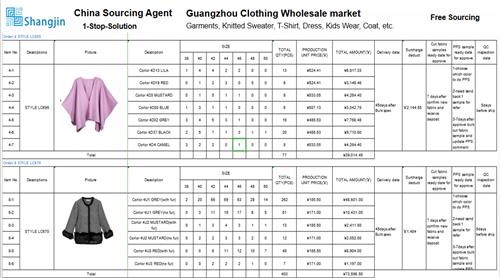 Buy in China clothing wholesale market, purchase garment textile products, is a wonderful business. That export trade from Chinese wholesale suppliers to buy fashion clothing in China markets. In Shangjin's website, we introduced many famous clothing wholesale market to buy bulk products. And guide you how to purchase textile products from Chinese suppliers or butique shops for your business. There are many wholesalers or factory supplier shops in the markets or business street to purchase. While better for you to hire a China trade company to guide you buy in the market. And negotiate business terms for your purchasing behavior. As well as require the China agent to service you order tracking, quality inspection, and warehouse to export shipping. Here Shangjin would like to share some traditional rules that buy in China clothing markets.
Purchase In Chinese Clothing Wholesale Markets – Business Guide Buying Bulk From China Factory Suppliers
If you are an experienced business man, surely you purchase from Chinese suppliers with a steady buying service chain. And you already know how to wholesale buy from China suppliers. While if you are a business starter, this article should guide you how to purchase from China markets. Anyway, Shangjin is reliable trade company in China. That can guide you more detailed service tips to buy in China clothing markets.
1. Vendors in China clothing market
In China clothing market, there are thousands of vendors do purchasing business to buy wholesale from them. While better for you to understand who will you purchase from, and develop business relationship together. As the suppliers in China clothes market are different kinds. There are normally 3 kinds of suppliers in the markets. Which are based on their manufacture capability. Or the business for export trade when you purchase from them.
(1) Factory supplier shops that buy wholesale directly
In China clothing market, especially in the most famous garment sales buildings. There are 70% of shops vendors have their own factories. For instance, following famous clothing markets. You can find most of the vendors are factories shops for wholesale buying. Which is really exciting for the wholesalers purchase for their resell business. As buying in China, and purchase from the factory manufacturers directly for wholesale business. Which always means cheap price, good quality, and competitive service for custom made products.
There are still many China clothing markets are famous for its factory shops. If you want to buy wholesale products. And want to find the best clothing market buy in China. Then you'd better hire a market guide. And don't mind the cost pay to the market guide. Because you will find it's really a wisdom choice for your business purchase in China. For the comprehensive service of the Chinese trade company. Or the troubles solutions for your business purchasing from suppliers. Which are easy and smooth process for your purchasing business from China market.
PS: Hire a trade company for your business purchase from China.
In these China clothing market, you can find manufactures easily. Furthermore, you can get cheaper price with steady quality to buy wholesale products. However, in these China clothing market, usually have higher MOQ requirements. If you want to custom made with your own brand. Or change fabric material in the clothing market for your own designs. Then most of the vendors in China clothing market can accept. In fact, many of the vendors in China clothing market, have their own workshops, designer team. And even have their own brand name. Anyway, your Chinese trade company will guide you find the best vendors to buy bulk in the China wholesale markets.
(2) Wholesaler cooperate with various small factories
When you buy in China clothing market, you will find many resell business vendors who purchase bulk from factories. Such suppliers are popular in China clothing market. However, they only accept bulk orders for wholesale purchasing business. That based on the samples styles showed in their shops. Then the resellers will place order to the small factories. Although their MOQ maybe a little smaller. But price a little bit higher. Furthermore, they will reject custom made service. Or the bulk orders for unique brand designs. Because the resellers cannot control the factories well. So that can't guarantee producing good quality clothes. Such suppliers are not for bulk orders business partners to purchase. While they are good for fashion buyers, or business starters to purchase individual products.
For example, Shisanhang clothes market is the most famous for such resell vendors. Meantime, Hongmian fashion clothing market. And Baima garment market. As well as Diyidadao apparel market. All of these markets are normally for resell vendors. Furthermore, 70% of them do business that purchase from factories. In fact, a professional market guide understand such situation well. If you are lucky, the market guide will introduce the difference in each China clothing market. And teach you how to know from the suppliers. Then you can purchase from the correct suppliers for your wholesale business.
(3) Shops of Buyer-and-Seller
When you buy in China clothing market, you will meed some shops of buyer-and-seller. Which are also reseller suppliers. But they are small business. And always sourcing fashion designs from various suppliers. Then buy and show at their open shops. It's a popular status in China clothing market. Normally the boss buy wholesale clothes from the cheapest China clothing market. Or purchase stock garments from factories suppliers for bulk business. Then sell in the shop with an acceptable low price.
In such buyer-and-seller shop, the MOQ is quite small. Usually can accept 12pcs/color or less. However, the price is highest than you buy in some China wholesale clothing markets. Although they can accept massive orders. But pay attention pleaes. As they usually can't give you same color or same fabric products. And the quality is poor. Or the delivery time is not steady.
If you buy in China for retail, or you purchase as a business starters. Such resellers maybe is a good choice for you. If you want to buy in China clothing market, the market guide will recommend some reliable suppliers to you.
2. Products Types in China clothing market
When you buy in China clothes market. And if you hire a market guide to help you sourcing and buy in China. Then the market guide will explain you 3 kinds of products. Before you buy bulk from the China wholesale suppliers.
(1) Stock in clothing market
Which means the products out of season, and is selling in a attractive discount to buy wholesale. Bulk buy stock, is a really nice choise for whom buy in China for small order. For such stock, some are mainly for buy wholesale as massive order. And some only can for small quantity, similar as buy wholesale. But for some stock, you only can buy simply for samples clear. Anyway, you can purchase according to your demand when you buy in China. A professional market guide will tell you the hidden rules of such situation. And you should understand to accept buy wholesale the shorting in size or color.
(2) Sample before bulk
Normally, when you sourcing and buy in China, your market guide will explain you about the samples. Actually, in China garment market, the vendors will not sell sample which means the new style for them. And some vendors reject the market guide or foreign buyers take pictures. However, if you can let them believe you are an exporter to buy wholesale, maybe the vendor will agree to sell you sample.
The sample price will be several times of the buy wholesale price. Normally, 300rmb-500rmb based on the cost of fabrics. On the other contrary, the vendors will tell you that sample fees refund. What's mean of sample fees refund? You market guide will explain to you clearly. If you finally place production order to them, they will deduct the sample fees to be part of your deposit.
However, when you buy in China apparel markets. In some garment wholesale market, you can buy a sample in retail price freely. Such as Hongmian fashion clothes market. Or Baima garment market. Or Huimei clothes market. And so on. In fact, many fashion buyers will purchase samples there, and place order with some small design adjustment. Your market guide will show you the best place for sample when you buy in China.
(3) Production to buy wholesale
When you buy in China, you should understand that production goods means the massive order ready to delivery. Usually each vendor will have a small warehouse nearby the shop. In order to store some stock. Especially for the production goods. That sent from factory and ready to delivery. Such products will not sell to other clients. If you like the style and want to buy wholesale. Then you can ask the supplier if can make accordingly for a new order. A professional market guide will help you negotiate and persuade the vendors to accept your buy wholesale orders. So that you can purchase cheaper and better products for your import export business from China markets.
3. Price Difference of buy wholesale or retail in China
Buy in China clothing wholesale market is a skillful purchasing business. There are some price difference you should know. In fact, your market guide will remind you. When you sourcing and buy in China clothing wholesale market.
(1) Sample Price
As mentioned above, a sample price normally will be 3 times of  buy wholesale price. And the sample fees will refund you. When you place buy wholesale orders finally. Actually, you can consider it's a test from the seller. So that to avoid some competitors or personal buyer. Because the new design, style, or fabric are all very important for the vendors. And they want to protect and avoid plagiarizing. Usually they will reject to sell samples. In such situation, if your market guide is professional enough. Then they will help you persuade the suppliers to sell you samples.
(2) Buy wholesale price
Wholesale buying price usually is the same meaning as production price. While it is still some difference with production price. As buy wholesale price is cheaper than retail price. That mainly quote to the small quantities buyers. Who will buy wholesale from the vendoers and resell to other clothing wholesale market in China. Or they buy wholesale for own retail shops directly. Anyway, buying wholesale price is good for a business starter, or small order purchasing. Anyway, if you can buy wholesale what you want in such price, you still can keep some profit margin in your purchasing business. If you are lucky, your market guide will help you get a cheaper price than buy wholesale price.
(3) Production price
Production price is the cheapest price in China clothing wholesale market. Usually means big order amount. Or at least you reach the MOQ of suppliers. Of course, your big order can't be complex and difficult requirements for vendors. In such production price, the vendors will not have too much profit. Or they can only gain reasonable profit. While they can accept, because of the total benefit are same for your purchasing business. Your market guide will check and judge according to their expierence. Then suggest you how to develop your purchasing business.
(4) Price Bargain
Buy in China clothing wholesale market, you can consider to bargain the price a little. If you are lucky, usually can get 2-3% discount. Don't think about that you can ask for discount 10-20% or more, it's impossible.
Someone maybe talk to the supplier: they have huge amount orders, and such small order is to test their local market. If sell is good, the big order will coming soon. So want to get the best price…etc. Please, don't say such to the suppliers, no meaning, they will not believe at all. Because the suppliers may hear such sentences whole day frequently.
To be a reliable and experienced seller, everyone knows that client will compare price with other shops. Furthermore, considering the fierce competitive in China clothing wholesale market, the price always to be transparent. Now the vendors always focus on the reasonable price, better service, long-term business with small profit. Maybe your market guide will feedback you such information, but normally, they will not say too much about it.
4. MOQ requirements when buy in China clothing market
Minimum Order Quantity (MOQ), it is a very essential factor when you buy in China clothing wholesale market. In fact, it's the basic term of the business between you and the vendors. If you can't meet the MOQ, maybe you have to cancel the order. Sometimes your market guide can help you negotiate with the suppliers to get a smaller MOQ, but can't get too much.
(1) MOQ based on products
Usually, buy in China clothing wholesale market, MOQ based on products. And different products may have a different MOQ requirement. For example, normally: Coat 100pcs/color/3 size; T-shirt 200pcs/color/4 size; skirt 200pcs/color/4 size. Of course, the MOQ of products is not fixed, different suppliers have different requirement. Because their manufacture capability is not same; and the produce technology always will influence the MOQ requirement. Before you come to buy in China apparel market, better for you to check with your market guide, so that you can easily find the correct clothes market to buy wholesale.
(2) MOQ based on garment markets
Different clothing wholesale market, normally will have a different MOQ requirement. Because the products, the cost, and the target clients is not same. For example, Liuhua garment market is around 200pcs/color/4 size;  and Shisanhang apparel market is around 50pcs/color/4 size. While in Zhongshanba kids apparel market, is around 60-120/color 5 size. And Xindadi knitted sweater clothes market, is 100-300pcs/color/4 size. A professional market guide, is familiar with each market's MOQ, they will give you a good suggestion to find the correct garment market.
(3) MOQ based on fabrics
Usually, if you ask the supplier why they ask such high MOQ, they will explain you. For instance, such fabrics is new function, we at least require 300pcs/color. Or such fabrics we purchase from market, 1 roll at least can make 50pcs, so MOQ at least 50pcs/color. Sometimes, if your price is bargained to a low level, the supplier usually require you more MOQ. Because more fabrics purchase, maybe the cost of fabrics can be lower. A professional market guide, usually can help you to get a smaller MOQ with a better price.
(4)  MOQ to be negotiated
MOQ is a popular rules in China clothing wholesale market. However, it's not a standard requirement. Which can be negotiated. Usually, the supplier will consider to adjust MOQ according to your order detailed.
If you are small order, and you don't bargain price too much. Normally the supplier will agree to reduce MOQ. Because their profit is good. If your order need much details to adjust or customized. That seems complex. Then the supplier will require higher MOQ. Because clothes manufacturers usually reject too small quantities order. Or the order is difficult to produce.
Anyway, MOQ can be negotiated. If you have a good market guide, they usually can help you to communicate. And reach an acceptable result. Which is important for your purchasing business from China market.