Import China Small Quantity Product -Business Starter Export Trade Guide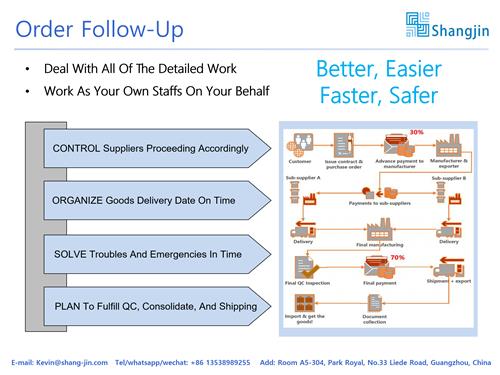 Import China small quantity product, is the best export trade way for a business starter. Because business starter don't know the detailed information of China markets and products. As well as they don't understand. How can they get profit from the products buying from China. So that they have to place a trial order with small quantities. In order to test their local markets. And to learn the process of import export product from China. Then to find reliable China sourcing agent. And work with the quality tracking, goods consolidating. And shipping service of Chinese trade company. In fact, it's essential and necessary business for a new buyer. Who want to soure and import export China product. Here, Shangjin trading company would like to share some basic tips. In order to guide you start business. With small quantities purchasing in whole sale price. And we are China agency company in Guangzhou. Always ready to help and guide your import export trade business from China supplier.
Export Trade Agent Guide Business Starter Purchasing Small Quantity Product Import From China Market
Clients who are the first time to import export from China, usually prefer to purchase a small quantity product. In order to test their markets if good sales or not. Yes, it's really a wisdom choice. And good to avoid much risk in the business of export product from China. For us, a Chinese trade company for market guide and purchasing, we really agree with such action. And want to help and guide business starter to develop their import trade from China much easier.
Normally, most of our clients know well about, that the import business from China is not easy. And they will not simply think it's only to find a Chinese supplier and buy products in low price. Then ship home and sell high price in local market. That's right. In fact, there are many different problems need to face. For instance, MOQ of China supplier is much higher than your small order of product to export. Or the shipping fee is too expensive than the value of the order import from China. Or you can't ship the products to your country, because of some export regulations requirements. And so on. That's why need a China trade agent to guide you purchasing product and export service for you import business.
1.What is small quantity business export product from China?
(1) Order amount concept and mixed products for small quantity business
In fact, it's difficult to identify what's means small quantity business. While in China sourcing agent and import export business, there is a normal consideration of it. As we usually think. That customers who purchase USD 5,000 – 50,000 in one order is small quantity business. Of course, the order can be small quantities with various designs. And you can buy from different China suppliers with different product. Which means you can mix color, size, and design. Or place order to more than 10 China suppliers. Then require your China trade agent to guide consolidating and shipping service.
(2) Remind business starter to consider about economy shipping way of small quantity orders
Another reason of considering such amount as a small quantity business, is to choose the best shipping way. Because shipping fees means product cost that you import export from China. And the amount normally means the shipment volume. Usually it is from 5 CBM to one 40ft HQ container. By the way, this amount can easy for you to buy product and export from China suppliers. As your China trade agent can guide you sourcing good product suppliers. In order to reach China manufacturer's product MOQ. Then buy export product from them directly.
In our opinion, it's better for the small quantity business, to control and start the volume around 4 – 5 CBM. Because such volume is the minimum for LCL (Less than Container Load) shipment. Otherwise, the total export import process will be very complicated. And costs lot of money. Which means the average cost for each product export will be higher. Because air cargo or courier shipping way are expensive.
For such small quantity business import from China. Or some samples purpose export product for new business. We usually call them a business starter. Or small quantity buyer. While Shangjin trade agent glad to help and guide them import from China. To support them develop their business in local markets. Then your business to better, and the we can sell more products to you. In fact, it's a win-win situation. And long term business relationship develop.
2. What products are suitable for a business starter to import from China?
It's very important for a business starter to consider. And make decision before purchasing product and import export from China. Because you should know clearly about your business first. What product to import export from China. And how to sell in your local wholesale market or retail shop.
First of all, there is a dilemma you have to recognize. Which is shipping cost. Because your shipping volume is always too less for LCL sea shipping. Usually less than 3 CBM. So you have to choose air freight or express courier shipping. Then the problem arising. Since air way shipment cost normally 8-10 times higher than LCL sea freight. How to compete with the same product that export from China market too? Which was imported via sea shipping way from China to your local market?
Such issue is really a big problem for a business starter. Then what to import from China with small order quantity? As a Chinese trade company for sourcing, buying and export product from China. We are familiar with Chinese wholesale markets and product manufacturers. Below are some advice for you. Hope can guide you find the trade solution to import from China.
(1) High value and small size products import export from China
High value means the cost percentage of shipment will not be too much. Sometimes can only be 10% of your products value export. And minimize the influence for your product sell price in local market. Meantime, small size means you can pay the shipping cost base on weight. And not by dimension weight (length*height*width) / 5,000 for KG. Which means less charge and economy shipping method.
Usually, most of the high-value-products exporters, will not use sea shipping. Because they always focus on the timeliness of good sales season in local market. So that you don't worry about that your shipping cost is higher than competitors.
Below products list, maybe a good choice for a business starter to export. And all of the items are very popular in China wholesale market. Which we can sourcing and buying for you easily to import from China.
Fashion design clothing. Or individual print clothes. Such as men's t-shirt, hoddies, and blouse. Or women's dresses, lady's underwear, sportswear, swimwear, etc. These garment textile products are the best marketplace to export import from China market.
Fashion shoes and apparel accessories. Such as bags, glasses, and watches. Or wallet, scarf, belt, etc. If you are footwear products business starter. You can sourcing and purchasing footwear products to export. For instance, sport shoes, trainer sneakers, sandals, and slippers.
Fashion fake jewelry or replica brand products. Such as necklace, sweater chain, bracelet, rings, etc. Or some clothing, shoes, bags items. It's popular in Guangzhou markets too.
Of course you can make decision export what kind of product according to local market demand. Shangjin trade company can guide you sourcing in China wholesale market. Or recommend you some good product suppliers to export. So that easy for you to import samll quantities from China.
(2) Sourcing interesting and unique design products to export
For business starter, please do remember sourcing good product to export. And avoid to purchase common products, which already export to everywhere in your local market. There are surely have someone buy bulk and import from China. And already sell with low profit. So it's no meaning for you to export the product from China.
What kind of product to consider buying and export from China? Those unique, fashion, and individual products, are always good sales with much higher price than common items. And focus on the products that have much added value. Or the price base on design or function. But not depending on raw fabric material. By the way, pay attention to sourcing hot selling products. These surely are the best choise for business starter. In fact, you can ask your China trade agent to sourcing and guide you purchasing. Because they are familiar and know what product are the best one to export from China.
(3) Easy to sell and fast turnover products for export purchasing
Since you a new business starter. Then you must think about the cash flow. And pay attention to your stock management. Because too much stock product means your money don't use efficiency. And lower turnover of stock usually means the risk of business. On the contrary, less stock means you will often miss sales chance. And you business will not grow rapidly.
Do think of purchasing products that easy to sell. Which means you need understand the demand of your market. And make purchasing plan to import export product from China suppliers. That is very important for business starter. And not only means the profit or risk. But also relevant to your aggressive and passion. If you want to sart your business, Shangjin trade company can guide you import export from China product suppliers.
3. How to find Chinese product suppliers for small quantity export orders?
It's better for a business starter to find Chinese product suppliers online. And purchase samll quantity product from the online supplier to export. Because the high travel cost to buying and import from China market directly. As well as you can't judge a China supplier is good or not. Before you receive goods of your first import business that export product from China. Or if you can find a reliable China trade agent to guide your purchasing business. Such as market guide, order tracking, and export trade service. As import from China is not so easy work without guide with a trade company.
In fact, many bulk buying exporters seldom come to China. And they always prefer to find an China sourcing agent or trade company, to guide and handle all of the import process on their behalf. If you want to under China wholesale markets and products much better. And want to have a deep idea of your purchasing business import from China. Then you can arrange a trip to China. In order to meet your trade agent, product suppliers, and China wholesale markets.
In fact, it's necessary for a business starter. By the way, when you come down to China, better to visit a comprehensive fair. Where you can find many China product suppliers or manufactuers for import export business. For instance, Canton fair. If you want to know more about canton fair. Please search in our website. There are detailed introduction about canton fair. As well as the official online site. 
(1) Alibaba online shopping platform
Alibaba is a very popular B2B platform. Which is the best online marketplace in China for sourcing products and suppliers to export. And you can find trade companies or markt guide service too. If you buy from Alibaba, don't mind the order quantity are small or not. Because the suppliers will show different price level base on product order quantities. However, if you really want to buying a very small quantity order. Which can't reach the MOQ required. For example, less than USD 400 for each item. Then it's hard to persuade the suppliers to sell you. Sometimes, if you agree to pay in higher price. Maybe the supplier will sell you as a sample order.
By the way, as a remind. Don't spend much time on persuading the China suppliers. That you will place big orders in future. After you test local market by this small quantity order. Please understand, it's no meaning. And doesn't work at all. Because the China suppliers are hearing such wording from other clients every day.
(2) Global Source & Made in China
Global source, and Made in China, are famous online website for shopping import from China. Especially for bulk orders export product from Chinese factories. These 2 sites are mainly for stronger China suppliers and direct factories for import export business. Because of the higher auditing standards of the online sellers management. And expensive annual fees for members of China suppliers. So that most of China small factories or wholesalers will don't export products in such websites. Maybe you can take a look the online sites. Whether can find a good supplier or not. Who can sell and export product with lower MOQ and acceptable price.
(3) Dhgate and Aliexpress
If you still feel MOQ is hard for your samll quantity order. Then you can only go to sourcing in DHgate and Aliexpress websites. Usually DHgate site tends to small quantity wholesalers. And the MOQ requirement is between Alibaba and Aliexpress online shops. While Aliexpress mainly tends to retailers online shops. For small quantity and a little higher price.
Anyway, if you have chance to visit China. We think the most directly and useful way, is to sourcing in China wholesale market. So that you can communicate and negotiate with the China suppliers in their shops. And you can understand products well, and explain your export requirements to suppliers clearly. Then can make decision after you feel strongly confidence to purchase and import from China. In fact, Shangjin trade company can guide you sourcing in the wholesale markets. And our basic service are sourcing, market guide buying, and export shipping from China.
4. How to ship from China for small quantity orders?
In fact, small quantity always means higher cost. Like higher purchasing cost. And shipping cost import from China. While it's the fact that a business starter has to face. However, choose a better shipping methods according to your small quantity order amount. Then the economy shipping method surely will save much cost for you. Below Shangjin trading company guide you some basic shipping methods and service.
(1) International Express and Air Freight
Air shipping is the fastest way for goods delivery. And the shipping cost is the most expensive.  Usually we suggest our client to use air shipping or express couriers. When the goods is less than 300 kg. Because this is the most economy shipping cost for such small quantity orders. And express or courier is easy to handle. Because you don't need care about the custom clearance and duty related issues. There are some famous and safe service couriers companies. Such as DHL, FEDEX, UPS, etc. And you can place shipping order online.
If your small quantity order is aound 500 kg or more, better to use air freight shipping way. And the delivery time roughly is same as express or couriers. However, air freight needs the same import export process as sea freight from China customs. Which means a little complex for a business starter. And you also need pick up cargo at the airport. Better for you to hire a China trade agent to guide you export product for your import business.
Please note: Hazardous articles such as liquid, power and products with battery, cannot ship via air shipment.
(2) All-In price LCL sea shipping Service
Although we suggest a new business starter to choose airway shipping. But there is a good method of LCL sea shipping. Which are very easy and cheap. And it's the best choice for small quantity buyers.
In Guangzhou, there is a certain sea shipping company. Who only service a certain ports or area line. That we name All-In LCL sea shipping. The shipping forwarder company will handle all of the export work. Including custom clearance and declarations. As well as export shipping process. So that you simply need to pick up your cargo in their local warehouse. Or sometimes they have door to door service. Furthermore, the shipping price is very low. Even if you only ship 0.5 CBM. Because the container is shared by 10 – 30 clients.
Such kind of companies are popular in Guangzhou. And you can find them easily from online websites. For the shipping ports, you can find different agent or forwarders. Such as Europe line to UK, France, italy, Germany, etc. Or lines to USA, Canada, Mexico. As well as to South Africa, Southeast Asia, or South America countries. Better for you to ask some experienced importers in your country. And we know some of this kind shipping companies. If you need, we can share with you. Please contact us online website. Or leave us your contact information via email.
There are companies offering $75 /CBM to Malaysia & Singapore, delivering to door. And $260 /CBM to Kenya, but you have to pick up cargo at their warehouse in Nairobi. Or $260/CBM to Sydney/Melbourne warehouse, etc. Anyway, the rate is just for reference.
(3) Consolidate product from Different China Suppliers And Ship Together
As a business starter, to place small quantity order to different suppliers. And purchase more designs of products is better. Such action is good for you to test your local market. Furthermore, you can think abut consolidating all of the goods in one shipment. In order to save shipping cost import export product from China. Then you consider which shipping way to choose and proceed.
One solution is to find a reliable sourcing agent, or trade company, or shipping forwarder. Who has its own warehouse in Guangzhou or other China city. Then you can use it for product consolidation and store. And you only need pay them commission or service fees. At least can use the warehouse free in 7 days usually.
Another solution is that, you can choose one reliable Chinese supplier. And let other suppliers send all of the export products to him. Then the China trade agent or shipping forwarder can pick up goods together in one market place.
Here, we think consolidating goods is better for you. As it's not only because of the more kinds of products are better for business starter. But also for business starter to learn experience of product export. In order to preparing for your next step to enlarge your products range. And understand better the process of import export product from China market.
Conclusion
Import export product from China market is a popular trading business. And many business starters want to import from Chinese suppliers or manufacturers. Before your start purchasing products from China, need understand the process of import export business. Especially to understand what kind product export from China and resell in your local market. Then find correct marketplace to buy and import from China. No matter export product from Chinese wholesale markets. Or purchase from Chinese online shops. Or buying from Chinese manufacturer suppliers. Anyway, for business starter with small quantity order amount. Better to sourcing and purchasing product with guide service of China trade agent or export agent. Then choose the economy shipping method to export product.
If you want to start your business import form China, please contact us. If you want to know more, please visit Shangjin's website. There are many tips shared to guide your import export product from China.