China Sourcing Agent Guide Buying & Export From Chinese Fabric Market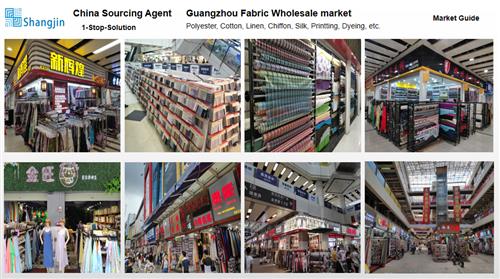 China sourcing agent help you buying and export from Chinese fabric market. There are millions foreign buyers sourcing and purchasing in Guangzhou textile markets. And place bulk orders of fashion textile products every season. If you are an experienced exporter from Chinese market, you may well understand the service of a China sourcing agnet or trade company. Here, we'd like to introduce you some detailed buying tips from Chinese markets. Including sourcing good Chinese market suppliers. And guide you wholesale purchasing textile products with custom made service. As well as export fabric or clothing to warehouse and shipping, with your China sourcing agent. In fact, the most important is to help you understant the hidden rules in Chinese wholesale markets. So that can guide your wholesale buying and export business from Chinese markets.
China Sourcing Agent Guide You How To Buy And Export From Chinese Fabric Wholesale Markets
Since textile products are large categories for purchasing and reselling business. So that better to hire a China sourcing agent to guide you buying and export from Chinese fabric markets. In order to find good suppliers or manufacturers easier. And to quality inspection, warehouse and shipping easier in Guangzhou markets. However, the most important is that, China sourcing agent will teach you how to buy from China. And guide you how to control and deal with your bulk orders from Chinese wholesale markets. Below, we'd share you 10 buying tips to export fabric from China market. Hope to guide you find good China sourcing agent and export easier in Chinese fabric markets.
1. Fabric Composition
Fabric compostion is very important for textile products. Which is always impacting the fabric quality and price level. If you want to compare the price level. The first step is to check and confirm the fabric composition. For instance, knitted fabric need know how many cotton or polyester, or spandex, lycra material of the textile. As different composition means different gram weight or yarn counts. Moreover, it indicate almost all of the features of the item. Such as the function, value, techniques, and use. Which are very important for your purchasing purpose. And how to find the correct wholesalers or manufactuers in Chinese textile markets.
If you are an experienced exporter, and buying farbic from Chinese fabric markets for years, you surely can understand. While for new business starter, better to pay more attention. And better to hire a China sourcing agent to guide you wholesale buying from Chinese fabric markets. Especially for your bulk orders. Because most of the buyers are always focus on the price. To compare the price cheaper or expensiver. But finally, they will realize such issues.  There are many China trade companies or sourcing agents in Guangzhou markets. You can easily find them. And require them guide you sourcing and buying from the Chinese wholesale markets.
2. Color Card and Swatches
After you confirm that the vendors have similar fabric composition with certain function or use. Then you can check them for further information. For example, color card and swatches in fabric wholesale market. Before you make decision to place orders. Ask for color card, check if the swatches meet your requirements. Or same as yours, or same as your design demand for your clothing or textile products demand. If all matched. Which means you find the correct textile material. Otherwise, you need find more suppliers in Chinese fabric markets. At that time, maybe you will feel that China sourcing agent are so helpful. Because they can guide you find the correct suppliers quickly in the wholesale markets.
In fact, before you come down to China, you can require your export agent sourcing from the fabric markets. When you arrive at Guangzhou, your China sourcing agent surely prepare detailed information for you. Then you check, and make decision to visit which wholesale suppliers in the Chinese fabric marekts. Or you can choose to visit the China factory directly. So that you can only focus on buying and export correct products from Chinese markets. And left all of the detailed work to your China sourcing agent. 
3. Patterns and Customized Making
Since your agent guide you find the correct fabric and wholesale suppliers. Then you should consider your fashion design requirements. Or using purpose before place order. Do remember to check with the suppliers, if they accept custom made orders. And what's the MOQ. Then you can compare to choose their stock readymade fabric products. Or just place a bulk order for cutomized making. Anyway, based on your demand. To make decision of the color, patterns, and delivery time. As well as the price, quality, and fashion designs. Furthermore, your final products of clothing. Such as swimming wear, underwear, sports wear, etc. Or for lady's dresses, skirt, coats. And men's suits, kids apparel, etc.
Normally, if you have special requirements of your garments material. Or fabric requirements for your textile products. Better to check with your China sourcing agent. To see if they can guide you find the correct items in the Chinese fabric wholesale markets. If the sourcing agent can't find stock fabric for buying and export from China directly. Then can check with some fabric manufactuers for cutom made service. Only for the MOQ is a little higher. And the process of order tracking and quality control is a little bit complex. But you can buy the exactly products you want. No matter you want textile material of cotton, jeans demin, silk, and chiffon. Or you want individual color, unique design in printing, dyeing, and embroidery. Do trust and requrie your China sourcing agent. To sourcing and find good manufactuers for you.
4. Price for sample or bulk fabric
When you buying and export from Chinese fabric market. There are several methods to calculate the price of textile material. Normally, use Meter or Yard unit. If knit fabric, the vendors will calculate in weight (KG or Ton) unit. Do pay attention to the unit. As difference unit means different value of fabric. Especially for new business starters. Better to check with your China sourcing agent. And require them share and guide you buy from wolesale suppliers.
There are 2 price for one same style fabric. Which are sample price, and bulk price. Usually, sample price is expensive 3-5rmb/meter than the bulk price. Moreover, some fashion or new design, the suppliers will charge more for sample price. Because the wholesale suppliers want to protect their designs or patterns. In fact, your China sourcing agent will remind you such tips. And they will guide you sourcing and purchsing from the wholesale suppliers.
5. MOQ of stock or customized making
Minimum Order Quantities (MOQ), is a very common concept or requirement in Chinese market. When you buying and export fabric from Chinese markets. You surely will meet such questions. For instance, how many quantities you want? Do you buy in bulk, or sample? Or the suppliers will tell you, such items need bulk orders, and MOQ is how much, etc. Don't worry. MOQ is a basic requirements in Chinese wholesale markets. Not only textile markets. But also in clothing business, shoes distribution centers, and bags markets. In fact, all of the China wholesalers, manufactuers, and sourcing agents have such requirements.
The MOQ is because of the raw material MOQ requirements. Or dyeing and printing machine requirements. In fact, it's a normal and reasonable quantities requirements. As if you buy clothing, the manufacturer will tell you, one roll fabric is 120 meters, can make 200 pieces t shirt. So that you have to place 200 pieces for you bulk orders. 
For stock fabric, MOQ based on 1 roll. Which is 100 meters or so. And based on the weight or machine feature of textile material. If your order is more than 1 roll. Then you can get bulk price. Otherwise, you have to pay for sample price. If you want to custom made fabric. Then your MOQ will be higher. Usually need 500-1000 meters or more. As dyeing or printing require MOQ too. Same situation, when you want a fabric which is lack in stock. And the China manufactuer have to produce again for your bulk orders. You have to wait, and meet their MOQ.
6. Fabric Width
Fabric width is an important concept, to calculate or compare the price of textile material. When you buying and export fabric from China market. You have to understand well about the concept. In Chinese fabric wholesale market, fabric width mostly is 150 cm. While some kinds of fabric are special width of 120 cm, 11o cm, or even 80 cm. Such as garments fabric, fur leather, footwear textile, are totally different width. So that when the China suppliers quote you the price per meter or yard, you should check the width. For example, 20 rmb per meter for 150 cm width, are different value than 80 cm width.
When your China sourcing agent guide you buying from the wholesale suppliers. They surely will confirm and record the fabric width. In order to remind you and help you make decision before place order. As you know, for same fabric composition, price based on width, gram weight, and design. When sourcing agent guide and buying to export from Chinese wholesale markets. They seriously check the width, roll meters. In order to avoid shipping wrong textile products to their clients.
7. Delivery time
Delivery time is a basic condition in China fabric market. As we all know, foreign buyers are usually place order with many suppliers in one time. Usually, delivery time of stock textile material is 2-3 days. After the suppliers receive the deposit. However, if reproduce items or customized making fabric, the delivery time have to be 10-15 days. For some special techniques or material, the delivery time shall be longer. A professional Guangzhou market guide will record the delivery time of each item to arrange shipment. As well as arrange quality inspection before goods consolidating to their warehouse.
Here need remind you. Why to hire a China sourcing agent or trade company service? One of the reason is order tracking. Which are very important for buying and export from Chinese markets. As some suppliers will delay to send goods. There are many reasons. Such as raw material lack for production. Or bigger orders occupy your producing plan. Or the suppliers are poor in manufacture management. As well as some quality troubles. So that a reliable China sourcing agent can follow up your suppliers. In order to coordinating, control the order process. And tracking your bulk orders to delivery on time.
Understand Hidden Rules to Avoid Troubles When You Buying And Export From Guangzhou Markets
8. Color Difference
There is a popular issue in China fabric market, color difference, which can not avoid in each manufacturer. The color difference mainly influence in sample color and bulk color. No matter you require the same color card or Pantone color card standard, there is still have color difference in sample and bulk textile material. In each bath of fabric, although use same material and produce technique, there is a color difference. The reason is because of the chemical reaction and complex conditions in work shop and machines.
Usually, if the color difference is in 10%-15%, we normally consider it is acceptable. If you are lucky, the color difference will be 5% or so, seems no problem. Such issue normally is difficult to accept for some high quality clothing manufacturer, but have to face the fact. A professional Guangzhou market guide  or Guangzhou sourcing agent surely will remind you and explain to you before you place orders.
9. Loss Quantities then Ordered.
In China fabric market, there is a very important issue, that every buyer should recognize. Whether the quantities are sufficient or not when you receive the goods. Many times, our new client will ask us, why the quantities are less than ordered around 5% to 10%? The answer is that, before you confirm the order, you don't confirm with the supplier, if the delivery in sufficient or not.
Normally, there are 2 style of price quotation from suppliers in China fabric market. One is sufficient, another is not sufficient. Once you think the price is cheap, you must remind yourself to ask the supplier, if you delivery sufficiently or not. 98% is a normal situation, even 95% if calculated in KG, maybe acceptable. But if you only receive the textile material 90% or even less, then you can consider to be taken in.
Actually, many suppliers use such method to attract clients, because if they only 95% delivery, means their price can be cheaper 5% than competitors. A professional Guangzhou market guide, surely will remind you such situation, and the will focus on such question to ensure you get the enough quantities as ordered.
10. Quality Inspection Method
Fabric order is a complex business service process, from sourcing to buying, QC till export. However, the most important step is QC before shipping. As fabric is roll, and difficult to check if all of the textile material are good quality or not. Sometimes, Guangzhou market guide or China export agent only can proceed random samples inspection, 30% is acceptable, 50% is an appreciate work performance.
For the quality inspection, we must go to the suppliers warehouse, use their roll machine, to check each roll. To find the quality is acceptable, and the quantities are meet the orders. If find bad quality, should record and use small adhesive sticker to highlight the issue, so that can avoid during the fabric was cutting.
By the way, if the fabric order amount is very huge, we'd better to test the fabric composition and basic condition is acceptable or not, a specialized and professional Fabric testing mechanism is the best choice.
Conclusion
When you buying and export from Chinese markets. Do remember to hire a sourcing agent to guide you purchasing from China wholesale suppliers. As there are many detailed work and hidden rules buying from China. In fact, not only fabric markets and textile products. But also same situation in clothing markets. As well as shoes, bags, fashion accessories, etc. If you have a good China sourcing agent, shall be easier to buying and export from China. 
Of course, each category product, need special products knowledge. And purchasing experience to deal with the China wholesale suppliers or manufacturers. Although we today introduced 10 buying tips of fabric products. There are still many detailed should pay attention to. For instance,  yarn count, weave methods and gram weight. Even for environmental requirement. Or tech specifications, dyeing and finishing process, etc.
Want to know more? Please visit our website. There are many useful information in the site. If you want to import and work with Shangjin. Do not hesitate to contact us. We are gald to be your partner in Chinese markets.