What does a sourcing agent do? – Wholesale Business Service Company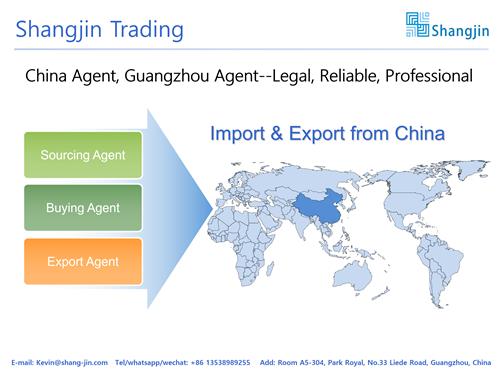 What does a sourcing agent do? Just check with Shangjin company service. Then you will understand better. What does Shangjin company service?  For sourcing, buying and export from China. And work as a China agent for wholesale business. That purchasing products from China markets or suppliers. Shangjin Trading is a service company. For sourcing, market interpreter. And wholesale export business. In fact, Shangjin service company base in Guangzhou China. With office in Ningbo too. Focusing on wholesale sourcing, buying service. And export from other cities for China agent business. For instance, Shenzhen, Ningbo, Shanghai. And Wenzhou, Yiwu, Cixi, etc. Where have good product and factory suppliers.
The key value of Shangjin service company, work as a sourcing agent. Which is comprehensive service. And recognized as One – Stop – Solution. For buying and export service. What does it means? For sourcing, market guide interpreter, and product suppliers management. In order to find the best product and supplier in China marke. For your wholesale buying business. And handle with all of the related detailed work. Such as wholesale business control. Or shipping company coordination. Or export service.
Sourcing Agent Is Service Company For Your Wholesale Business Export From China Market
1. Market guide and interpreter
Market guide and interpreter is a basic service of Shangjin company. And it's a normal and common service of a sourcing agnet in China. While the service quality for market guide and interpreter is very difference. For Shangjin service company, we take it as the most important work for a good sourcing agent. Why? Because Shangjin consider it as the beginning for a wholeslae business. No only for a good service of sourcing, buying and export. But also means the best products and China suppliers.
Shangjin company consider market interpreter as the most important resource for a sourcing agent service. Because clients always seeking for the best wholesale business and products. So that products suppliers are the first points. For a wholesale buying and export business from China. Then require an experienced and good service market interpreter. To guide them control the product suppliers or company.
Advantages

–

Market guide and interpreter of Shangjin service company
Experienced Market Guide And Interpreter
Full Time Accompany for Guide And Interpreter In The Markets
Recommend Best Product Suppliers
Save Mony Save Time For Wholesale Business
Reliable, Honesty Safer, Easier Sourcing Agent In China
Team Work, Effective & Efficient
Daily Report and Detailed Order List From Market Interpreter
2. Free Sourcing Service Agent
Shangjin agent company offer free sourcing service. In order to help our clients find best product suppliers. Before our clients come to China for wholesale business. We will require our clients to send us some pictures and specifications. So that we can arragne our market interpreter, to sourcing the product supplier factory. And to save time for our clients. As well as understand the supplier's business terms for wholesale products.
If you don't plan to come to China. It is not a problem. Because Shangjin agent company can service you free sourcing too. And we will try to find the correct product suppliers. Then prepare a Detaile Order List to you. So that you can check the detailed information. And make decision. If okay to accept or not. If you consider the quotation is okay. Then you place order and transfer payment to us. And we shall buying from the product supplier. And export to you. While if you don't think the quotation is acceptable. Shangjin agent company will arrange resourcing service for you. Until you get the correct product. And precise quotation from suppliers.
By the way, Shangjin agent company need your help. Before sourcing service proceed. Here, please tell us enough basic information of your interested items. So that to help us understand and focus on the correct product suppliers. For example, product pictures for us to know the image, design, and styles. And roughly quantities of your wholesale business demand. So that we can ckeck with correct product supplier. Like wholesaler, factory or even online shops. There are MOQ for wholesale business in China market. And we have to match the requirements. Otherwise, our market guide or interpreter don't know. Which price is good for you. Of course, more quantities generally means better price.
Advantages – Free sourcing service of Shangjin agent company
Professional Products Knowledge For Wholesale Business
Good Interpreter Guide. And Familiar with China wholesale markets
Good Product Suppliers Network in China
Focus on Production Hub in whole China
Planning Shipping Conditions In Advance, Before Wholesale Business
Consider Special Requirement or Certification From Product Suppliers
Feedback you DOL in 24-48 Hours, Quotation From Best Product Suppliers
Update Or Re-Sourcing To Find Correct Items, Market Interpreter Team Work
3. Order Follow-Up
Order Follow-Up is the core value of Shangjin agent company. As well as sourcing service. In fact, it means the good results of your wholesale business. And Shangjin service company work as your own staffs on your behalf in China. To coordinate, control and manage your product suppliers. From order place, sales contracts and deposit transfer. Till sample confirmation, bulk production proceed. As well as quality inspection and goods consolidate. Until to container loading and export shipping. All of the detailed works related. That Shangjin service company will deal with.
Shangjin agent company will arrange the same market interpreter. Who guide you sourcing and purchasing with you. Becasue the market interpreter understand your product requirements and supplier conditions. So that they can take care of your wholesale business better. In fact, fixed market interpreter service, with team work of Shangjin company. It is very helpful. If there is any emergency issues. Shangjin service company will work with product suppliers immediately. To solve the problem. And avoid further risky as soon as possilble.
Advantages – Order tracking service of Shangjin agent company
Firstly, Deal With All Of The Detailed Work
Secondly, Sourcing Agent Work As Your Own Staffs. And proceed accordingly On Your Behalf
Thirdly, Fixed Market Interpreter and Service Team
Fourthly, Deal With Any Problems. And solve it immediately With Product Suppliers
Finally, Avoid Any Risky For Your Wholesale Business
4. Quality Inspection
Quality Inspection is an essential process for you wholesale business in China. As well as the key service for Shangjin sourcing agent company. Good quality means good results of your wholesale business. Shangjin company's market interpreter and service team. Shall fulfill a strict QC process to product suppliers. In these step, require strong principle and responsibility of Shangjin service company. Or the market guide interpreter. Who follow up the orders. In fact, Shangjin service company always focus on the result of goods quality. To protect our clients' benefits. No matter the relationship of product suppliers. Or the  objective causes of the quality problem. For Shangjin, we simply focus on: "how to delivery good quality products from suppliers".
Normally, Shangjin service company proceed quality inspection work in 3 steps. Below is a brief introduction. For your information.
(1) Pre-Production to check supplier Capability.
It means Shangjin will check and confirm the situation of the product supplier. Before place bulk order of wholesale business. To check the quality, workshop, and machines. And the market interpreter will visit to check the supplier's factory. Or their showroom for similar products. For some big order amount wholesale business. Shangjin will follow up the first piece of bulk order product, in the supplier workshop.
(2) On-Production to check PPS quality
In fact, Shangjin pay the sample fees to the product supplier. Before transfer deposit for wholesale business orders. Then check and confirm the sample quality. After get the sample confirmation from our clients. Shangjin will arragne bulk order deposit to the product supplier. Otherwise, will require the product supplier to improve the sample quality. Until our clients approve it. During this process, if the product supplier is poor quality. Or the service attitude is not good. We will remind and suggest our clients to cancle the wholesale business orders.
(3) Pre-Shipment to Random Inspection for Bulk Goods
In this step, Shangjin's market interpreter will check product qaulity in the supplier warehouse. Or in Shangjin's warehouse when pick up goods. No matter where for quality inspection. Shangjin insist to check the bulk products. Before balance payment to suppliers. It is a very important step for a wholesale business purchasing in China. And it's also the key value of Shangjin service company. As an sourcing agent in China.
When Shangjin's market interpreter check the quality. They also will check the packages for shipping. For instance, the market interpreter will require the supplier. To submit product pakcing list. To check if the package of each carton is correct or not. And check the shipping market is correct. And sticked to each carton. Anyway, Shangjin service company is always focus on the details seriously.
Advantages – Quality inspection of Shangjin service company
Firstly, 100% Quality Guarantee. Before Shipping from product suppliers
Secondly, 30% Random Sample Inspection. With Detailed QC Report Or Pictures. Which will Submit by market interpreter
Thirdly, 10%-30% Damage Order Value Compensation. That Bear For Shangjin's Responsibility
Finally, Quality Control strictly More Safer. That is key value of Shanjing service company
5. Warehousing and shipping
Warehouse and shipping service is easy for Shangjin agent company. In fact, most of professional sourcing agent have own warehous. And have experienced market interpreters for export service. While Shangjin has warehouses in Guangzhou, Foshan, and Ningbo. So that Shanjin can export from Shenzhen and Guangzhou. As well as Ningbo and Shanghai. If you require shipping from Fujian, Qingdao, and Tianjin. Don't worry. Shangjin service company can easily handle too. As it is not a problem at all.
Here, please note. That Shangjin offer free warehouse to our clients. While for goods consolidating and inland transportation logistics. There should be some extra cost. And it have to assume by our clients. Of course, Shangjin will remind and suggest you the best shipping way. Moreover, we will list all of the related cost for confirmation. After get our clients' instruction. Then Shangjin will proceed accordingly.
Although warehouse and shipping is easy for a sourcing agent in China. There are many detailed work need to prepare and proceed. Here, need remind you. That better for you to hire a professional sourcing agent. To take care of your wholesale business in China. Especially for small orders with various product suppliers.
Advantages
Firstly, Free Warehousing to Store Goods. At least in 7-10 Days for Consolidating. Then arragne loading and shipping directly.
Secondly, Professional Consolidating Service. Especially for Small Orders and Various Product Suppliers
Thirdly, Professional International Transportation Methods. And will suggest you the best shipping way.
Finally, Cost-Effective Shipping Plan. With Detailed Cost Quotation Before Shipping. All of the cost are clear and open.
6. Customs Declaration
Customs declarartion is easy for Shangjin to service, as export agent company. While it's not a easy work for foreigners to handle by themselves. For some special products or import regulations. Of course, Shangjin sourcing agent company can help you. In a very easy, safe and fast way. Actually, Shangjin always consider about the shipping methods, before wholesale business. So that to make plan in advance. Then inform each product supplier to proceed accordingly. And will easy and save the export behavior. By the way, the market interpreters are very experienced in paperwork. And documents preparing.
Why not enjoy Shangjin company's sourcing and export service? And to be your partner agent in China? So that you can focus on wholesale business purchasing. And wait for goods in destination port or your warehouse. Is it much easier for your wholesale business, right?
Advantages
Firstly, Export Solution with best shipping methods. And Specialized in Booking, Loading, Shipping and Customs Declaration
Secondly, Help Customs Clearance in destination port. If possible to proceed door to door service.
Thirdly, Parper work for all documentations required. And Correct, Legal, without delays
Conclutions
Shangjin is a good sourcing agent. And reliable comapny. For your wholesale business service in China. We have good market interpreters and service process. No matter for sourcing, buying and export agent service. But also for quality control, warehouse, and shipping cost. If you want to develop wholesale purchasing business in China. Please contact us. And we can help you in Guangzhou, Shenzhen, and Foshan. Or from Shangjin, Wenzhou, Ningbo. As well as from Yiwu, Shaoxin, and Cixi, etc.
Shangjin service company is professional in many featured products and suppliers. For example, fashion clothing, fabric and textile products. Meantime, leather shoes, bags, and jewelry accessories. As well as other product suppliers. Such as furniture, toys, and appliance. Or decoration, electronics, vacuum cleaner, etc.
Are you interested to work with us? If yes. Please don't hesitate to contact us. Surely you will enjoy a wonderful service. And welcome to join us.