Sourcing and Export Agent in China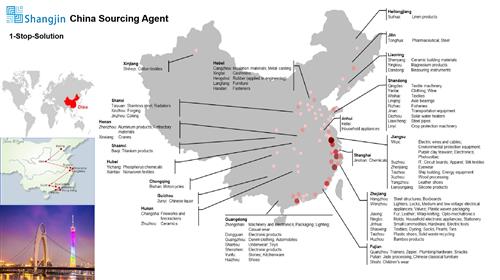 Sourcing and Export Agent in China is a very popular service for foreign trade. As we all know, huge amount foreign buyers come to China sourcing and export every year. In fact, China is becoming the biggest export trading center in the world. The sourcing and export agent service thus have a good chance to develop, and to be better. Frankly, sourcing and export agent is an important part of foreign trade in China.
Why Need Sourcing and Export Agent in China
1. Unfamiliar Markets
The reason why sourcing and export agent in China is irreplaceable, is because of the demand of foreign buyers. During the sourcing and export process of foreign buyers, there surely will be many difficulties to them. For instance, business ethical, hidden rules, industry center for cheapest products.
By the way, language barriers between the vendors, is an essential issue too. Furthermore, there is also a potential risk in mind because of sourcing and export in an unfamiliar country. How to keep the capital safety? How to receive goods high quality and without bother? Majority reason to hire a sourcing and export agent for security, right?
2.Energy and Time Cost
On the other contrary, if you don't want to pay for sourcing and export agent service, means you have to handle all of the detailed work in the purchasing process. For example, you need sourcing after you come to China, and check wholesale markets or manufacturers one by one. However, you certainly can't guarantee to find the best suppliers. Or surely you need contact and negotiate with the suppliers of the order, such as MOQ, price, packing, delivery time, etc.
Moreover, before the orders to be delivery, you surely will be worry about the quality is ok or not.  Or you may wonder if there is any emergency arise and how to be solved. Too many detailed work that you have to face and deal with. Terrible energy and time, and of course, you can't sure if you can handle the things smoothly. Why? Because it's in a foreign country and you surely don't understand the markets very well.
3. Expertise to Handle
Finally, international transportation, or how to ship your goods to your local market. It seems an easy way, as there are too much shipping forwarders in China, and they can help you book the shipping space, and handle the customs declaration process. However, who will consolidate the goods and arrange container loading? Or should you sourcing and find a warehouse for your goods? How about the customs documents necessary? Moreover, should you check and confirm all of the related shipping cost, such as terminal handle fees in customs warehouse, documents fees, and other related fees in China side?
Above all, just analysis the facts you shall meet during your sourcing and export behavior in China. So, why not hire a sourcing and export agent service? Absolutely needful.
Low Commission and Comprehensive Service
Sourcing and Export Agent service in China, is very affordable cost and comprehensive service. 1-stop solution service is a normal concept of the service. That is to say, the agent will do all of the rest after you make decision to place orders. Is it amazing, right?
Normally, the basic service of sourcing and export agent is including 4 major concepts.
1. Sourcing Service for Foreign Trade
According to your interested products, sourcing and quotations before your coming. When you come to visit wholesale markets or manufacturers, the will accompany you and offer service such as market guide to find the best suppliers, interpreter with the vendors, bargain for the best price and MOQ, etc.
2. Paper work for foreign trade
The sourcing and export agent will help you record all of the detailed information of your interested products. Record the detailed information of the suppliers and salesman. Finally, they will gather all of the information into a spreadsheet and for your check before order. They will prepare commercial invoice, packing list, sales contract for you, and you don't worry about the customs documents at all.
3. Business security
The sourcing and export agent will take the responsibility of your capital security, goods safety, and quality guarantee. Use their legal and reliable company account, require them arrange quality inspection, and goods collections, etc. In fact, they will help you handle all of the rest work, after you make decision to place an order.
4. Warehouse and Shipping.
A profession sourcing and export agent surely will have their own warehouse, no matter they rent or use their cooperate company's. You don't worry about where to store your goods. And don't worry about how to arrange container loading, or air way shipping, even courier. The sourcing and export agent will prepare a proposal for your shipping methods. They will submit to you after the goods ready, based on your goods weight and CBM. In other words, it's very easy for them to deal with the shipment for foreign trade.
Now, surely you will take it easy, as you don't worry about your sourcing and export anymore.
In fact, during you enjoy the professional service, you simply need pay a small cost to the sourcing and export agent. The rate is normally 3%-5% of your total order value. If your order amount is big enough, you can even negotiate with them, to reduce the commission to 2%. If you are lucky, maybe you can get the lower rate.