Wholesale Market Guide is a basic servie of Shangjin, while it is  absolutely one-stop-solution service for buying.
We are very familiar with the wholesale markets in Guangzhou, Foshan and Shenzhen. Meantime, we are focus on clothing wholesale market, as well as fabrics and furniture. If necessary, we can accompany you to vist factories, no matter sourcing together in Ningbo or Yiwu. However, you need assume the extra fees of travelling.
As a professional sourcing agent, our major guide service are listed following.
1. The wholesale market guide will recommend the best market for you, furthermore she will recommend the best vendors with best price;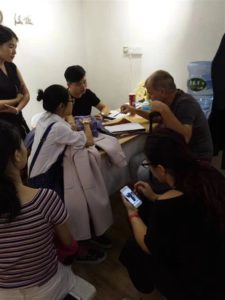 Translator market guide
2. The knowledgeable market guide will assist you whole of the day. Normally, she works from 9:00am to 17:00pm.
3. Our wholesale market guide will help you bargain the prices and MOQ. Of course, you should make the decisions whether accept or not;
4. Maybe you will find many vendors have similar products that you interested, and you want to record to compare before making decision. Take it easy, our wholesale market guide will help you. She will take photos, record in the notebook, including all of the details required;
5. Our market guide will work as an interpreter for you. Furthermore, she will try her best to help you reach an agreement with the vendors.
6. Additionally, the market guider will record the supplier's basic information, such as name card, salesman, booth address, etc.;
7. In the night, the market guider will organize all of the basic information onto a spreadsheet everyday. It normally includs the details of products, vendors, delivery time, MOQ, etc.;
The one-stop-solution service of market guider occupy huge energy and time to handle. Anyway, it's really useful to help you make decision easier and quickly.