How to work with Shangjin-Service Guide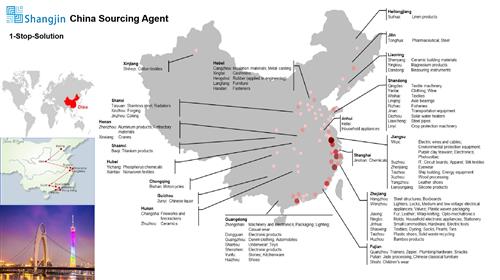 Q: To be a market guide agent, what kind of products are your specialty?
A: We are market guide agent, generally focus on knitter wear, clothes, apparel, shoes, fabrics, accessories, lighting, furniture, building material, etc. Any item that is common or popular to the retail markets and featured in China's wholesale markets.
We do not work with some items in the range of food products, agriculture, chemical, pharmaceutical, or machinery items.
What type of products are you looking to source?
Q: Could you pleased send me your catalog of all the sports items with price and photos?
A: Being a market guide and sourcing agent,  we do not keep a product catalogue for such items. Could you please provide us with some specifications of your interested items? Such as some photos or links, your purchasing quantity, price range, etc. so that we can clearly know your requirements, then start an efficient sourcing work for you.
Q: How much time will you reply to me from your side regarding search for best source?
A: We will forward your inquiry to our sourcing manager, our sourcing team will check with our suppliers or sourcing in the markets. Will send you quotations within 24-48 hours. Hope you can understand it.
Q: Is there a fixed market guide assistant that accompany me in China and arranging all the things after I return to my country?
A: Yes, it is usually a fixed market guider/ assistant to help you to arrange everything when you  are in China or return to your country. However, if the staff is at absence for any reason, we will appoint another one in the same business team, and they have the same business team manager, because they share all the working materials in the same team.
Q: Will the market guide accompany me all the day around in the market?
A: Yes, our translator will assist you all day around the market. Usually 9:00am meet you in the hotel lobby, then go to the market together; will finish at 17:00pm, because the market will close at the time. Our guider will take you back to hotel and she then go back home. Of course, for the detailed arrangement, you can discuss with the guider, and make the sourcing plan by yourself.
In the night, the guider will organize all of the detailed information onto a spreadsheet for your reference, so that you  can then check the products of your choice before making your order.
Q: How do your market guide service work for me in China? And what things/ documents do I need to prepare before I visit China?
A: Things to prepare before your trip:
Invitation Letter for Visa (Shangjin can provide a business invitation for your visa purposes)
Hotel Booking (We can book your hotel without a deposit unless there are trading fairs in session)
Airport Pickup Arrangements (We arrange pickups from Guangzhou)
Confirmed Meeting Times (Once we have arranged all details, we can book our meeting.)
We will confirm a meeting with you before you depart. Our market guider will escort you to the market and negotiate with suppliers for you, making records of your interested products, sending you a detailed order list.
Once you have carefully reviewed all of your products on the spreadsheet, and have made your decision such as items and quantities, we will arrange the rest things for you.
Q: I would like to know if there is a way to import goods from China if I don't visit in person?
A: If you don't visit China, please provide us with some samples or specifications, such as some clear photos, purchasing quantity, size, material, etc. We will forward your inquiries to our sourcing department to check prices, and send you quotations by email.
If you confirm the orders and prices, we will arrange the rest things for you.
Q: If we specify products, quantities, price level, etc, in advance, are you capable to perform research and recommend potential suppliers, before we arrive in Guangzhou?
A: Absolutely, it's our sourcing service too. We can check with several suppliers if they can meet your requirements. If Ok, we will recommend to you. You make decision which is better, then we can arrange visit plan.
Q: You mentioned that you give 100% guarantee. Are running an escrow service like Aliexpress / Alibaba where you hold the money until we receive the goods & are satisfied with quality / color/size etc? How do you guarantee my money?
A:Shangjin will assume the responsibility for broken or damaged items as well as quantity shortages by offering credit back and refunds if required. We also assume responsibility in supplier related issues. If we cannot find a reliable replacement in the time frame for the goods to be received, then we will promptly return the deposit to you.
Q: I know you guys are there to protect the client and so far we feel quite comfortable with you etc, are there actually hidden commissions between suppliers/factories and agents?
A: No, there are no hidden commissions between suppliers/ factories and our company.
However, some suppliers/ factories will give us 1-2% discounts, because we deal with them by means of  cash on delivery, and they also want us to introduce more orders to them.
We make a profit mainly from export rebates.
Q: I think 3%commission fee is too much, I feel, you should be making it 2% commission on my purchases. I am OK with rest of the following things that you have mentioned.
A: For the commission, the reason that we charge 3% is that we provide the comprehensive  service to you, including market guide, consolidation, Quality Control, warehousing, documents preparation ,we are full team offer the one stop solution service, all related fees or charges included.
We feel that 3% is fair and most of this covers our overheads and leaves only a small margin of profit for our  business.
Q: We are looking for long term custom. We don't want any hidden costs. We need everything in black and white. Moreover, are the total charges including 3% commission fee and the container fee?
A: There are no hidden charges in our company. Our transaction is transparent: Shangjin's  Agency Commission + Fob Charges + Your Shipping Costs = Total charges
Q: You advertise in your website, 1% commission, why you charge us 3% commission?
A: Yes, our commission is from 3%, low to 1%. Normally we charge 3% commission, it's really a reasonable rate, as our service are one stop solution, including all of the service that you buying from Guangzhou. However, we sometimes will charge 1% when the order amount is big enough, at least 1 million RMB per bill, and long-term business. Please understand.
Q: How about checking that manufacturer/shipper legally exists in China?
A: Yes, we can definitely assist you in checking whether manufacturers legally exist or not. Please send us their official website and contact info, and we will give you a feedback.
Q: If cargo delays then commitment due to production or delay on working process what is the responsible?
A:We are not the supplier. We will try our best to let the supplier delivery on time.
Follow up the orders, keep our customers updated if there are any changes, and control the problems before they happen.
But we can't take the responsibility of this. We can cancel the orders if the supplier is delayed.
Q: How will you do the inspection?
A: We usually do 30% sampling inspection on each item, and inspect the Quality, Quantity, Packing and all the other issues according to your requirements before delivery.
If there is any difference, we will check more quantity of products on the item and give you a feedback, then let you make the decision.
Q: Could you provide 100% inspection on my products or any other kinds of sampling inspection?
A: Yes, we can provide 100% inspection if you require, but we charge more fees regarding 100% inspection. The final cost depends on the inspection quantity of goods and your requirements.
Q: How are you prepared to deal with potential quality issues during and after production?
A:We also assume responsibility in supplier related issues. If we cannot find a reliable replacement in the time frame for the goods to be received then we will promptly return the deposit to the customer.
We guarantee that if there are any quality problems after our QC, which do not fulfill your quality requirements (We require a detailed QC instruction Sheet), we will cover the responsibility.
Q: Do you also have some like "inspection fee"? I see that some of Guangzhou trading agents add this kind of fee. Please let me know. Is it possible to send out your worker to supplier warehouse to check the goods?
A: You can also have the Inspection Service separately instead of paying commission, just tell us the inspection requirement and the inspection address, your order details, such as quantity, a detailed order list with photos, etc.
If the inspection location is in Guangzhou, the cost is USD 100$/Day+Traval Cost.
Q: How much do you charge for warehouse space per CBM?
A: It is included in our commission charge, we will not charge the fees, 7-10 days are enough for us to ship the goods out. If you want use our warehouse longer time, we will have to charge you extra fees, usually 5RMB/CBM/day.
Our commission fee is 3% of the total purchase cost of your goods and this covers the One-Stop Services including Warehousing. For smaller order where is under 15,000 USD, we will charge 500 USD commission for each shipment.
Q: Can you gather all the products info from my different suppliers and load into one shipment?
A: Yes, we can consolidate the goods together in one shipment. As your order is small, the suppliers surely will not send goods to our warehouse directly. So we have to rend a truck to collect goods in the market, then send back to our warehouse, combine to one shipment.
There are some extra fees for transportation, such as truck rent fees, parking fees, load fee in the market, unload fee in the warehouse, ect. you need assume it. The cost based on the products CBM and weight, will confirm with you before we proceed.
Q: What kind of shipping methods do you provide?
A: We can delivery goods by sea shipment, air shipment, express/ courier (such as DHL, UPS, FedEx, etc).
Q: Can you Repacking and relabel with my store label?
A: Re-packing as your requirement, such as changing the carton, inner box, label, bar code, making the wooden pallet, etc, the re-packing service charges will be separately according the cost. We will send you detailed cost list for your confirmation before proceed.
Q: Can you tell your prices for translation service?
A: Translation Service and Market Guide Daily Rate:
English- Chinese: 300rmb in Guangzhou per day
Once orders are placed, the translation fees will be deducted.
Spanish Language Service: 600rmb Guangzhou per day.
If not in Guangzhou, sometimes there will be some costs of transportation and hotel, as our guider accompany you to other cities.
By the way, for our old client who once placed order, we will not charge translator fees.
Q: Since, it is the 1st time to China, I cannot assure you if I will buy immediately. I am coming for a survey. Will this be fine with you?
A: Sure, understand,  it's definitely fine with us. Whether how many times you visit China, it is our honor to assist you in China.
If there is no order, you only pay the translation fee .
The  English translation fee is 300 RMB per day in Guangzhou. If not in Guangzhou, sometimes there will be some costs of transportation and hotel, as our guider accompany you to other cities.
Q: Is the labor cost (paid to the worker who load my goods into container) included in FOB charges?
A: Yes, FOB Charges cover the inland transportation fees, loading fees, and handling fees from our warehouse to the port where your goods will be shipped out of (Guangzhou or Shenzhen).
20 Ft. Container: $850USD
40 Ft. HQ Container: $950USD
LCL (Less than a Container Load) = According to Volume per Cubic Meter (CBM) Quotes can be given once products are collected, and measured in our warehouse.
FOB charge is not included in our agency commission, but for covering the inland transportation, loading, and handling fees from our warehouse to the port.
Q: How the money will be paid to the merchants? Do let me know the procedure.
A: Please pay deposit to our company, we will help you to transfer the deposit to your different suppliers, it can help you reduce your bank charges too.
Frankly, it's a help for us to control the sellers to proceed the orders much better, as they always work for whom pay them the money.
We can accept Bank Transfer, Western Union.
Q: Please confirm when you will require the balance from us? Before sending us scan of B/L by mail or after? I would like to mention that we always pay balance after getting scan of B/L by mail.
A: We accept 30% T.T deposit in advance, and require the balance payment before the goods picking up to loading.
The balance payment usually means that 70% of (value of your goods + commission fee +  FOB charges+shipping freight cost)
we will provide you a Proforma Invoice, which will guide you to finish the payment.
Q: What's your payment terms?
A: Our payment terms is usually 30% deposit and the balance before the goods picking up to loading.
We can also accept L/C payment, however, the final L/C payment terms depends on your total purchase value and your bank requirements, which can be negotiated after your orders confirmed.
Q: What all kinds of documents are required to complete the whole process?
A: We would assist you in arranging China export customs clearance documents if you work FOB shipping terms with us, so there is no worry from our side, you can just find a local importing broker in your country to receive your goods (if you have no any Import and Export certificates).
Q: Will you take care of the paper work for transporting the goods purchased?
A: Sure, when you place an order to us, we will prepare China export clearance documentations and arrange the shipment, which are included in our commission services.
Q: By the way, is Form A and shipping to us Original Document (by DHL or TNT) is extra paid in your company?
A: Our commission fee also covers the cost of one copy Form A and the courier fee of delivering Original Documents.
Q: Question regarding invoicing. Does factory invoice us directly? Could give me a detailed proforma invoice which has all charges I am to pay?
A: We provide a Proforma Invoice for your payment, which include total charges and balance payment and also our bank information in detail.
You can just pay to us, and we will pay the money to your different factories/ suppliers, to reduce your bank charges.
Q: I am planning to visit during the Canton Fair 2019. Please let me know the dates. Let me know the procedures for visiting during the fair. Please let me know, where is the fair held?
A: Regarding Canton Fair, please check the official website: http://www.cantonfair.org.cn/en/ Registration: http://invitation.cantonfair.org.cn/Home/Index
You should apply for the Badge: http://www.cantonfair.org.cn/html/cantonfair/en/buyer/2012-09/75.shtml
If you confirm the trip to Guangzhou, please inform us in advance, we can help you to arrange the market guider.
Q: Do you know what the rate for the room is in Guangzhou?
A: Guangzhou hotel is a little expensive, you can get a
3 star hotel pricing range from 400-500 CNY per night,
4 star hotel: 600-800 CNY per night
5 star hotel: more than 1000 CNY per night
During the Canton Fair, the price will be doubled, it's better for you booking hotel 1 month in advance.
We can also recommend you some hotels within your hotel budget per night.
Q: Could you please help us to organize a train from Shenzhen to Guangzhou?
A:We suggest you book the train tickets on Ctrip.com, which is a well-known booking website in China, and it has an English website: http://english.ctrip.com/trains/. Please choose G train,  it takes only 45 min to reach Guangzhou.
By the way, Please select "Ticket Pickup", it means that Tickets can be collected at any railway station or authorized ticket office.
After you book it, show your passport to the ticket counter to collect the tickets when you reach Shenzhen Railway Station (G train).
Q: I would like to inquire about your services for car pickup from the airport to our Hotel in Guangzhou.
A: OK, no problem, we will help you to arrange a car to pick you up.
The airport pick up cost is 200 RMB per car from Guangzhou airport to your Hotel, you can pay cash to the driver directly.
Could you please tell us your flight number? If there is any delaying or early situation, the driver can wait for you, holding a piece of paper with your name on it.