How to work with Guangzhou Sourcing Agent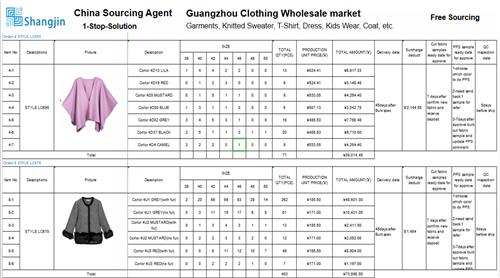 1.Why need a good Guangzhou sourcing agent?
1.Smooth Trip
In Guangzhou, based on the famous clothing wholesale markets with various featured products in China, there are thousands of agents here. Most of the agents focus on the service of market sourcing, market guide and export one-stop solution. They are normally named "Guangzhou sourcing agent". In these sourcing agents, a few large companies with more than 100 people, while mostly are have 10 people or even 1-3 people.
It is important for you to find a good Guangzhou sourcing agent and build trust with them. Because good service will smooth your business in China much easy and safe. While if you unfortunately do business with a bad Guangzhou sourcing agent, the damage done by them to your business cannot be under-estimated.
2. Safe Business
You need try you best to find a reliable, legal and professional Guangzhou sourcing agent, and set up a long-term cooperation with them. Furthermore, it's better for you to understand some hidden rules and tricks in Guangzhou clothing wholesale markets. So that you may avoid risk and protect your interests easily.
2.Where to find ?
1.In your Country
It's better for you to find a good Guangzhou sourcing agent before you coming to China. You can search for "Guangzhou Sourcing Agent" on Google, then contact them via website, email, or whatsapp, etc.
You can require your intention agent to tell you more detailed information of the markets, products. Or you can ask them sourcing products in advance for you, so that you can arrange your visit schedule more reasonable. By the way, via such inquiries, you can understand the agent more, then get an idea if they are professional, reliable and cooperative or not.
2. In Guangzhou
If you have already arrived in Guangzhou, and want to find or change a sourcing agent, don't worry, it's easy to handle. You will see a lot of advertisements about Guangzhou sourcing agents at the airport, train station, and even at your hotel entrance. If you will visit a fair, you will find many agents who are looking for clients there.
3.Basic Service
Remember, a good sourcing agent will offer you a comprehensive service, prepare everything for you in China. The basic service usually including visas, air tickets, pick up, hotel reservations, etc. Of course, there are some fees need assumed by yourself. After coming to China, you only need to focus on purchasing your products. Your sourcing agent will do the following for you: inspection, delivery, customs clearance, and other issues rest.
3.What's the Services?
A professional Guangzhou Sourcing Agent will provide you a comprehensive service, detailed as follows, not limited.
Market guider service
Take you to the best market where you can find the best price and quality according to your demand. If you have own factories and plan to visit, they will accompany you together. Usually, your agent will recommend some good sellers who match your requirements, you can check to visit or not.
When you sourcing in the clothing wholesale markets, the market guider will act as a translator to help you communicate with the suppliers. They will help you record the detailed information of the products, the basic information of the supplier, take some photos, etc. If you're lucky, they can get some discounts for you, usually 2-3% expected.
Many clients will purchase some goods in various shops, and each shops for some certain items. They want to combine to a whole container then ship out in one time. The Guangzhou sourcing agent will record all of the details of the products into a spreadsheet for your reference to make decision. And the sheet will be useful to track your orders in the following steps in the export process.
You should finally decide on the goods you want, and confirm the details such as quality, price, delivery time, etc. The agent will help you to place an order with the supplier,  and pay the required amount. It is because the supplier only accepts the RMB.
Delivery and export service
Agents can provide their warehouses in Guangzhou, to temporarily storing the products you have purchased. This gives you time to concentrate on your purchases, without worrying about having a place to store your goods in China. The warehouse usually is free in 7 days. If you need more time, it's better for you to negotiate with your agent, usually they will agree. Otherwise, you need pay some extra fees.
The Guangzhou sourcing agent will help you to pick up goods, check the quality, and then arrange shipment to your country. In fact, when you finish the purchasing process in the clothing wholesale market, you can go back your country. Your agent will help you proceed all of the rest things needed. It can save you more energy and time, better for you to focus on your more important business.
As you enjoy these services provided by the agent, they will charge you a certain service fee, named "commission". Usually, commission is settled according to the total amount of orders. It's better for you to confirm before your business start, and pay together with the balance payment before shipping.
4.Know the Service Charge
1. Charge 3-5%, low to 1%
Because of the similar service competition in thousands of agents, the charges of the service usually are popular standards and known by all. The affordable is 3%, some small orders need 5-10% percent. If your order is very big, then you can negotiate to get a lower rate, such as 2%, even 1%.
The charges normally called commission, based on your total amount of the orders. Actually, 3% is very reasonable as there are much cost for the agent, such as rents, salaries, management fees, etc.
2. Identify the service without hidden charges
Please pay attention to confirm with the agent, all service included in the commission. You'd better know in advance which service is free, while which will be charged extra fees. It's better for you to check, if there is a detailed invoice for you to indicate all of the related service charges. You need confirm with the agent, there will not be any hidden charges before you start business with them.
Finally, do remember, good service is always more important than the cost. Maybe you can go ahead and choose an agent with low service fee, but you will find some problems arised during the producing and delivery process.
5.Tricks are used by some Guangzhou sourcing agent
In order to maintain the interests of their own company, some agencies who charge lower service fees, often use some tricks to make up for the loss of service fees. We will share with you follows.
However, do not worry, only one suggestion can help you to avoid the bad results. You simply to confirm with the agency, whether they can 100% guarantee the quality of your goods or not. If Yes, then all solved.
1.Change suppliers
When you think that the quality of supplier A's product is good and the price is acceptable, then you go ahead and place your order. But pay attention, your agent is more likely to replace your supplier A with a cheaper supplier B, in order to benefit from it. As for you, the lower price of supplier B means that you may get a poor quality product.
2.Ask suppliers for a kick back
When you go directly to the market, your agent will help you to negotiate with the supplier. During this time, some of the agent will use the Chinese language to ask the supplier to increase the original price by 2-3% as a quote for you. In this case, the price of the product you pay will be more expensive. Such situation, some are allowed by the company, while some maybe the individual action by the translator.
3.Force suppliers to cut prices
Although you and the supplier decide on the product and price, some of the agents will force the supplier to cut the price when placing the order. By this way, the agent receives the profit from the price difference, and the supplier maybe delivery poor goods to protect their profits.