How to Import from China? Process Guide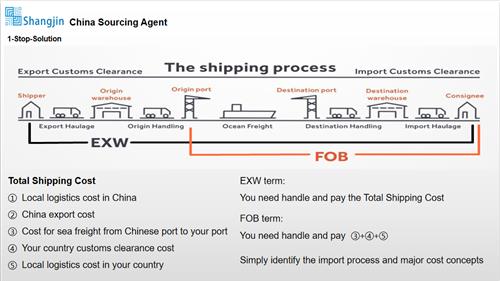 To be ready before import from China
Before import from China, there are a few things you should keep in mind.
A legal entity with registered license on your company or brand name for importing is necessary. You should have the tax registration applied on your goods, for VAT or IMT purpose, according to your state government requirement.
It's better for you to check the rules of your government, to ensure your goods is not fall under the surveillance or subject to import controls. Otherwise, it's essential for you to obtain a licence.
Please check the correct commodity code (HS Code), for the goods that you're importing from China. And you should confirm the rates for VAT and duty, or duty reliefs. It's vital in classifying your imported goods for complete declarations.
You'd better to get a good and reliable local freight forward company in advance. The forwarder will always advice you on the custom limits of imported goods if necessary. So that you can simplify the shipping from China to your country without troubles.
Find suppliers for your products in China
It's easy to find Chinese sellers via business websites, markets and fairs. If you want to start up with a small order to test your market, you can find suppliers online easily.
If you plan to dig deeper into a certain product category and want to find  cooperative suppliers, you'd better visit a comprehensive exhibition or big wholesale markets in China.
1. Online Suppliers
Alibaba, which is the best B2B site with huge quantities of suppliers. You can find any products or suppliers you interested. The suggestion is that, don't simply agree with the "Gold Supplier" as it is marked by an annual fee of $4000. You'd better to communicate and judge by yourself, in order to find the best supplier.
Global Source & Made in China, these two sites are mainly for stronger suppliers and direct factories. Because the auditing standards and annual fees for members are very high, so the suppliers are much better in quality and service.
DHgate & AliExpress, these 2 sites are good for small MOQ and cheaper price. The suppliers cannot guarantee the quality, they usually  purchase from the factories or other suppliers when got orders. It's not good for you to choose the suppliers for long-term business relationship.
2. China Wholesale Market
In China, the most famous trading cities are: Guangzhou, Shenzhen, and Yiwu. Each city has some huge wholesale markets with featured products. They are known as the biggest production centers, and suppliers gathering place. In these cities, you can find certain interested products with the best price.
Guangzhou. It's known as the biggest apparel wholesale markets in China, even in the world.  Guangzhou is the most famous foreign trade center in China, already more than 60 years. The apparel categories are specialty in knitter wear, kids wear, jeans, woven, fabrics, accessories, shoes, luggage and related materials.
Foshan, 60km away from Guangzhou, has the biggest wholesale market, which major for furniture and building material. Furthermore, there is the biggest lighting wholesale market in Zhongshan too.
Shenzhen. There is the biggest electronics wholesale market in China, named HuaQiangBei. You'll find a wide range of electronics products, and most of the affordable and trendy electronic devices come from there.
Yiwu. It's mainly for small commodities such as stationary, socks, and umbrella, etc. The products are all cheap price and poor quality. The market is very big, connected in one place, thousands booths together in five main districts. It's easy to compare the quality and price with different suppliers.
3. Comprehensive Exhibitions
Canton fair(China Import and Export Fair), is one of the most famous and biggest comprehensive exhibitions in Guangzhou, China. It's the largest exhibition event in China since 1957.
Spring in April and Autumn in October, thousands factories and trading companies as sellers will join the event. During the fair term, more than 150 thousands of foreign buyers will come to sourcing products and categories.
Professional exhibitions, such as furniture, lighting and textile, will show products of the same category. Such exhibitions means you can find the suppliers in one category.
Ship from China in 3 major ways
1. Express
Express is a door to door service, which is the fastest way shipping from China to your country. And you don't need bother about custom clearance or duty payment. It's easy to place order to express company, agree with an acceptable quote, then wait to receive the goods in your address.
There are some good express companies such as EMS, DHL, UPS, TNT and Fedex, etc. You can choose according to your preference.
2. Air Cargo
It's a normal method for us to ship good by air freight. The delivery process usually includes 3 steps:
Local logistics in China and export process which need finished in China;
The arranged Air shipping from Chinese airport to your destination airport;
Local logistics and import process according to your country's requirements.
3. Sea Transport (FCL & LCL)
Sea freight is the cheapest way and secure for shipping, while the time is usually up to 20-30 days. It's easy to handle too. Collect your goods to warehouse,  arrange container loading in the warehouse, and then shipped. You can open the container in the warehouse at your destination port or even in your own warehouse.
Meet the full details of import from China
1. Labeling Requirements
You need comply with the related regulations of marking and labeling, to avoid your cargo being seized by the customs authorities.
All of the invoice and lables you use, need include not only details of the receiver and sender, but also other details. The detailed information should including: quantity of goods,  order value,  commodity codes, and complete description of the imported goods.
Make sure that your invoice is typed and avoid making manual changes.
Below are the list of items, but not limited, based on your country's requirements.
Date of manufacture
Product name and description
Net weight
Maximum retail price, including taxes
Batch id (if required)
Your address
Month & year the product was imported
Country of origin
2. Custom Documents
Please keep mind to prepare the following documents before the shipment arrives.
Bill of Lading (Sea Freight) or Air Waybill (Air Freight)
Commercial Invoice
Packing List
Certificate of Origin (if applying for reduced duty rate)
Insurance Policy / Note
Product Description / Catalog
Commodity code (HS code)
Purchase Order or Letter of Credit
Industrial license (if required)
3. Certifications if required
Essentially, there maybe some requirements from your country for certain certifications. Do remember to consult from your side and keep in mind, to offer or remind your suppliers in time.
You'd better clarify the affixing position, dimensions and graphical files of the products unit, and send to the suppliers as well as user instructions and packaging requirements.
Import from China is complicated and it involves a lot of paperwork. If your country have some other regulations, we surely need comply accordingly. Therefore, hiring a professional freight forwarder, is really a smart thing for you to do.