How To Get A clothes buying Quotation Earlier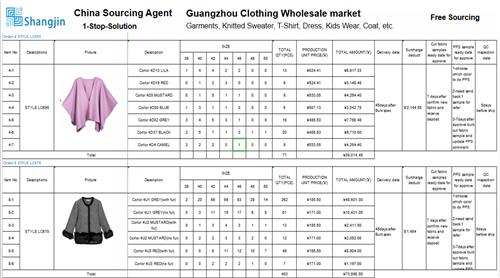 'How to get a clothes buying quotation earlier', is an essential and interesting question for each client who send an inquiry to us for clothing purchase in wholesale market. As we mentioned in our service guide or FAQ in website, we will surely to reply you in 24-48 hours. However, for the feedback, means our clothes buying quotation for you, does it really help for you?
Why here asked such question? because in our opinion, a good clothes buying quotation, should and must solve the problems for you and help you proceed to next step. A useful clothes buying quotation, must based on the requirements of your need. Usually, the most asked questions to us, are 'I want women's clothing', or 'I want start a business', or 'do you have free samples and please send to me', etc.
Do you think how should we answer you? And what replies you will feel happy? We think it's difficult to satisfied you. Too many categories subset of women's clothes, what style? What's your specifications? Should we ask you one by one, or don't you have own idea before you asking us such questions? Okay, for the business starter, we understand that you want to know how to start a business, and now is asking us. Usually, we will discuss and explain some of our experience about clothes wholesale market or manufacturers. However, who understand the local market better? Who knows what products will be good sold? And in what price? Or the sales points? Forgive me to ask so much questions here, but still here are questions: why and what should we send you a free sample? What's your target market, and what's the target products you want to sell?
A quotation should be and must be helpful for your own business
During your sourcing or thinking about your business, surely there are many problems and questions, you need our help. No problem, just send us an inquiry. We will try our best to service you and feedback the detailed and fresh market information to you. We want to help you proceed your business easier and better. Furthermore, we want show you our specialized in sourcing and professional products knowledge. We hope we can collaborate in the future. That's why we insist to send a useful quotation to you.
What's mean a useful quotation? We think, at least, the quotation should identify the current situation of your interested products. Meantime, should show the best price based on your quantities. That is to say, need indicate the best suppliers for you. Moreover, the quotation should explain the basic information of a garment, why need so much cost. As we all know, a certain garment's cost, will be impacted by the fabric and material, the design and techniques, and even if need special dyeing and printing. A quotation with all of these information, we will consider it's a good quotation, and it will be helpful for you to judge and check. Finally, the quotation will easy and short your business time, as you know what should do next step.
How to get a useful clothes buying quotation?
It's sounds easy, but difficult to proceed at all. Simply 3 points. Firstly, to send us your pictures of interested clothes, so that we can have a roughly sense of what you want. Secondly, tell us your specifications, such as fabrics composition, price range, quantities of each style. After we understand, we can judge and focus on what wholesale market should be sourced, or whether to find a wholesaler or manufacturer for your production. And the third, just tell us related information you have. Here need remind you, we are sourcing agent, our service is to help you simplify your business, we are like your own staffs, so we are a team, work together with you.
How much open you are, and how hard work you prepare, all will impact the useful of quotation. Why? It's easy to understand, because we sourced and prepare quotation for you only. The purpose is to help your business. All of our behaviors are based on the basic information and requirements of yours.
So, now do you understand why we always ask you such similar questions? We always ask " Could you please send us some pictures for sense? so that we can understand your products better, and can source in the correct clothes wholesale market. We also will ask you "how about your price range and buying quantities of each style"? Because we can know where to find and find wholesalers or manufacturers for you. Price and MOQ are the essential elements in buying process.
How to receive a clothes buying quotation earlier?
After we understand your demand, then we can make a sourcing plan. Which market are popular for the styles? If the MOQ acceptable? The price is OK for our clients? Then we focus on if we should source in the clothes wholesale market, or should find manufacturers directly. Furthermore, we will think about, how to communicate with the sellers, how to get useful information from them and feedback to our clients.
Usually, we will confirm with the seller several questions. Can you make such styles? Are you professional in such productions? What's your major styles? How much does it cost for the clothes? What is the lowest MOQ for each style, each color? How many time do you need to prepare the samples, and the cost? What's the delivery time of the production? If we can arrange QC during your producing, and what can you assist us?
Obviously, the questions we asked to the suppliers, must be interested by our clients, and that why we insist to finish and complete before we send you the quotations. Otherwise, the quotation is no meaning, will not help your business.
The more detailed information you tell us, the easier for us to find the correct suppliers, and identify all of the related problems. Surely, you will receive the quotations more earlier. Otherwise, you can think, we send you quotation, you ask more question, then we ask the suppliers and feedback you. More questions you have, more questions we ask the suppliers, it's a circulation. But waste our time and energy, and if the questions are too much, the suppliers will consider that we are not a good buyer, and impact the price negotiation and cooperation relationship.
Team-work with you in your clothes buying process
In fact, now you may understand better, we just an agency, to coordinate the communication channel between you and suppliers. We are working on your behalf since we start sourcing process. Same as the following order track, QC and shipping.  We are team work with you, duing your whole buying process.