Zhongda Jiuzhou Textile Wholesale Market in Guangzhou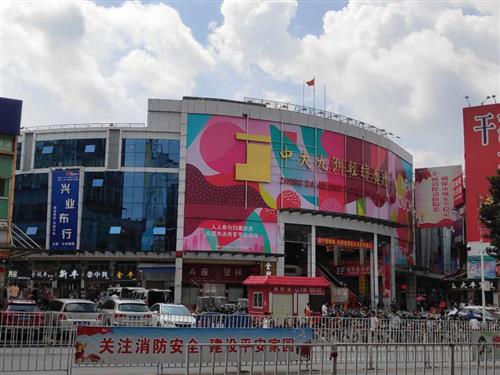 Zhongda Jiuzhou Textile Wholesale Market in Guangzhou is the large fabric wholesale market in China. The textile wholesale market is a key economic and trade area in Guangzhou. Furthermore, Zhongda Jiuzhou Textile Wholesale Market is developing and operation more than 10 years. Most of the fabric vendors are reliable and professional. You can easily sourcing and buying what you interested in good quality and cheap price. If you are lucky enough to hire a professional Guangzhou market guide, you will enjoy your sourcing and buying process absolutely.
There are more than 2,000 textile vendors or shops located in the fabric Market. 70% of them are manufacturers or have license of several fabric factories. That's why the price is seems better than other location in Guangzhou. In fact, because of the good service, reliable business honor, more and more foreign buyers want to sourcing and buying in Zhongda fabric Market. It has become the largest textile business circle in Southeast Asia.
The market covers an area of about 30,000 m2, with a building area of about 70,000 sqms.  Good service and market management attract more than 2,000 textile shops here. It is another large textile professional market in Zhongda Textile Business Circle after Guangzhou International Textile City.
Zhongda Jiuzhou Textile Wholesale Market Has Four floors
There are 4 floors in Zhongda Jiuzhou Textile Wholesale Market. 1st  floor is  to manage fabrics, and the main products are fabric, such as suit boutique, fashion, windbreaker, denim and cotton. 2nd floor is to manage accessories and there is mainly lace, button and ribbon. 3rd floor is managed home textiles, and the 4th floor for business.
Zhongda Jiuzhou Textile wholesale market  is easy to find because of its convenient transportation. There are many shops and a wide range of goods, which you can find what you want from this  textile wholesale market.
By the way, if you are a foreign buyer, hear we remind you to hire a Guangzhou market guide to service you. A professional Guangzhou market guide will help you find the best suppliers easily. Furthermore, the comprehensive serive of Guangzhou market guide, will save you much time and energy in your buying behavior in China.