Guangzhou Beauty Purchasing Center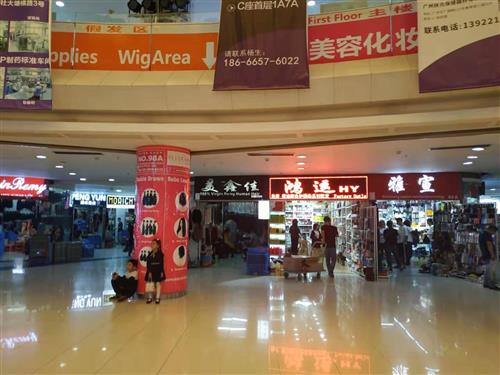 Guangzhou beauty purchasing center, has another name of Meibo  wholesale city. As this purchasing center mainly for fashion cosmetics and sportswear shopping. And many sourcing agent guide their clients purchasing and export from China in the market center. In fact, Meibo sports market, and Guangzhou beauty purchasing center, is not same sales building. Becuase one is nearby Guangzhou railway station for beauty purchasing center. While another building for sportswear, is in Zhanxi fashion wholesale market circle. Which is for wholesale business of shoes, clothing, and footwear accessories. Anyway, your sourcing agent will guide you find correct purchasing market center. For what you want to export from China. No matter cosmetics or sportswear products.
China Sourcing Agent Guide Purchasing Beauty Products And Export From Guangzhou Wholesale Market
Guangzhou beauty wholesale market is the larggest distribution center in Asia. In the purchasing center, you can find any kinds of beauty products. And you can buy bulk or retail to export from China. However, as beauty categoreis are large categories. And there are so many subcategories based on the design, material, and functions. So that better for you to hire a sourcing agent. Who can guide you purchasing beauty products in Guangzhou markets. Furthermore, there are many good suppliers or manufacturers are not only in the purchasing center. But also operating their shops in small streets nearby the sales buiding. Or some suppliers have online stores or categories website. And your sourcing agent can help you find them quickly. As well as their agent service can guide you buying and export from China market.
1. Introduction of Guangzhou beauty purchasing center
Guangzhou beauty wholesale market is Zhanxi business circle. Where is the largest wholesale center for fashion textile products. Such as clothing, shoes, bags, etc. And each products have a large area with dozens big sales buildings. For cosmetic products is locate nearby clothes markets. And face to Guangzhou railway station. There are many foreign buyers sourcing and purchasing with their China agent. Then export shipping from China with the service of sourcing agent. Because China sourcing agent are very familiar with the wholesale markets. And can guide you find the best suppliers in the markets.
In fact, Meibo beauty purchasing center is a shopping mall. Which have more than 40,000 square meters for vendors shops and stores. There are thousands of China suppliers or manufacturers do wholesale business. And distribute to whole China main land markets. Or all over the world export trade from China. The most famous products are hair products. For instance, hairdresses supplies, wigs products, and related cosmetics accessories. Meantime, there are many featured products with different quality level. Because the material or design are not same. Form cheap items to luxury products. For example, wigs products. There are many different material. Such as fake hair in high temperature wire. Or natural hair with various quality level.
2. Guide of Meibo cosmetics market
There are 3 big sales buildings for Meibo beauty products purchasing center. And the names are A, B and C. Each buidling have different using purpose. As a Guangzhou sourcing agent, we'd like to guide you the basic information of the beauty market. So that to help you export from China easier.
(1) Building A for offices and showrooms
In the A building, mostly are offices. There are mainly for office rooms. As many China suppliers, brand companies and export trade agent are working in the buildings. Normally such office are all have shops in Meibo. When they meet some good clients at their store. If necessary, the sales girls will guide to visit office nearby the market. Because their showroom and sales team are working in building A. Of course, some brand companies, manufacturers will store some readymade stock in their office. Which is a temporally warehouse in Guangzhou. If have bulk orders, they will arrange export from their China factories directly.
(2) Building B for hairdressing supplies
This building is for wholesale shopping business. And the featured products is hairdressing and hair related products. Such as wigs, hair care beauty products. And hairdressing cases, electrical appliance like hair dryers. As well as some hardware tools. Or equipment for hair products. Which use for cosmetic service shops. Or entertainment clubs. Before you plan to sourcing in the market with your guide agent. Do remember to clarify your specifications or requirements of your orders. In order to help your market interpreter to guide and assistant you find the correct suppliers. Or you need discuss and cofirm with the suppliers at the shops. Before you place an order.
(3) Building C for cosmetics products and accessories
In the building C, you can find various featured cosmetics products. As a beauty products purchasing center in Guangzhou. There are many competitive categories for sourcing and export from China. For instance, fashion fake nail, make-up items, and packaging materials for cosmetics. Such as glass bottoles and plastic shopping bags. If you require your own brand design. No problem at all. Just tell your guide agent, and require them sourcing good manufacturers in the markets. Who will accept your custom made service. Only if you can match their MOQ requirements. By the way, you can ask your sourcing agent to find manufacturers from online shops or website. Such products are comes from Dongguan, Ningbo, and Shanghai.