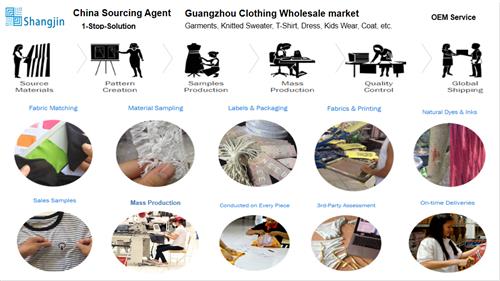 Garment Wholesale Market is a very important distribution channel in China, especially for the garment and textile export trade in Guangzhou. Traditionally, since many years ago, there are many market sourcing agents and export agents service foreign buyers actively. Usually, they help to find good vendors in the garment wholesale market, and sometimes clothes manufacturers to purchase directly. Anyway, the related service are basic, without the core tenet of a buying solution.
Changing and Developing of Garment Wholesale Market in Guangzhou
However, in the last 5 years or so, the business in garment wholesale market is keeping declining. As we all know, there are two major reasons, 1st is the increasing labor cost, 2nd is environmental policy of government. In these years,  many shops closed, while many manufacturers relocated the factories to other western provinces in China. Furthermore, many aggressive manufacturers even move to other countries in Southeast area, such as Vietnam, India, Thailand, etc.
It is an objective situation and the result is acceptable. Anyway, China should move on for industrial updating, although it impact the garment industry directly and seriously.
Some of the small manufacturers stick to produce low quality and cheap price clothing. They want to survival in Guangzhou as before. However, it seems difficult for them to develop anymore.
There is an interesting thing to know about the manufacturers who moved to other locations. They are not good status in these years, and can't reach their expections earlier. Obviously, a new start or developing area, will lack of a completed supply chain for the garment industry. The manufacturers have to solve many problems in order to run the factories well organized. As we all know, a good garment factory should always base on the supply of production resource.
On the contrary, most of the remaining manufacturers have already adjusted the strategies. Step by step, they are transforming to OEM service, customize making, and private creating. Of course, it's absolutely a wisdom choice. They are more competitive, and can keep the advantages before. For instance, design, quality control and technical skills. Anyway, the garment supply chain in Guangzhou, are more completed than other countries. Moreover, Guangzhou garment wholesale market now is still the distribution center in China, even in the world.
Buying Solution Optimizing the Service either Sourcing Agent or Export Agent
Shangjin is dedicating to sourcing and export service for many years. Especially, one-stop-solution service is featured and recognized. In fact, we are professional for all of the related buying service. For example, market guide, free sourcing, order follow up, quality control, warehouse and shipping. However, it is not enough at all. Because above service are all normal for a good agent. It is not a core competitive advantage for us.
We understand the changing of garment wholesale market very well. Furthermore, we already focus on the "buying solution" service. That is to say, not only sourcing and export as usual, but we also will head to a more challenging and complicated service. In other words, we will focus on further service, such as customize clothing, private label, and OEM.
Based on our specialized garment knowledge, we surely can offer you a wonderful individual service of Buying Solution.
1.Sourcing everything for you
Fabrics Sourcing. We already build a good network with regional and mainland suppliers. That is to say, we can easily source for fabrics and materials you need.
Fabrics matching. Our expert team can exactly match the fabric you need, or provide you with the best alternatives.
Materials Sampling. If you want to test new material or fabric, we can source and send a range of each item for your choosing.
Labels & Packaging. We can easily get high quality swing tags, woven labels, care labels, and packaging for your sales needs.
Manufacturers Souring. If our current manufacturers can not meet your requirements, we will source new manufacturers in 1-2 days.
2.Customize clothing follow up
Customize clothing. You can add your printing, embroidery, and change colors and fabrics to fit your style. We will collaborate with the manufacturer to proceed accurately.
Private Brand. You can easily to customize your care labels, hang tags, woven labels, and product packaging.
Printing & More. Our manufacturers produce high quality printing, dyeing, embroidery, and embellishment work. We will follow up each step to ensure high quality consistently.
Natural Dyes & Inks. We can source and find good manufacturers to offers natural dyes made from plants and phthalate-free inks for high quality printing.
3.Samples Making
Exact Fit. From your detailed requirements, we will help produce your patterns based on your seam-to-seam measurements. However, such service need confirm with the manufacturer in advance.
Own Your Patterns. If you want the patterns produced, we will require the manufacturers to send you at any time.
Size Grading. Our manufacturers can easily grade all your pattern sizes for you. Simply share your sizing guide with us. It's easy.
Sales samples. Get your high quality sales and photography samples made in time for your marketing and sales efforts. We will follow the manufacturers step by step.
4.Mass produced
High Quality. We exclusively works with high quality manufacturers in order to provide high quality garments consistently.
Done-for-you. Our skilled team will oversee your entire production each step within our factories. And we will report everything to you.
Clear Communication. You can contact us directly at any time and you will know everything you want. That is to say, it is same as you have your own staff in the factory.
Conducted on Every Piece. You will receive regular updates from us. And we will share videos and pictures of quality assurance tests with you.
3rd-Party Assessment. You can hire a third-party QC company, to conduct independent quality audits on your production.
Other related work such as packing, QC before shipment, logistics and shipping, is easy for us to handle. If you want to know more about us, please review our website.