A Guangzhou Market Guide Share You 10 Buying Tips in China Fabric Market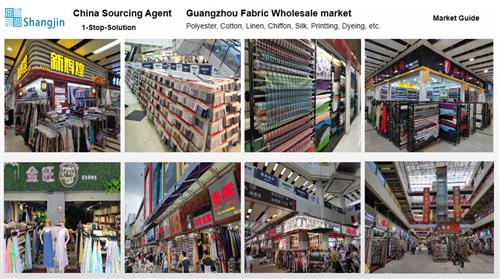 A Guangzhou Market Guide is very familiar with China fabric market, they can easily find the best vendors for foreign buyers. Furthermore, they understand well all of the hidden rules in fabric wholesale market. Here, as a professional market guide, glad to share you 10 buying tips in China fabric market. By the way, such tips are popular in Guangzhou sourcing agent or China export agent, whose business are mostly based on Guangzhou fabric market.
Textile Material is a very large product category, especially in Guangzhou Fabric market. Before we place fabric orders, we shall check and confirm if the items are what you sourcing for. Following are some basic concepts of a textile material. Surely will help you buying in China fabric wholesale market.
1. Fabric Composition
Fabric composition is a very important concept in textile product and fabric wholesale market buying. Moreover, it indicate almost all of the features of the item. Such as the function, value, techniques, and use. When you sourcing in Guangzhou fabric market, don't pay too much attention to the color, name, or design No. Just focus on sourcing fabric composition, Surely it will help you find the correct fabric easier. In this case, a professional Guangzhou market guide will help you find the correct suppliers easily and quickly.
2. Color Card and Swatches
After you confirm that the vendors have similar fabric composition with certain function or use, then you can check them further information. For example, color card and swatches in fabric wholesale market. Ask for color card, check if the swatches meet your requirements, or same as yours. If all match, means you find the correct textile material. Usually, Guangzhou market guide will take the color cards and swatch in free as much as they can, and finally they make detailed quotation list accordingly to you.
3. Patterns and Customized Making
Since you find the correct fabric, then you should consider your fashion design requirements. Better to check if can customize your own pattern in the fabric, or want your own color to customize. Furthermore, if you have other special requirements, better to check before you place order. For instance, printing, dyeing, or embroidery. A professional Guangzhou market guide usually have such small factories to help you deal with it.
4. Price for sample or bulk fabric
In China fabric market, there are several methods to calculate the price of textile material. Normally, use Meter or Yard unit. Sometime, if knit fabric, the vendors will calculate in weight (KG or Ton) unit. Do pay attention to the unit, as difference unit is means different value of fabric.
On the other side, there are 2 price for one same style fabric, one is sample price, another is bulk price. Usually, sample price is expensive 3-5rmb/meter than the bulk price. Moreover, some fashion or new design, the suppliers will charge more for sample price. A professional Guangzhou market guide will always remind you to focus on the price unite, and explain the difference of the 2 prices.
Minimum Order Quantities (MOQ), is a very common concept or requirement in China fabric market. The MOQ is because of the raw material MOQ, or dyeing or printing machine requirements. It's a normal and reasonable quantities requirements in China fabric market.
Usually, for stock fabric, MOQ based on 1 roll, usually 100 meters or so, based on the weight or machine feature of textile material. If your order is more than 1 roll, you can get bulk price, otherwise, you have to pay sample price. However, if you want to customize fabric, your MOQ will be higher, usually need 500-1000 meters, as dyeing or printing require MOQ too. Same situation, when you want a fabric which is lack in stock, you have to wait and produce again. In this case, the MOQ usually will be higher if the item is not good sales one.
6. Fabric Width
Fabric width is an important concept to calculate or compare the price of textile material. Normally, in China fabric wholesale market, Fabric width is 150cm in China fabric market. But in fact, there are many fabric items the width is only 120cm, or even 110cm for some special fabric style. A professional Guangzhou market guide surely will confirm and record the fabric width before place order. Same price, but if the width is difference, means the textile material is difference. By the way, the fabric width is also relate of the CBM of your goods, we shall explain later.
7. Delivery time
Delivery time is a basic condition in China fabric market. As we all know, foreign buyers are usually place order with many suppliers in one time. Usually, delivery time of stock textile material is 2-3 days after the suppliers receive the deposit. However, if reproduce items or customized making fabric, the delivery time have to be 10-15 days. For some special techniques or material, the delivery time shall be longer. A professional Guangzhou market guide will record the delivery time of each item to arrange shipment.
8. Color Difference
There is a popular issue in China fabric market, color difference, which can not avoid in each manufacturer. The color difference mainly influence in sample color and bulk color. No matter you require the same color card or Pantone color card standard, there is still have color difference in sample and bulk textile material. In each bath of fabric, although use same material and produce technique, there is a color difference. The reason is because of the chemical reaction and complex conditions in work shop and machines.
Usually, if the color difference is in 10%-15%, we normally consider it is acceptable. If you are lucky, the color difference will be 5% or so, seems no problem. Such issue normally is difficult to accept for some high quality clothing manufacturer, but have to face the fact. A professional Guangzhou market guide  or Guangzhou sourcing agent surely will remind you and explain to you before you place orders.
9. Loss Quantities then Ordered.
In China fabric market, there is a very important issue, that every buyer should recognize. Whether the quantities are sufficient or not when you receive the goods. Many times, our new client will ask us, why the quantities are less than ordered around 5% to 10%? The answer is that, before you confirm the order, you don't confirm with the supplier, if the delivery in sufficient or not.
Normally, there are 2 style of price quotation from suppliers in China fabric market. One is sufficient, another is not sufficient. Once you think the price is cheap, you must remind yourself to ask the supplier, if you delivery sufficiently or not. 98% is a normal situation, even 95% if calculated in KG, maybe acceptable. But if you only receive the textile material 90% or even less, then you can consider to be taken in.
Actually, many suppliers use such method to attract clients, because if they only 95% delivery, means their price can be cheaper 5% than competitors. A professional Guangzhou market guide, surely will remind you such situation, and the will focus on such question to ensure you get the enough quantities as ordered.
10. Quality Inspection Method
Fabric order is a complex business service process, from sourcing to buying, QC till export. However, the most important step is QC before shipping. As fabric is roll, and difficult to check if all of the textile material are good quality or not. Sometimes, Guangzhou market guide or China export agent only can proceed random samples inspection, 30% is acceptable, 50% is an appreciate work performance.
For the quality inspection, we must go to the suppliers warehouse, use their roll machine, to check each roll. To find the quality is acceptable, and the quantities are meet the orders. If find bad quality, should record and use small adhesive sticker to highlight the issue, so that can avoid during the fabric was cutting.
By the way, if the fabric order amount is very huge, we'd better to test the fabric composition and basic condition is acceptable or not, a specialized and professional Fabric testing mechanism is the best choice.
Reliable Guangzhou Sourcing Agent Help You Remind the Tips
China export agent or Guangzhou sourcing agent, if they are professional and reliable, they will tell you all of the hidden rules in China fabric market. These 10 tips are not a secret, any experienced foreign buyers surely understand well. Of course, maybe they don't know so clearly in their mind.
Anyway, there are still too many tips or concepts buying in China fabric market. Such as Yarn count, weave methods and gram weight. Even for environmental requirement, or tech specifications, dyeing and finishing process, etc. If you want to know, the professional Guangzhou sourcing agent, or China export agent, or Guangzhou market guide, absolutely will be glad to tell you.