China Export Agent Help You Sourcing And Buying In Guangzhou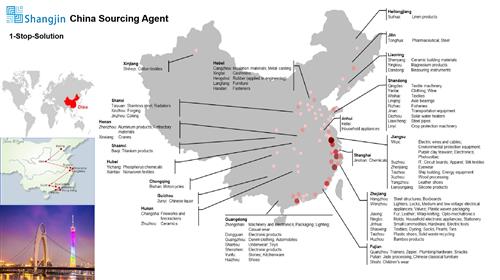 China Export Agent help you sourcing and buying in Guangzhou. As we all know, to export from China is not a simple behavior, but a complex process. Not only for the export business, but before that, you need finish all of the related purchasing detail work. For instance, find your interested goods, make decision to order, and receive the good quality you want. That is to say, you should sourcing and buying what you want, then require the export agent to shipping for you.
Comprehensive service require China Export Agent to help you Sourcing and Buying
One Stop Solution Service
China Export Agent is very popular in foreign trade business. However, step by step, because of the fierce competitiveness, the China Export Agents have to change their concepts, and improve their service. One-stop-solution, such idea popularize most of the China export agents, and carry out the service in whole country.
What is one-stop-solution then? Means China export agent will fulfill all of the related work, and proceed all on your behalf. Furthermore, in each separated step, such as market guide, or market sourcing, they will finish all of related works, One-stop-solution.
In order to enhance the service value, China export agent now launch the service of "Free Sourcing" and "Buying Guide". Absolutely, as a good result, more and more foreign buyers enjoy the sourcing and buying service. They are satisfied the service for saving their huge amount of time, energy and money.
Usually, the China export agent will help you souring the best suppliers before you coming. They will test and judge the suppliers, compare the price and quality, check the service and communicate capacity for you. Moreover, before they recommend the suppliers to you, they surely will consider of the shipping methods, and related detailed work of delivery and cost for you. When you come to China, they will accompany you to visit the suppliers, help you negotiate and communicate, finally help you buying from the best supplier which you confirm.
Recognized Service of Sourcing and Buying with Featured Products
Recognized Service
China export agent, or Guangzhou sourcing agent, they provide one stop solution service. Free sourcing, market guide, buying suggestions, order follow up. Moreover, they will take the responsibility of goods quality, they will arrange quality inspection before shipping. Furthermore, professional China export agent will help you consolidate the goods, and store in their own warehouse for loading or shipping. Usually, the China export agent are very specialized in international transportation. In fact, they understand the whole process of customs declaration, FOB methods, and sea freight shipping. Of course, don't worry about the paper work of documents for customs clearance in your side.
Guangzhou Sourcing Agent, actually, same as China export agent, only because they normally focus on Guangzhou market. As we all know, Guangzhou is one of the most famous distribution center of foreign trade business in China. There are many big wholesale markets, and manufacture hub spread in the whole city, or nearby the city.
The most featured products in Guangzhou is clothing, fabric and shoes. You can find any kinds of styles you want. No matter for fashion styles, or acceptable price, or different quality. Anything as your prefer. By the way, there are other exciting products for fashion accessories, building materials, furniture, and so on.
As we all know, there are huge sub-catalogs in one category of products. For example, clothing including men, women, kids clothing; knitted sweater, woven clothes, jeans, etc; quality or price in cheap, middle, high position; if consider fabric composition, there huge amount to subdivide the products. That's why China export agent will require you explain your detailed requirements of your interested goods before they start free sourcing.