Buying in China clothing wholesale market-2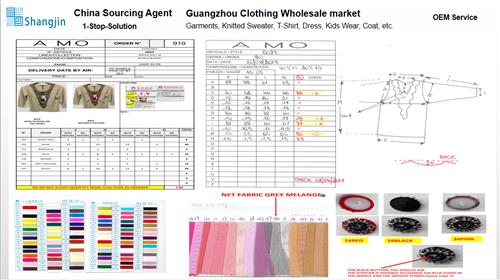 China clothing wholesale market is really interesting, there are so many factors to introduce. Do you still remember our last article "Buying in China clothing wholesale market-1"? Does the introduction of 4 factors get your buying behavior easier? In fact, Clothing vendors, products type, price difference and MOQ, are the basic essences in clothing wholesale market.
However, there are some other factors very useful for your buying in China clothing wholesale market. In this article, you will continue to enjoy all of the remaining 6 factors.
5.OEM Service in China clothing wholesale market
There are many difference between China and your country, such as body size, habits and custom, etc. In order to have a good sales in your local market, it's better for you to choose OEM service, which means you can adjust or change a little based on the samples of vendors.
In Guangzhou clothing wholesale market, most of the suppliers can understand such requirements, and will accept customized making for you.
Normally, when you confirm with the vendors for your OEM orders, you should focus on following elements .
① Color Changing
► You can choose the color that you prefer, from a color card the vendors have which means the same fabrics to use. It is the easiest way for color changing, only if you reach the MOQ requirement.
► Sometimes, you can choose color from other style clothes to instead of the original color for your interested style. If you don't care of the fabrics composition too much, it's easy to proceed, otherwise, still need check based on color card.
► However, if you insist to change a color you want, and your order amount is huge, you can choose any color you want. In this situation, the vendor will confirm with their fabrics supplier, if the fabrics color can be customized making or not. Usually, if your order is around 500pcs/color, or your several style use same fabrics same color, it's easy to negotiate with the vendors. In such situation, you'd better provide the precise pantone code or confirm vendor's pantone code.
► No matter which way you choose to change color, keeping the color card with color No. is very important for you. Furthermore, it's better for you to require a sample clothes or a small swatch with the correct color you want. It will surely help you in sample confirmation before production, and still need keep to inspection your production goods before shipping.
► Additionally, as a remind, if you are changing color by fabrics customized making, you should understand and pay attention to the color tolerance between sample and production. Usually, there will be 10-15% more or less difference, which traditionally is acceptable in China clothing wholesale market. Don't be surprised, each batch of fabrics will have color tolerance inevitably. Anyway, do confirm it carefully with the vendors before you place order.
② Size Adjustment
■ Size adjustment is popular in China clothing wholesale market, while your order amount must reach the MOQ request of vendors.
■ By the way, it's better for you to understand the Size Difference between China and your local market in advance. As the size measurement maybe totally different from your country.
■ The most easiest way is just change S to M, or XXXL to plus size, it means don't change the partly size in clothes, simply to change size label accordingly. For example, XL size is too small than your country's XL, you need buy XXL size to suite your own XL size.
■ If you want change the sleeve length or clothes length, it seems a little complex. But don't worry, if you can reach the MOQ the vendor required, it's easy to persuade them accept. However, you need check samples before production, and keep the samples for quality inspection before shipping.
■ Pay attention please, here is a concept of Size Deviation you must keep in mind. Different clothes, will have different size deviation, it is inevitably too. The size deviation is mainly caused by fabrics and technology.
■ For example, woven garments 1-2 cm is acceptable, while knitted sweater usually to be 2-4cm. Furthermore, same fabrics, maybe the size deviation is different between different styles, such as knitted cardigan is 2-4cm, knitted sweater is 1-2cm. By the way, for knitted sweater, small size difference is not a very serious problem, because ironing can adjust the size a little.
③ Fabrics Changing
◙ Changing fabrics is acceptable in China clothing wholesale market. Anyway, the first step is to agree with the MOQ required. In this situation, the vendors will require the MOQ based on the MOQ of fabrics purchasing or more. Enough negotiation is necessary here, as there are many details related.
◙ Fabrics changing usually means the composition changed, and the cost is totally different with the original sample. Maybe there is different requirement of technology and machines to produce. You should check and confirm with vendors more carefully.
◙ Color card or pantone code is absolutely needed as well as samples and swatches. You can reference above Color Changing introduction.
◙ The roughly process is same as sample confirm before production, and proceed step by step. Anyway, changing fabrics is really a complex business, is better for a professional buyer and designer together to handle. You should find a reliable and capable manufacture in advance.
◙ It really don't a good choice for a business starter. However, if you are a brand company or a fashion buyer, changing fabrics is surely a useful and popular way to create your own collection.
④ Accessories Changing
▲ Replacing accessories on the clothes, is seldom to proceed in China clothing wholesale market, especially for a small order business.
▲ On the contrary, for a brand company or fashion buyer, it's a very useful methods to build your own individual styles. You can change the color, shape, material, position, quantities, etc, any design you want.
▲ Accessories in clothes are fashion and individual small products, the design and material changes very quickly. It is difficult to find stock or the precisely items you need. In the other hand, if you insist on your interested accessory, the MOQ in are usually 10 times pieces than clothes.
▲ Anyway, don't worry, if you really want to change the accessories, it can be accepted. Of course, the vendors are always focus on Price, MOQ is acceptable.
⑤ Style Creating
◘ Such OEM service, we think is same as ODM service. Change the original styles of vendors, and use you own style, means the design is changed a lot. Meantime, the color, size are surely to be adjusted, even including the fabrics or accessories.
◘ Style creating, is a specialized work for both buyer and vendor. It's better for a professional buyers to cooperate with a capability manufacture. Otherwise, the result of the business usually is not good enough. Because too much details need communicate, discuss, and confirm. Any misunderstand or mistake, will cause a big problem for quality and delivery.
6.Tags and Labels in China clothing wholesale market
In Clothing wholesale market, you may confirm the label service with the suppliers. Usually if you reach their MOQ, they will agree to help you change labels for you, no extra fees required. Of course you can use all of the labels the suppliers have, without any adjust. Following suggestion is simply for whom have own brand or logo, and want finish changing in China.
① Hang Tags/ Price Tags
If you want to use your own hang tags, you can send hang tags to the suppliers, ask them to hang to the clothes. It's better for you to tell them the hanging position in advance. To consider the waste during produce, you can give them 10% more.
Price Tags, it is a little complex, because you need prepare a price list according your purchased items, then prepare your own price tags with the price, then sent to the supplier. Another way is that you can use a self-adhesive label with detailed price to them. This service must confirm with the supplier if need extra fees, as will cost more time for the suppliers.
② Washing label
Usually seldom client will use their own, because the contents in the label normally is the same with the supplier's. The supplier use English version, clarify the fabrics composition and washing instruction, it's enough.
It's not good for you to change the material name. Especially, don't try to change the "made in China" letters, because all of the goods, not only export from China need this mark, but also need in your country when customs clearance.
Anyway, if your own brand is high level, and need the labels with high quality, you can change it, no problem. But still it's better for you to inform the supplier before you place order. Otherwise, the suppliers will complain and require you a extra fees.
③ Main Label/Brand Label
Many client's change the suppliers brand label to their own, no matter it's a brand or a logo. If your brand is very famous, you have to control the quantities of the brand labels, as maybe the supplier will use your label and sell your branded clothes to other retail markets.
④ Customized Tags and Labels
If you decided use your own tags and labels, it's better for you produce in China market, because the cost is much cheaper then your local market. There are many shops for customized tags and labels.MOQ usually 10K pcs/set, unite price from 0.5-1rmb/set. You can store the spare tags and labels in your sourcing agent's warehouse, and use in your next order.
⑤ Require your sourcing agent to handle
Really, the work of changing Tags and Labels is very detailed and complex, especially when you place orders to more than 10 suppliers. It need much time to prepare the paperwork, material, and send to each supplier accordingly. The most important thing is that, Tags and labels should be sent in time, otherwise, will delayed your delivery time.
The best way for buyers, no matter experienced or starter, to choose a professional sourcing agent, and ask them to handle on behalf you. Usually your commission to them, including such service already.
7.Packages
It's better for you to confirm with the suppliers about package requirements, before you place an order. In the clothing wholesale market, the package methods is normally same, but it's necessary to confirm in advance.
① Inner packing
Normally, one OPP bag for each piece of clothes; 10-12pcs together for a medium binding. The binding can according to color/mixture color, size/mixture color.
② Outer packing
Sometimes, the supplier will only use a woven bag for outer packing, 100pcs, or 200pcs, according to your requirement or their own traditional.
It's better for you to request: use cardboard box, how many pieces each carton, then use a woven bag out of each carton with packing belt. If you insist, the supplier will agree and it's free service. But you do need confirm with them before place orders.
③ Shipping Mark
No matter you will shipping goods FCL or LCL, it's better for you to remind the suppliers, use your own specified Shipping Mark. We think it's very important during the goods transportation inland or in your side before you receive.
Shipping Mark at least including but not limited: Your logo or mark, your name, Item No. Carton No. If you need, can add weight, CBM like this.
8.Delivery
Before you place an order to the vendor in China clothing wholesale market, you must confirm the details of delivery. It seems a small factor, but if you don't confirm in advance, it will become a big trouble for you.
① Delivery time
► Delivery time means the production will be finished before the certain date. In China clothing wholesale market, the delivery time usually from 10-20 days, if your order is complex, maybe 30-40 days. But for stock, usually only need 2-3 days, as simply to sent from the factory to the vendor's warehouse.
► It is very important for your business, not only for you to track the order proceeding, but also for you to confirm if can catch your selling time or not. Usually, before you purchasing in China, you should already have a clear and serious plan of goods delivery and shipping.
► On the other hand, delivery time is important for you to collect all of the good in a same term, then combine to one container to ship. For big order amount, maybe you have 2-3 containers of the order, maybe you can arrange shipping container one by one, so that you can receive goods more earlier, and sell in local market.
② Delivery place
■ Where to pick up goods and how to collect your goods together, is important for the whole purchasing process. You'd better confirm with the vendors in advance, so that can save you much time and money in the next step.
■ Usually, if your order amount is more than 30K RMB, the vendor will agree to send goods to your warehouse or your assigned place free. However, if your order is small, it's difficult to persuade them to delivery good to other place, you need pick up in the market by yourself.
■ Keep in mind, if you don't confirm with the vendors before you place order, some of them will reject to send goods to your place, because they will tell you, the price is EXW, and don't need service you. In such situation, you may have to negotiate with them, to check if you pay half of the extra delivery fees and let vendors delivery accordingly.
③ Related service and fees
Please confirm with the vendors, when they delivery goods to you place, they should help you load to the trucks or into your warehouse, so that can reduce your work and fees.
It's better for you to remind them, you will reject to accept goods if the outer packing was wet or broken.
When your order is big, and the volume is huge, you need confirm with the vendors to assume the unload fees from trucks. Or you can require them to handle the unloading work by their own guys.
9.QC requirement
Quality Inspection is the work need handle by yourself, or you can hire a third party company to help you. Anyway, there are some details need confirm in advance.
① You should tell them your QC requirements, let them understand well, so that they will pay more attention to your goods.
② It's better to confirm the QC place and roughly QC time that need before production packaged. Usually, big order is better to QC at the workshop of the factory; otherwise can inspect when you receive in your warehouse or market.
③ You'd better ensure them to prepare enough work before your QC, such as original samples, color cards, packing list of goods, etc.
④ You need confirm with the vendor, when you are inspecting quality, they should assist you as they can. For example, unpack the packages, take out the clothes, unfold and spread to the table. After you finishing QC, they need repack the items accordingly.
10.Payment Terms
Payment terms are always an essential condition for your purchasing business. It's better for you to know the traditions and hidden rules before you place order in China clothing wholesale market.
① EXW Price
▲ The vendors always quote you an EXW price, which mean they will not take any responsibility after you accept the goods. Sometimes, this is why the vendor reject to delivery goods to your warehouse.
▲ EXW price don't including the VAT. If you want a VAT invoice, you need pay extra fees, usually 8-10% of the total value of order. But as a foreigner, you may don't focus on it, as such problem will handle by your sourcing agent or shipping forwarder.
▲ If your order is big enough, and the vendor is a manufacture with own foreign trade team, they will accept FOB price or CIF price, as per your convenience.
② 30% T.T Deposit
◘ Usually, in Guangzhou clothing wholesale market, the vendors only accept T.T or cash in RMB for deposit. They don't accept USD or Euro.
◘ The deposit normally need 30% in advance. If your goods is not customized, maybe you can negotiate less deposit. However, it's really difficult to achieve 20-25% deposit.
◘ If your order is customized, then 30% is not negotiable. Furthermore, if your order is OEM service, the vendors maybe insist to require 40-50% deposit. Because they are worry about the risk of order to be canceled.
③ Total balance before delivery
In China clothing wholesale market, the vendors usually require total balance before delivery. Such term can be negotiated to pay the balance when they delivery goods to your warehouse. However, their staff will wait till they receive the money, otherwise, they will not leave.
If you already do business with the vendor many years, maybe you can try to communicate for some delayed payment. However, we don't know which vendor will agree to give us any payment days in Guangzhou.